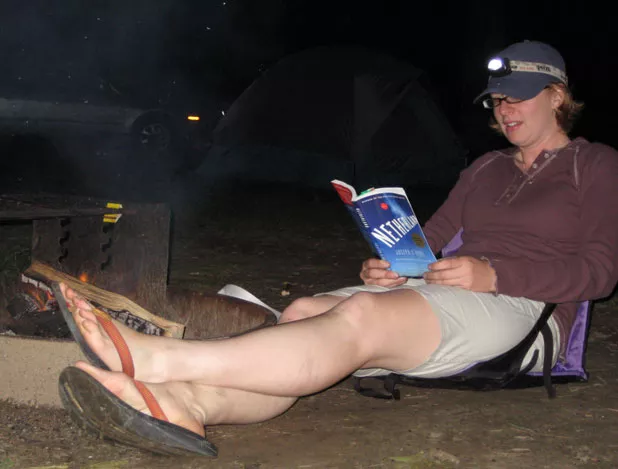 Unless you have a safe full of gold bullion hidden behind the John Singer Sargent portrait in your personal library, chances are you're bumming about the economy. The far-reaching effects of the country's financial meltdown have crept into nearly every part of our lives. Fewer meals out, more bargain hunting and the end of wanton spending seem to be hallmarks of this new age of economic uncertainty.
Holidays to Europe — or even to Cape Cod — may not be an option this year. Hence the staycation. While I don't like to camp myself — I'm a city kid — I resolved to pursue the cheapest vacation I could find: a night at North Beach, which is exactly three-quarters of a mile from my house. At $25 for a tent site and $5 for a bundle of firewood, plus free access to clean, sandy beaches, North Beach is the best deal going.
North Beach is an anomaly as far as camping goes. Where else can you pitch a tent within walking distance of downtown? San Diego offers camping in state parks along its coastline, and visitors to Seattle can crash for cheap at campgrounds along Puget Sound. But campgrounds within city limits are few and far between. It is precisely North Beach's urbanity that makes it attractive to vacationers. Our neighbors to the north still account for the majority of the summer bookings. But increasingly, North Beach's clientele is made up of Vermonters looking for an affordable holiday.
My trip to North Beach began at my house in the Old North End. I packed up my sleeping bag and a loaned tent, along with a tarp, a book and a handy headlamp so I could find my way to the bathroom in the dark. It took me about 10 minutes to pedal my Schwinn over to North Beach. There I was greeted by Carol Linnell, the park's spunky summer manager, who directed me to my campsite — "a nice site," she said, "close to the bike path and tucked in a shady corner." I coasted down the hill, past the RVs and camper vans, to a spot so close to the path it was practically on the pavement. I could hear the hoots coming from North Beach a couple hundred feet away.
North Beach is perfect for a camping newbie who is unaccustomed to "roughing it." There are 137 sites on the park's 45 acres of perfectly mowed lawn and tamed woods. The bathroom is nearly as nice as the one in my apartment and smells of nothing, which, considering the alternative, is a good thing. Restaurants are a short bike ride away if you don't feel like monkeying around with a camp stove.
As I set up my tent, I met my neighbor for the day, Arthur Proteau, a sixtysomething car-camper traveling to New York from Colorado via Montréal. Proteau, I would later learn, is an occasionally employed journeyman, an armchair philosopher, a Vietnam veteran, and an avid weed smoker who likes to play the ukulele and sing at early hours of the morning. In his travels, he said, he had never seen a campground quite like North Beach. After being priced out of hotels in downtown Burlington, Proteau chose it for its affordability: "You can't get anything in town for under $50," he said.
Once the tent was set up, it was time to recreate. So I did what I do best: talked up more of my fellow campers. In the easternmost corner of the park, I found a crew of jolly retirees from all over New England and New York — North Beach regulars. Their mammoth RVs were parked in the same campsites — 107 through 113 — they've requested for the past five years. They offered me a Bud Light because, as wagonmaster and New Yorker Dave Moehle said, it's always 5 p.m. somewhere.
In the northern corridor of the campground, I met Ted and Arlene Rallis of Chester. Ted Rallis told me they were resigned to taking shorter trips this year because of the economy. The couple, who travel with a modest trailer in tow, are limiting their jaunts to campgrounds close to home. "We chose this because we weren't going to give the oil companies any more of our money. We're going to save our money and spend it locally," Ted Rallis said.
Closer to my campsite, I found a soft-spoken Italian man unfurling a solar-charging device. He was biking from Montréal to Florida on a souped-up Bianchi with a fancy European bike trailer. He said he liked North Beach's accessibility to the lake and downtown Burlington. I found out later that evening he was also partial to the city's most popular creemee stand, Burlington Bay Market & Café, where I was eating dinner when I saw him poring over the extensive ice cream menu.
I got back to my tent in time for sunset. As the light faded in the park and the stars began to twinkle, I contemplated a campfire. I had matches, newspaper, wood and tinder; all I needed was a clue how to turn these components into a respectable blaze. A quick cellphone call to my more rugged partner clarified some things, and, after an hour of stoking and blowing and praying, my fire finally came to life. Proteau tossed the occasional pinecone into the emerging flame as I sat back, satisfied with my elemental accomplishment.
Once the bugs came out, I bedded down in my tent, turned on my headlamp and read for an hour while I listened to Proteau's ukulele strumming. As soundtracks go, it was far preferable to Québecois children weeping in the adjacent campsite. Just as I was dozing off, I heard the blast of the ferry horn and the beeping of a car alarm. I was finally lulled to sleep by the slap of motorboat hulls against the waves on the lake.
For an urban campsite, North Beach was remarkably still and peaceful overnight. I slept as heavily as I would at home in my own bed.
I awoke the following morning to the sound of rain beating on the tent's fly and Proteau singing a tune of indeterminate origin. Packing up the tent and my few belongings in the rain was no fun. Biking home in the cold drizzle was even less amusing. But when I returned home, I actually felt like I had been on vacation, even if it had only been for a day, less than a mile from my house.
And to think it only cost me $30.