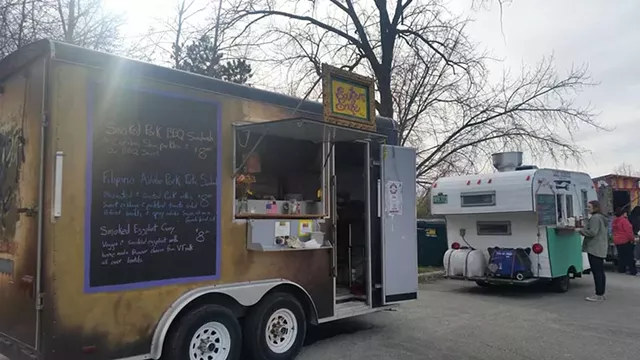 By all accounts, Vermont's food-truck fleet is getting stronger and more diverse every summer (read about seven newish up-and-comers here). In addition to ArtsRiot's weekly Friday night Burlington Truck Stop, Queen City residents can find rolling eats daily along Pine Street and near Maglianero café in the South End or at Burton in Burlington.
And, starting next Wednesday, June 1, local truckers will convene at Leddy Park in the New North End for a monthly first-Wednesday Beach Bites evening social. "It's a really community-based, family-friendly event," says Adam Hineman, who leads the recently formed Vermont Food Truck Coalition.
That organization seeks to provide a centralized communication hub for local truckers and give them a stronger collective voice. Hineman worked with the City of Burlington to organize the Leddy Park events, which will feature 10 or so trucks each month. Next week's gathering includes Hineman's Taco Truck All Stars and other local favorites Southern Smoke (barbecue), Pingala Café & Eatery's Broccoli Bar, Burger Barn and Jamaican Supreme. The event also promises kids' activities and secure bike parking, courtesy of Local Motion. It's part of the coalition's mission to bring mobile eats to more locations within Burlington city limits: "Honestly, there's not a lot of places to park in the city," Hineman says.
Since Hineman runs the winter concessions stand at the park's Gordon H. Paquette Ice Arena and uses the space as his truck's home base and prep kitchen, the location was a natural fit. The lakefront views don't hurt, either. "This is a beautiful spot," Hineman says. "We need to have a truck stop here."