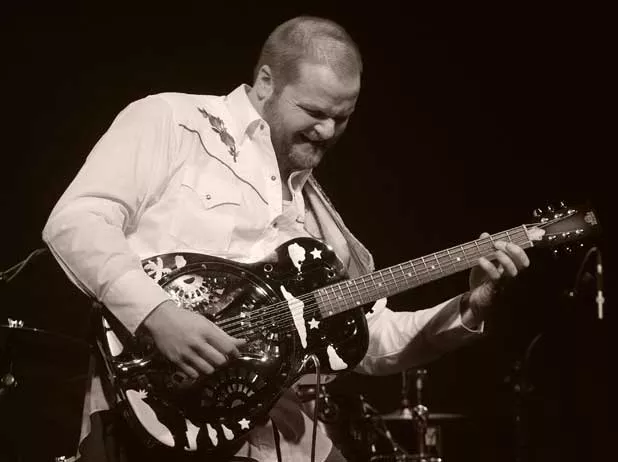 The annals of rock history are littered with stars who left us far too soon. Jim Morrison, Janis Joplin, John Bonham, Kurt Cobain. Sadly, the list goes on and on. And somehow, Keith Richards is still alive. Go figure.
In June 2003, Burlington almost lost one of its favorite sons. Actually, we technically did for two minutes, when Vermont native Aaron Flinn, 38, literally dropped dead of a massive heart attack on the roof of Nectar's. The jovial Berklee-trained multi-instrumentalist had just finished a typically high-energy show at Club Metronome. Upon leaving the stage, the folk-rocker complained of tightness in his chest and stepped outside to get some air. Shortly after, he collapsed, unconscious and without a pulse. "I'd like to liken it to something else," he says during a recent interview at Burlington's Radio Bean. "But it was like nothing else I'd ever experienced."
As he puts it, the heart attack "couldn't have gone better, really." A friend rushed to his aid and performed CPR. Paramedics arrived quickly and he was transferred to Fletcher Allen. His stay would be brief. He arrived on a Thursday night/Friday morning and was discharged that Sunday. "I'm a medical fluke," he says, beaming. "I've had severe colds that took more out of me than death did."
Unlike many fallen rockers, fast living or indulgent excess did not bring on Flinn's medical woes. "It's not like I had a coke problem I needed to cut back on," he quips. Even more curiously, his heart has completely repaired itself and he's experienced no related issues since.
So what does it all mean? "I have no idea," says Flinn, who seems unperturbed discussing his untimely demise - and subsequent rebirth. "I'm a believer that everything happens for a reason," he says. Flinn adds that while most people might look at a brush with death as a reason to cherish every day they're alive, he's always carried that outlook. "It was a good confirmation of that perspective, I guess," he says. "But I didn't come out of that experience saying, 'Now I see that life is precious."
The value and joy of life has always informed Flinn's music, which is typically upbeat, earnest and melodically catchy. His 1996 debut album and his longtime backing band carry the name Salad Days, a term for "the best days of your life," which Flinn says are "every day," without a shred of Hallmark schmaltz. Over the past 12 years he's done countless shows around the world with such luminaries as Big Head Todd and the Monsters, The Samples and Gov't Mule, and recorded seven albums - including a 42-track, two-disc epic. For Flinn life not only provides fertile songwriting fodder, but is the inspiration behind his latest, instrumental effort, Oroboros. Literally.
The album is bookended with the heartbeat of his first child, Ruby True Flinn, taken from an ultrasound shortly before she was born last year. The opening track, "I Want You," actually uses the sound of Ruby's tiny, pulsing heart to set the tune's tempo. She makes a few more guest appearances throughout the song - as does her mother, Sarah, on backing vocals - as Flinn weaves the ultrasound in and out of an upbeat ode to his then still-unborn daughter.
Despite the record's prenatal star power - how many folks can say they were rockers before they were even born? - Flinn says his latest is "really just a continuation" of his ongoing songwriting evolution. "A lot of times, I just sort of feel like an antenna," he says of his prodigious volume of work. "I'll look back, read some of things I've written and honestly wonder where it came from," he says. "The music and the lyrics just seem to find each other."
Though he's discussing his approach to song craft, one gets the feeling he's shedding light into his life philosophy as well. "As long as it keeps flowing, I'll just accept it and let it be."