Matthew Thorsen
The first Bayberry Commons apartment to open
A new complex in Burlington appears to consist of a row of townhouses, each with a unique façade: Some have ocean-blue or yellow siding; others, deep-red brick. They all face a common square that will soon contain green space, community gardens, apple trees and a grilling pavilion. Old-fashioned streetlights, equipped with energy-saving LED bulbs, overlook wide cement sidewalks.
If that sounds like a quaint cityscape, it is. But behind those townhouse exteriors is a surprise: a single apartment building divided into 22 units with one or two bedrooms each. All have shiny granite countertops, cushy beige carpeting and ample closet space.
This is Bayberry Commons Apartments, one of the largest housing projects to take shape in Burlington in several years. When it's completed in mid-2018, the 19 residential buildings occupying the former S.D. Ireland cement plant on Grove Street — just east of Colchester Avenue — will have 232 units available for rent.
Though most of the complex is still under construction, the first apartments opened last month in the two-story townhouse-like structure on the north side of the property. A three-story iteration nearby will add another 30 apartments in November. Three duplexes close to Grove Street await occupants now, and three more will open later this year.
Matthew Thorsen
A granite-topped bar separates the open kitchen from the living room
Rents range from $1,450 per month for a one-bedroom unit to $2,150 for a two-bedroom, two-story duplex with a full basement. The 15 percent of units designated "inclusionary," or affordable under city requirements, will cost between $985 and $1,175 per month.
All together, Bayberry Commons will make a small dent in the chronic rental-housing shortage that has plagued Burlington for at least two decades. Vacancy rates in the city have hovered at or below 2 percent since 2006 and dipped as low as 0.9 percent, except for a peak of 2.7 percent in 2009, according to the city's 2016 Action Plan for Housing & Community Development.
"There is a limited supply of housing units at all levels of the market, and an unusually low vacancy rate exacerbates the issue," reads the plan. "In addition, our extensive student population creates a significant impact on Burlington's housing market ... Burlington has a significantly higher percentage of renters, and the cost of rent is increasing at a higher rate."
S.D. Ireland's owners had this in mind when they proposed the redevelopment of the property in 2012. Three years earlier, the family-run company purchased competitor S.T. Griswold in Williston and decided to consolidate its cement operations at one site, leaving the other available for new use.
During a recent tour of the complex, Patrick O'Brien — senior project manager for Bayberry Commons and S.D. Ireland's general manager of construction and development — told Nest, "We felt that Burlington was lacking a go-to apartment community."
By that, he meant a well-lit, safe, walkable and self-contained place to live, with gathering spots to encourage social interaction. Here, O'Brien said, "you're going to know your neighbor."
Burlington Mayor Miro Weinberger applauded Bayberry Commons as another step toward addressing the "acute need" for more rental housing, which has not kept apace with demand. New rental developments in Burlington must make a certain percentage of units affordable, but any incoming supply of apartments at any price will alleviate demand, and ultimately lead to lower rents across the board, he said.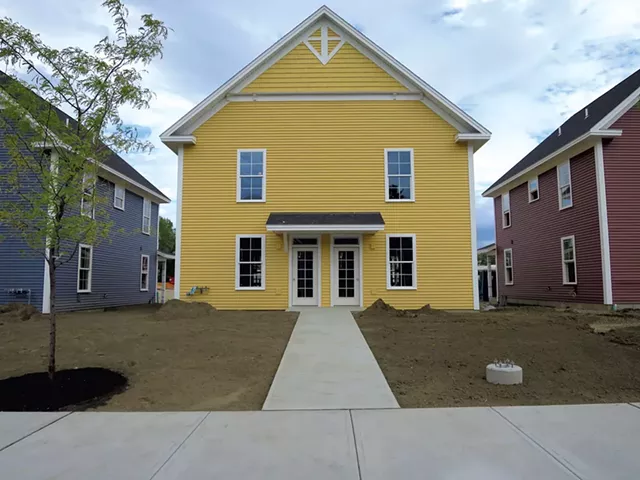 Matthew Thorsen
Duplexes at Bayberry Commons look like single-family homes
"There's no doubt that our lack of new supply of rental homes over a sustained number of years is playing a substantial role in driving our affordability crisis," the mayor said.
The S.D. Ireland plant — on a 25-acre industrial swath once frequented by cement and dump trucks — had long deviated from the surrounding residential landscape. Burlington mayors back to Bernie Sanders in the early 1980s had requested redevelopment of the site, which S.D. Ireland had occupied since 1974, O'Brien said.
From the start, the developer wanted to integrate Bayberry Commons into Burlington's existing urbanized landscape.
"The most important thing was maintaining the neighborhood feel," said Kim Ireland, the company's vice president, who wore a hard hat and gloves while helping plant trees in the central square. "It's been industrial for years," she said of the property. "We wanted it to fit in with the neighborhoods around it."
The duplexes facing Grove Street, for example, sit on an embankment with steps leading to wide front porches, resembling some of the stately single-family homes in the city's tony Hill section. Inside, the living space splits into two 1,150-square-foot apartments, each on two levels.
A future phase of the project includes a large community center with a game room, fitness center, outdoor swimming pool and commercial kitchen, allowing residents to host parties there. S.D. Ireland hopes these features will give Bayberry Commons an edge once the housing supply shifts and starts to meet demand, forcing landlords to compete for tenants, O'Brien said.
Other selling points: Bayberry Commons Apartments have unusually high nine-foot ceilings and their own washing machines and dryers. Upper units offer balconies big enough to fit a small table and chairs for al fresco dining. And, particularly rare in Burlington housing, the grade of the property allows for underground parking. Garages offer at least one parking space per unit, plus storage spaces for tenants to stow bikes and other bulky items.
Matthew Thorsen
From left to right: Steve, Peggy, Kim and Scott Ireland
Connection to the natural landscape is another key component of Bayberry Commons. Units in the two-story building share an open backyard stretching to the surrounding woods, through which tenants can walk to the Winooski River. A path will make it easier to carry down a fishing pole or kayak, O'Brien said.
In addition to the apple trees planned for the center green, S.D. Ireland planted blueberry, raspberry and blackberry bushes around the property. Tenants can pick fresh fruit to supplement their garden-grown vegetables, O'Brien noted.
He said Bayberry Commons will target University of Vermont graduate students as well as employees of Saint Michael's College and nearby tech companies, such as MyWebGrocer in Winooski. Any of those tenants could easily bike or walk to work.
That would help to alleviate an anticipated increase in traffic from Bayberry Commons that nearby residents have raised as a concern. Some complained about the project's initial proposed scale and suggested it would snarl an already-congested stretch of road.
In response, S.D. Ireland made several concessions, first reducing the size of the project by about 50 units. The developer paved and added lighting and sidewalks to the Schmanska Park parking lot, across from the park and just north of the Bayberry Commons entrance on Grove Street, and plans to install two pedestrian crosswalks with the same rapid-flashing system used on Pine Street in Burlington's South End.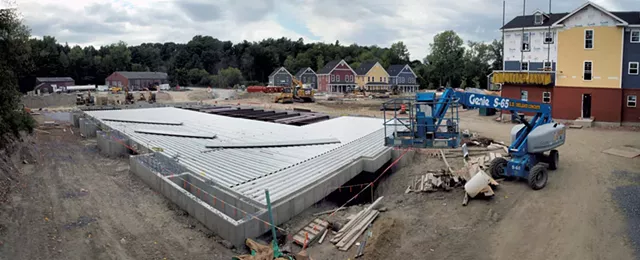 Matthew Thorsen
Bayberry Commons still under construction
S.D. Ireland also agreed to extend the now-unfinished sidewalk along Grove Street to the South Burlington town line and install new speed bumps and a digital speed alert sign.
"We remain concerned about the ultimate traffic impact," said Erhard Mahnke, who lives with his wife on Grove Street right next to Bayberry Commons. He emphasized, though, that he appreciated S.D. Ireland's changes, which improved the project from its initial proposal.
Neighbors also worried about Bayberry Commons serving as a hub of off-campus housing for college students. That prediction has partly come to pass, with Champlain College leasing 12 of the 16 now-occupied units. The college approached the developer when it enrolled more incoming students this year than it could house, O'Brien said. It made room by offering upperclassmen apartments there.
So far, that's one housing shortage Bayberry Commons has helped to solve.