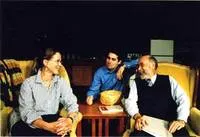 Colleen Wilford, Dan Kahn and Clarke Jordan
Some playwrights choose the stage over the therapist's couch and work out their "issues" in front of the footlights. "Marriage gone wrong" is a popular theatrical theme. Script-based solutions? Create an unflattering character modeled on an ex-spouse — see Arthur Miller's thinly veiled portrait of Marilyn Monroe in After the Fall.
Or exorcise the ghosts of Mommy and Daddy's unhappy union by translating all those terrible fights — overheard as a crayon-wielding scribe-to-be — into scenes of snappy dialogue. For instance, the circumstances of Edward Albee's early and lengthy estrangement from his family suggest that parental discord may have influenced his dark view of matrimony in Who's Afraid of Virginia Woolf?
There is no need to speculate, however, about the inspiration for William Nicholson's 2003 play, The Retreat from Moscow. It's about "the failure of my parents' marriage," the English writer reveals in his website bio. "I see all my work as one unfolding attempt to make sense of this messy life."
It was well worth the trek to Unadilla Theater near East Calais to see director Alex Brown's tidy and surprisingly funny adaptation of Nicholson's take on a long and bitter marriage. Clarke Jordan and Colleen Wilford turned in outstanding performances as the warring husband and wife.
The Retreat from Moscow compares the denouement of an ill-conceived marital union to the devastating end of a poorly planned martial campaign. When the play opens, history teacher Edward is reading aloud the gory details of Napoleon's Russian debacle. As the French army retreats in punishing winter conditions, staggering carnage piles up: Of 450,000 men, only 20,000 survive. "Once left behind on the road, they froze to death . . . Nobody looked back," Edward reads. He's fascinated by the way the soldiers could ignore the suffering around them, while describing it in their diaries in painstaking detail.
Edward's interest in this gruesome history both bores and annoys his tightly wound wife, Alice. "Utter rot," she proclaims. Poetry is her passion — she can recite hundreds of verses from memory. She's assembling an anthology of favorites: "Lost Love" is turning out to be "by far the largest section," she tells Edward.
Alice fails to realize that the Lost Love she should be worrying about is her husband's. Edward feels he "can't compete" with all her poetry — he fails to live up to the high, romantic ideals she spouts, stanza by stanza. And he has grown weary of Alice's condescending criticism and constant nagging. Just a few days shy of their 33rd anniversary, she picks away at him. "I don't want you to do it because I want to do it," she says about dining out to celebrate. "I want to do it because you want to do it."
Alice doesn't know that dinner is already off the table, because what Edward wants is out. After decades of passively yielding to her demands, he has met someone else who accepts him, who lets him do the crossword quietly every evening. Alice has calculated — at a half hour per day, times 33 years — that he's "wasted" 396 days on this hobby.
Since Edward lacks the courage — or perhaps foolhardiness — of a Napoleonic soldier, he waits to break the news to Alice until their adult son Jaime comes home from London for the weekend. Edward knows Alice won't take the news well. And it goes worse than expected: Alice comes undone. Her simplistic Catholicism means she takes "till death do us part" quite literally. She simpers, pleads and promises to change, and then turns to stalking Edward. She stops caring for herself and starts issuing dark threats. Like an exhausted soldier, she just wants "to lie down in the snow and die."
Nicholson's script is a swirling mix of strengths and weaknesses. The brilliance of Unadilla's production is that Jordan and Wilford conjured enough humor, charm and convincing chemistry from their roles to outshine the play's flaws.
Nicholson primarily writes screenplays. The Retreat from Moscow brings together, in a thought-provoking way, themes he's addressed in his scripts for films: Shadowlands, a close study of a marriage, as well as of faith; Nell, in which characters have difficulty communicating; and even Gladiator, with its bloody, high-stakes history. But Nicholson has worked primarily on adapting other material, not creating original stories. Fictionalizing characters from one's own life is a notoriously tough challenge.
Could it be any more clear whom Nicholson blames for his own parents' divorce — the affectionately portrayed, beleaguered Dad, or bitchy, unstable Mommy Dearest? A tenet of Drama 101 is that the audience must be able to sympathize or identify with every character in some way — even Hannibal Lecter. But Alice is a relentless harridan and tiresome drama queen, who espouses a pigheaded, antiquated and judgmental worldview. Unadilla's production greatly tempered her lack of likeability by wringing every ounce of humor from the couple's repartee. Ultimately, however, we were laughing with Edward, and at Alice.
And son Jaime seems something of a helpless witness: Nicholson's awkward attempt to embody a child's feelings in an adult character. Jaime remains a cipher, steadfastly refusing to reveal himself to his parents, with little to do except bounce between them like an inarticulate tennis ball.
At Unadilla, Dan Kahn gamely tackled Jaime's not-so-well-drawn part, but seemed a little more uncomfortable on stage than even the script suggests. His facial expressions lacked the wide range that the primarily reactive role required, and his body language was a little stiff, especially when standing. A troublesome, breathy tic — audible inhalations between lines — affected his speech pattern. He definitely mastered Jaime's bemusement at the parental train wreck, however, and displayed a comfortable father-son rapport with Clarke Jordan.
Jordan, on the other hand, was a total delight as Edward. Every subtle gesture and expression made the audience feel Edward's weariness, wariness and overwhelming sense of inadequacy. His constrained physical movements showed a character practically constipated with frustration: elbows held tight and square to his trunk, brow knitted in befuddlement, eyes averted from contact, speech often slowed to a stammer. But Jordan made Edward's weaknesses appealing, not pathetic: He embodied a man who still had charm and self-awareness in his frailty, and developed some much-needed feistiness when it came time to stand his ground.
Colleen Wilford pulled off a Wonder Woman-level acting feat, taming a shrewish character into someone we cared about. She brought an edge of refinement to Alice's quiet manipulations. Wilford softened Alice's extreme behaviors and beliefs — ranging from withering condescension and wide-eyed Pollyannaism to grisly threats — with one underlying constant: Alice really does love Edward, in her own twisted way.
Director Brown chose to skip English accents. That was wise — they're distracting, unless done effortlessly, and ultimately unnecessary in a close character study such as this one. The set itself created the feel of a frumpy middle-class suburban English home, with its unhip palette of mustard, green, brown and ivory. A kitchen along the back wall was used for frequent tea-making trips. Most of the action occurred in the downstage dining and living room areas, well lit by Ellen Simpson.
Even without the accents, however, it's a good idea to keep Moscow's Englishness in mind. The play is a study of anger, and how two ill-suited people express their frustration differently. Alice henpecks, beneath a polite and polished surface. Edward suppresses, to the point of self-negation. In a provocative new book, The Angry Island, A. A. Gill argues that the simmering spleen is the English national organ, and that even civil national pastimes and obsessions — from proper manners to gardening — are about channeling rage and imposing order on chaos.
Food for thought: Gill, a critic for London's Sunday Times, is a Scotsman.