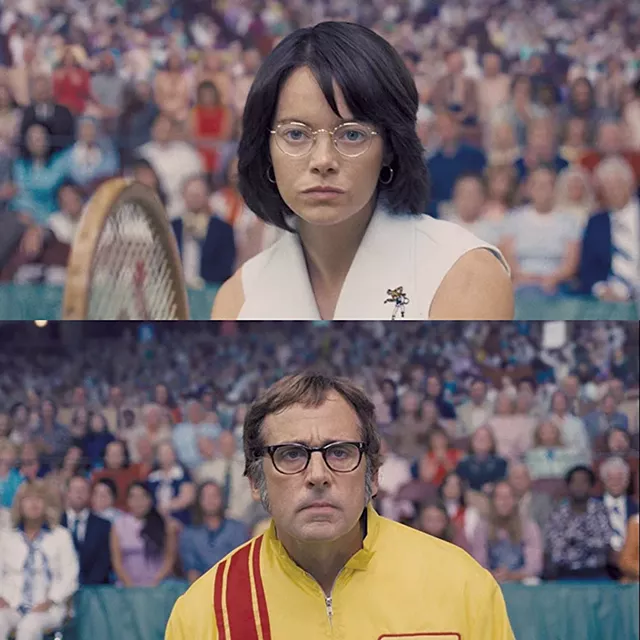 It was the wire heard round the world. On October 5, the New York Times broke the Harvey Weinstein story, and, five days later, the New Yorker published a follow-up that included audio from a recording made by Ambra Battilana Gutierrez. In the doorway of the movie mogul's hotel room, the model disobeyed direct orders to get inside. Little did the influential producer suspect the New York Police Department was listening. Soon the entire world would hear him demand, "Listen to me. I'm a famous guy ... Come in now."
Weinstein's toppling proved the opening salvo in a revolution that's rocked some of the culture's most powerful institutions and industries — one still being waged as this goes to press. By whatever name you care to call it — the #MeToo movement, the Reckoning, the Harvey Weinstein Effect — this is the year's defining phenomenon.
The movie business has found itself on both sides of the rebellion, sustaining self-inflicted fiscal and artistic wounds yet to be quantified while marshaling resources to reflect on a historical moment without precedent. Among those accused of everything from disrespectful treatment in the workplace to sexual harassment and even rape, after all, is the man who holds the nation's highest office. His was the "locker room banter" heard round the world, thanks to reporting by the Washington Post. One can't help but speculate on how different the consequences might have been had that "Access Hollywood" tape surfaced this November rather than last.
Some 2017 films offered reflections on the current climate that were purely serendipitous. Directors Jonathan Dayton and Valerie Faris, for example, announced plans for Battle of the Sexes back in April 2015. Guillermo del Toro got the idea for The Shape of Water in 2011, and production wrapped on November 6 of last year. So, however poetically the film addresses the issue of what he's called "otherness," it wasn't conceived as a comment on President Donald Trump's travel ban or immigration policy.
Steven Spielberg's The Post, by contrast, feels as though it's grappling with divisive and pressing concerns of the moment because it is. The filmmaker read the first draft of the script in March, immediately dropped a project he'd been working on for six years and rallied his troops to get the movie rewritten, made and marketed in time for awards season. While it's set in 1971, its themes couldn't be timelier: a commander in chief who considers himself above the law and the press his enemy. A system that enables men to marginalize women. The privilege and influence of the 1 percent. Truth no longer spoken by power.
I'm not saying The Post is the year's best film — just its most relevant. More so even than movies such as I Love You, Daddy, which a misguided Louis C.K. made in homage to Woody Allen. Or Wonder Wheel, which a misguided Allen made because, well, he's not the human being we once believed him to be.
With a new name ruined virtually by the day, the Academy Awards broadcast is going to need an additional "In Memoriam" montage for the downfallen, the professionally living dead. Let's mourn them and pray that, in the New Year, both the movies and the people who make them are great again.
— R.K.
Saoirse Ronan in Lady Bird
Rather than mourning those who overstepped their professional boundaries and used their celebrity clout to hurt or humiliate their colleagues, I'm going to hope this is the year when our default image of a "blockbuster director" or a "genius auteur" stops being a white dude. This is not a slam on white dudes. They made some of my favorite films of 2017. But let's also take time to celebrate the work of filmmakers such as Greta Gerwig (Lady Bird), Jordan Peele (Get Out), Patty Jenkins (Wonder Woman), Dee Rees (Mudbound), Julia Ducournau (Raw) and many more. And let's hope that Hollywood opens itself up to more fresh talent and more untold stories in the future.
— M.H.
Most Stellar Performance
RK: John Malkovich is a creepy, cold-blooded joy in I Love You, Daddy. What a shame audiences are being denied the chance to behold the great actor's latest. In The Post, Tom Hanks is a blast and a half as legendary publisher Ben Bradlee. Though, if I'm honest, it feels like fun I've had before, and I feel similarly with regard to Frances McDormand's forceful yet familiar creation in Three Billboards Outside Ebbing, Missouri. For my money, the year's most revelatory performance was Jeremy Renner's in Wind River. It's the finest work the actor has done since The Hurt Locker, possibly his most subtly unforgettable to date.
MH: McDormand is enormous fun to watch, and Allison Janney and Margot Robbie are both disturbing and hilarious as mother and daughter in I, Tonya. But the performance that blew me away was Cynthia Nixon as Emily Dickinson in Terence Davies' A Quiet Passion. She plays the great poet as a sort of proto-geek nurtured by America's iconoclastic currents: both sheltered and experienced, witty and weighty, Victorian and strangely modern. I'd love to see more daring biopics like this one.
Most Annoying Performance
RK: The most Doubly Dim-Witted of the year were without doubt the performances given by Mandy Moore and Claire Holt in the deep-sea debris that was 47 Meters Down. The Most Tedious, in my humble opinion, came courtesy of Woody Harrelson as a freethinking father dragging his family from burned bridge to burned bridge in The Glass Castle, a veritable monument to insipidness.
But Denzel Washington and Kate Winslet tied for Most Annoying. He gave an Oscar-bait performance so jumbled in tone that a savant like his character in Roman J. Israel, Esq. would be hard-pressed to make sense of it. In Wonder Wheel, she attempted to channel Tennessee Williams but came off so delusional, cloying and needy, she made Blanche DuBois look like Gloria Steinem.
MH: This year I was reminded that sometimes an annoying performance isn't the same as a bad performance, as I watched Elizabeth Olsen play an insipid Instagram star in Ingrid Goes West and Bria Vinaite (incidentally, a real-life Instagram star) play a surly young welfare mom in The Florida Project. Both frequently grated like nails on a chalkboard, and I'd hate to meet either character IRL. But both performances also felt true and vital to their films.
Best Comedy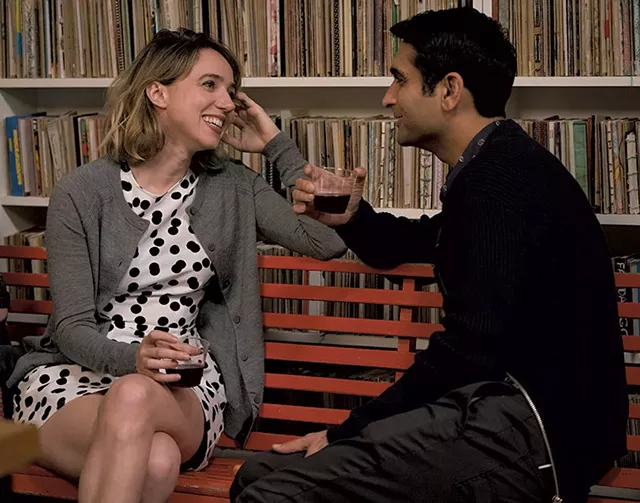 RK: There's so much confusion about this one this year, it's not even funny. Not which picture was the year's best comedy, but which were comedies at all. Three Billboards — drama, right? Rotten Tomatoes says so, while IMDb and Metacritic have it in the "comedy, drama" category. The official classifications for Get Out are similarly all over the place, divided among horror, thriller, mystery and, yup, comedy.
I laughed out loud all the way through Craig Gillespie's inspired I, Tonya. Too bad it's a drama, according to IMDb, Metacritic and Rotten Tomatoes. For once, the Hollywood Foreign Press Association proved the voice of reason, nominating it for Best Comedy of 2017. But I give that honor to The Big Sick, an Annie Hall for the age of ISIS.
MH: Funny, I don't see I, Tonya as a comedy (even though I laughed during it), perhaps because it follows a classic tragedy arc. But I do see The Meyerowitz Stories (New and Selected) as a comedy, even though it confronts as many ugly truths about human nature as any domestic drama. Noah Baumbach, the king of family cringe comedy, outdid himself with this tale of an aging windbag artist and his three messed-up kids. And Adam Sandler took advantage of this chance to prove that, yes, he can really act.
It was a great year for comedy hybrids: For scary, spot-on satire, we had Get Out. Then there was Thor: Ragnarok, the superhero flick whose spoofy humor, reminiscent of classic Douglas Adams, unquestionably places it in the comedy category.
Worst Comedy
RK: Will Ferrell celebrated his 50th birthday with the biggest flop of his career. The House, Andrew Jay Cohen's directorial debut about cartoon suburbanites who open an illegal casino in their McMansion, failed to win big with either audiences or critics. Maybe that one should've been filed under "mystery." As in, what possessed the comic legend to ante up in the first place?
MH: I need to start avoiding comedies with the word "just" in their titles. Just Getting Started, a sloppily written film about shenanigans at a retirement community, made me laugh about as much as Sandler's Just Go With It did in 2011 — that is, not at all.
Biggest Letdown
RK: Paramount certainly felt let down by George Clooney's comment on race relations, Suburbicon. The film gave the studio its worst wide opening ever. Kathryn Bigelow and Mark Boal didn't make Annapurna Pictures — or moviegoers — a whole lot happier with theirs. Detroit disappointed in virtually every way (OK, except the Motown soundtrack). The Zero Dark Thirty director and screenwriter share an unerring instinct for finding exactly the right story at exactly the right time and then finding a way to shoot themselves in the foot while telling it.
MH: I hoped a script by Joel and Ethan Coen would at least make Suburbicon interesting. Instead, combining early Coen clichés with a cheap play for contemporary relevance, Clooney's film was alternately painful to watch and a snooze.
Biggest Surprise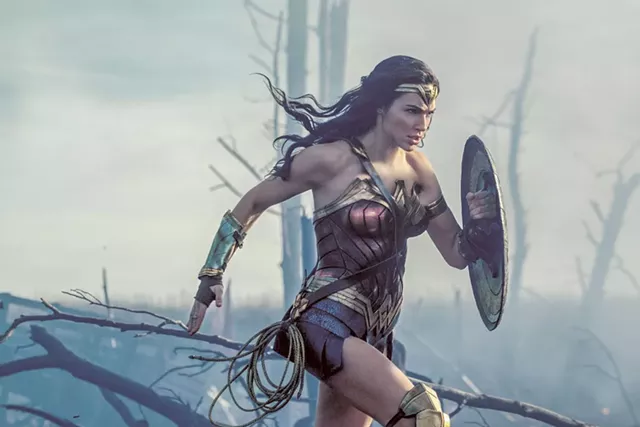 Gal Gadot in Wonder Woman
RK: That two fabulous films could be made based on real women with whom we're already real familiar. Or so we assumed. The documentary Jane and the drama-biopic-comedy-dystopian-action adventure-whatever-it-is I, Tonya allowed us to see the groundbreaking primatologist and the leg-breaking Olympic skater with fresh eyes.
MH: That Wonder Woman defied all the Hollywood naysayers by making bank, proving that women do buy movie tickets and very possibly ushering in a new mini-trend of superheroine films. Maybe that shouldn't have been a surprise, but it was.
I'm also surprised (stunned, really) that I was able to see Darren Aronofsky's Mother! in a theater. Surely one of the most esoteric, brutal, intimate and oddly touching artistic experiments ever to grace a suburban multiplex, it offered a public viewing experience like no other.
Film So Forgettable I Didn't Remember Seeing It Until Compiling This Year-End Review
RK: The LEGO Batman Movie. You could practically hear the beans being counted as the first of a gazillion shiny, brightly colored spin-offs went through the motions while never approaching the mad genius of The LEGO Movie. These days, franchising isn't so much a corporate strategy as a reflex. What Hollywood doesn't get is that lightning in a bottle can't be bottled and sold. This time around, everything was far from awesome.
MH: In my February review of Rings, the unnecessary and poorly acted follow-up to horror classic The Ring, I predicted, "Seven days after seeing Rings, you won't remember a thing about it." Turns out, this was close to literal truth. I also forgot writing that sentence.
Best New Name to Watch in Front of the Camera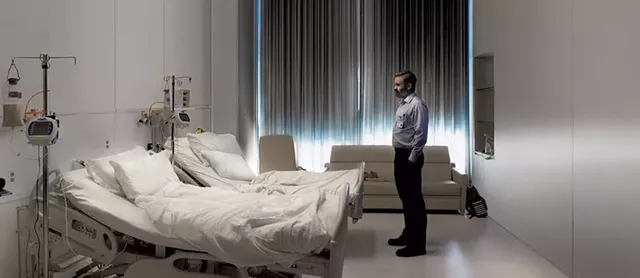 The Killing of a Sacred Deer
RK: It's doubtful you'd remember Barry Keoghan from the 2014 British production '71. It's every bit as unlikely you'll forget the 25-year-old Irish actor after watching his work in either of the films he appeared in this year: Dunkirk and The Killing of a Sacred Deer. Particularly in the latter, he impresses with a rare, riveting blending of fumbling nerdiness and the otherworldly.
MH: Agreed. But I was even more impressed with Timothée Chalamet's convincing performances in two contrasting roles. In Lady Bird, he's the cool-guy object of Saoirse Ronan's crush; in Call Me by Your Name, he's the awkward teen crushing on a cool guy. Rarely has adolescent self-consciousness been dissected as well as it was by this newcomer and Ronan this year.
Best New Name to Watch Behind the Camera
RK: Greta Gerwig isn't exactly a "new name." She's ascended from mumblecore queen in films such as Hannah Takes the Stairs to the star of numerous hits over the past decade, including Mistress America, Jackie and Frances Ha, which she cowrote. She's even codirected. But she's brand-spanking-new-with-a-bullet on her own behind the camera and appears as pleasantly surprised as everyone else that her solo directorial debut, Lady Bird, is poised to figure prominently in the awards-season conversation.
MH: I'm excited to see what Gerwig does next. Ditto Jordan Peele, who made a stunning transition from sketch comedy to directing with Get Out. With The Florida Project, writer-director Sean Baker is making a bigger name for himself as one of the few American narrative filmmakers telling stories about the poor.
A filmmaker I had not heard of until this year was Osgood Perkins (actor and son of Anthony), and, as a fan of cerebral horror, I loved his The Blackcoat's Daughter. So far, Perkins' films haven't made it to many theaters, but the one released to streaming last year (I Am the Pretty Thing That Lives in the House) is just as moody, daring and bizarre. I'll be watching his next.
Most Inexplicable Hit
RK: How horrible a year did Hollywood have? Let's see: Summer attendance was the weakest in a quarter century. Adjusted for inflation, the total domestic box office was the lowest since 1995. Even factoring in the global market, 2017 set a new record for big-budget bombs. Foreign moviegoers, famous for eating up anything with American stars in spandex, stayed home in droves. The industry's worst nightmare came to pass: Everybody everywhere is tired of the same old crap.
So how do you explain that It, a lazily conceived remake from a one-hit director featuring zero stars, wound up with the 10th-largest worldwide gross of the year ($696 million)? You can't.
MH: This year, I was pretty happy to see so many "same old crap" films (Transformers: The Last Knight, Geostorm, The Mummy) not making huge pots of money. Please do us a favor, studio execs, and stop blaming Rotten Tomatoes for the failure of your less-inspired products.
I was also startled to learn that a bloody, dark western featuring a twisted mentorship relationship between a weathered killer and a traumatized tween can crack the year's 10 top-grossing films, provided it's also a superhero movie. Pleasantly startled — because Logan took risks, and they paid off.
Most Inexplicable Flop
RK: As indicated above, there's simply no accounting for taste. For example, Wind River, written and directed by Taylor Sheridan — who scripted Sicario and Hell or High Water — fired on all cylinders. Spare, knowing and powerful, with dialogue worth the price of admission, it somehow wound up No. 99 in Box Office Mojo's 2017 accounting. Which was better than Colossal (No. 160), a wildly imaginative work with big names to spare, or The Square (No. 184), Swede Ruben Östlund's Palme d'Or-winning meditation on, well, pretty much everything. A global take of just over $1 million for this masterpiece — that's the definition of inexplicable.
MH: I will go to bat for Blade Runner 2049, a stirring, visually ravishing tale of people fighting a system that defines them as non-people. Like War for the Planet of the Apes and The Shape of Water, the film simply assumed we would be willing to empathize with the "other" (be that a replicant, an ape or a humanoid sea monster) in their struggle against people who look like us. That empathy shouldn't be a fresh take, but it feels like one in 2017.
Freshest, Most Creative Screenplay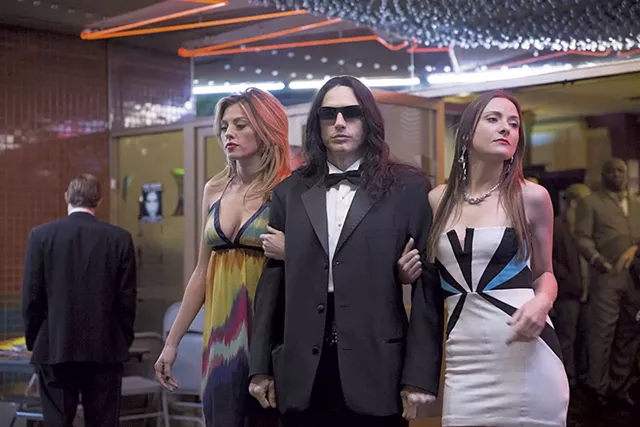 RK: Hollywood had its thinking cap on a little more firmly and more often than usual this year. Bright ideas brought us a relative cornucopia of creativity, works as diverse as Colossal, It Comes at Night, The Shape of Water, Okja, The Killing of a Sacred Deer, Lucky, Blade Runner 2049, The Disaster Artist, Get Out, Downsizing and The Trip to Spain — oh, that's right, that last amazing series doesn't use screenplays; it's entirely improvised! Unbelievable! So is what scribe Steven Rogers manages to do in I, Tonya: Turn everything we think about the disgraced skater on its head, while entertaining the hell out of us.
MH: A coach with serious bona fides tells me that I, Tonya is an accurate portrait of the figure skating world. If nothing else, the cleverly scripted, fourth-wall-breaking film proves that triple axels are relevant to contemporary reality. Get Out did something similar for the horror genre with its clever twist on The Stepford Wives. Without a single message-movie cliché — with, indeed, nothing but an entertaining story — Peele reminded us that racism takes many forms, some of them seemingly benign and enlightened.
Most Formulaic, Cliché-Infested Screenplay
RK: Wonder Wheel. Tagline: So painful to watch it's guaranteed to worsen the nation's opioid crisis.
MH: Ah, Geostorm, how shall I count thy clichés? A hunky "maverick" scientist. Brotherly rivalry. A precocious tween dispensing wisdom. Government conspiracies. Scenes of horrendous global carnage that keep the focus on token "cute" victims like a little kid searching for his dog. Spoiler alert: The dog lives, and the movie sucks.
Worst Picture
RK: Risk, Laura Poitras' documentary about Julian Assange, is the most shocking act of artistic self-destruction I've witnessed in my lifetime. It's a long way down from 2014's Oscar-winning Citizenfour to this sorry, less-than-ethical botched opportunity. A film that should have been at the center of award-season debate is barely a memory, owing to Poitras' flagrant betrayal of her subject. You don't play games with a man's life because a romantic relationship you started with one of his associates didn't end the way you wanted. Unconscionable. And boring.
MH: I saw a bunch of bad movies this year, but Suburbicon was the only one that truly bugged me. Its satire of the 1950s, clearly meant as a commentary on 2017, instead came off as a series of goofy Pleasantville clichés. It touted its own anti-racist virtuousness yet gave the vast bulk of its screen time to one-note white characters. The good intentions were evident, but the cluelessness was more so. Somehow, on top of that, the movie managed to be boring.
Best Picture
RK: Dunkirk? I don't think so. The really significant films this year were ones like Three Billboards Outside Ebbing, Missouri; Wind River; The Big Sick; Atomic Blonde (I'm serious); The Killing of a Sacred Deer; Battle of the Sexes; The Square; The Post; and Get Out. Jordan Peele's directorial debut took best-picture honors at the African American Film Critics Association Awards on December 12 and will no doubt only continue to collect hardware as the season progresses. It's fantastic. The perfect fable for this moment, and the year's most regrettably trenchant work.
MH: I've already sung the praises of many fine films I saw this year, including Get Out; The Florida Project; I, Tonya; Blade Runner 2049; Lady Bird; Mother!; and A Quiet Passion. But the 2017 film that will stick with me the longest is writer-director David Lowery's A Ghost Story. It shares with Get Out a theme of existential horror, of the fear of having one's individuality extinguished. It's a very small movie that somehow encompasses a large time frame. It's an affirmation of the creativity and endurance of the human spirit, or maybe it's a self-deprecating joke tossed into the void. That Kafkaesque doubleness sums up 2017 for me.