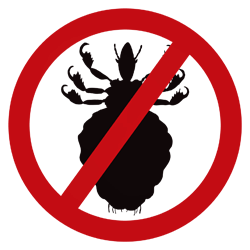 Last summer, my twin daughters came home with head lice. I don't know when or where, specifically, they picked up the bugs. That's the way it is with lice: One day you're enjoying your life, minding your own business. The next, your innocent kids — ours were just shy of 2 years old — are itching their heads like crazy.
So my spouse, Laura, and I went to the drugstore and bought the lice treatment — the heavy-duty mixture, with chemicals that can go on a kid's head only every week to 10 days or so. And we broke the bad news to our girls: "Lucy, Stella," we said, "it's not bath night, but we're washing your hair anyway."
The toxicity of that first treatment was a blessing in disguise. It helped me focus on the solution to our problem — and on not getting the stuff in anyone's eyes — instead of on the source of the tiny white nits clinging tenaciously to toddler hair. I didn't want to be the kind of parent always looking to blame other parents for these ordinary, though disgusting, challenges that come along. A few moments later, I was combing the first louse out of sobbing Stella's fine brown locks. My sudden rage at the sight of the creepy thing startled me a little.
As Laura and I divvied up another bottle just for us, I searched for the right military metaphor to describe our first lice incursion. Was it a World War or more like the current fighting in the Middle East? Such questions, I now understand, reflect the psychological nature of lice war — a war in which the lice had clearly gained an early advantage.
When Laura joined me in the bathroom, I sensed from her determined expression that she hadn't been thinking of our daughters' lice infestation in allegorical terms. Instead, she'd been gathering information and formulating a battle plan. We're different in this way, she and I.
The plan played to our key strategic asset: time. I was on summer vacation, and Laura was working part time, so we were able to dedicate ourselves to administering lice treatments, including nontoxic elixirs, as frequently as was safe; throwing into a hot clothes dryer anything our girls' heads touched for more than a nanosecond so as to avoid reinfestation; and combing out nits whenever we could get the girls to sit still.
I sometimes squander my free time, but there was no such slacking during the war on lice. Fighting lice practically became my job. We were vigilant and made slow, steady progress in beating back the enemy.
Aside from their annoyance at all the combing, my daughters were relatively unfazed by the skirmishes on their respective scalps, but Laura was wigged out by a mild infestation of her own. And rightfully so. My wife's hair is phenomenal. To call it thick is like calling the Sinai Peninsula dry. Her hair is an ancient culture: dense, complex, one layer pressing down upon another, upon another, upon another.
Searching for nits on her scalp demanded an archaeologist's rigor — and patience above all. I doubt that our marriage had faced a more challenging test than those interminable nit-picking sessions. They made the sleep-deprived, nursery-pacing first months as parents of twins seem like a stroll down the bike path. We'll never forget our wedding anniversary that summer: We went to bed wearing swimming caps to cover noggin coatings of some greasy lice antidote.
During the rare moments when I wasn't applying goop to my kids' hair, tossing linens into the dryer, or ruining high-chair mealtimes with probing comb and fingers, I wondered how more time-strapped parents found the wherewithal to break the cycle of lice violence. It's a miracle that we don't all have lice all the time.
In the end, Laura and I were victorious. Roughly three weeks after the first lice sighting, we'd sent them packing. We hoped. With lice, it's hard to be 100 percent certain. Hours of searching hair strands for speck-size nits can play tricks on the eyes. To borrow from Dwight Eisenhower's warning about the military industrial complex: When your only tool is a lice comb, every problem starts to look like lice.
Our apparent victory in the war on lice coincided with a family trip to Martha's Vineyard — ground zero in the northeast's battle with Lyme disease. My anxiety about lice blended seamlessly into an even greater anxiety about deer ticks attaching to my girls' delicate skin. In that first night on the Vineyard, I dreamed that the lice had returned — and they were as big as lobsters.
That summer vacation wasn't all that relaxing, but Laura and I learned a few things — about lice and about ourselves as parents. I won't thank the lice for this opportunity, but I'm confident that, should the buggers ever invade our family's hair again, we'll defeat them. For we've learned the most important lesson of all: In lice, as in war, there are no shortcuts in securing the homeland.