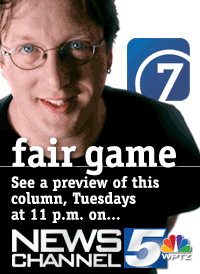 Remember the good old days? We had a president we loved to hate, wars to end, and Frisbees, er discs, to toss around?
Monday marked the eighth Memorial Day since "Operation Enduring Freedom" was launched in Afghanistan October 7, 2001; seven since Operation Iraqi Freedom saw a "coalition" of forces invade Iraq on March 20, 2003.
Since military action began, nearly 35 soldiers with Vermont ties have died in Iraq and Afghanistan — out of a total of 4987 U.S. troops killed in action. Another 32,000 have been wounded, according to Department of Defense statistics.
Despite last year's election slogan to "Bring the Troops Home Now!", Congress recently approved a $73 billion installment to keep the troops overseas for the foreseeable future.
The funding bill slipped through the Congressional sluice so quickly, you might not have noticed but for the brief logjam denying Pres. Barack Obama's request of $80 million to close down the torture, er, detention camp in Guantanamo Bay, Cuba.
With his party — the Democrat Socialist Commie Pinkos — in control of Congress, his request is a no-brainer, right?
Nope. We're talking Washington, D.C. — a universe unto itself.
In a lopsided, 90-6 vote, the U.S. Senate denied Pres. Obama's $80 million request to close "Gitmo" and move its roughly 240 occupants to other secure facilities, some of which would be in the United States.
Vermont's senators split their votes: Sen. Patrick Leahy (D-VT) approved the funding, while Sen. Bernie Sanders (I-VT) denied Obama's request.
Leahy believes Congress should not yield on any measure designed to change the direction of the nation's security policies.
"Guantanamo has become the symbol of the severe missteps that our country took in recent years," said Leahy. "Changing our interrogation policies to ban torture was an essential first step. But only by shutting the Guantanamo facility down and restoring tough but fair procedures can we repair our image in the world."
OK, but what do you do with the detainees? Let 'em roam free and appear on their own recognizance? Leahy said our criminal justice system can handle them.
Sanders isn't so sure.
"Are there some who should be released, are there others who should be returned to their home countries, are we confident that under Bush the correct determinations were made with respect to these prisoners' status as 'enemy combatants'?" asked the junior senator. Good points.
Besides, Pres. Obama has appointed a high-level committee of top administration officials that will soon issue a report on how to best close Gitmo. "I think that it is prudent to review that plan they develop before we spend $80 million in taxpayer money," noted Sanders.
Sanders applied that "review before you spend" theory to the war supplemental bill and voted against it — one of only three "no" votes. Leahy voted in favor.
The funding bill, Sanders noted, didn't provide "the kind of exit strategy to both conflicts that I believe we need."
Rep. Peter Welch (D-VT) supports closing Guantanamo and would have voted accordingly, said spokesman Paul Heintz. However, Appropriations Committee Chairman David Obey (D-WI) stripped the president's funding request out of the House bill, so it never came up for a vote.
Welch joined 51 Democrats and nine Republicans in opposing the war funding. The House approved the bill, 368-60.
Can ya feel the change?
Pre-Judging? — As chairman of the Judiciary Committee, Sen. Leahy will be at the center of the next big Washington, D.C., battle: overseeing the nomination of Judge Sonia Sotomayor to the nation's highest court.
Pres. Obama named Sotomayor to replace retiring Justice David Souter. He informed Leahy of his pick while the senator was visiting troops in Afghanistan.
"I believe Judge Sotomayor understands that the courthouse doors must be as open to ordinary Americans as they are to government and big corporations," said Leahy, who supports her nomination.
The Second Circuit hears cases from Vermont, so it's no surprise that Vermont attorneys have been peppered by questions from Sotomayor.
Burlington attorney Ron Shems, of Shems, Dunkiel, Raubvogel & Saunders, argued a case before Sotomayor involving Vermont's mercury labeling laws. He found her to be both prepared and genial.
Shems was arguing a case before the Second Circuit again on Tuesday just as Pres. Obama broke the news.
"We were in mid-argument, and the presiding judge asked if it was OK to stop so they could listen to their colleague [being] nominated," said Shems. "All three judges were beaming. The pride you could see from the judges was palpable."
Sotomayor was the presiding judge in another Vermont case. In 2004, Williamstown eighth-grader Zachary Guiles wore an anti-Bush T-shirt to school that included pics of lines of cocaine and a martini. The school told him he couldn't wear the shirt unless he covered up the pictures. He refused and was sent home, and later sued the school. Federal District Judge William Sessions sided with Guiles, and the school appealed to the Second Circuit. Sotomayor and her colleagues upheld Sessions' decision in 2006.
"I thought she was tremendously intelligent and prepared. I am very enthusiastic about her appointment," said Bennington attorney Steve Saltonstall, who represented Guiles. "I think she'll be fantastic as a Supreme Court justice."
Sounds like, in Vermont, the jury's already declared a verdict on Pres. Obama's pick.
More than Memories — On Memorial Day I called and emailed a few soldiers I've come to know and admire during these past six years to see how they were spending the day.
Here's the response from Adrienne Kinne, a member of Iraq Veterans Against the War:
Memorial Day is a day to remember and honor those members of our military who have died in service to our country. I believe that it is important to also remember that our soldiers, sailors, air men and women, and marines, sacrifice their lives not to perpetuate war but to end war. Let us all pay tribute to their service and sacrifice by ensuring that we never again allow our government to enter into wars of choice and aggression, which benefit the few at the expense of the many. Let us all learn true humility and respect for all human life, which would render acts of selfishness, hatred, torture and perhaps even war obsolete. Let us all struggle to end the wars, bring our troops home, take care of them upon their return, and respect the rights of the Iraqi and Afghan people to self-determination, and in doing so, honor the service of our fallen, who too often gave their lives to achieve these ends.
Thanks for the reminder and for your service, Adrienne.
Salmon: Pol Out of Water? — State Auditor Tom Salmon is usually pretty good at dodging bullets.
But last week the Navy reservist who served in Iraq last year stepped into the crossfire between the Democratic leaders in the legislature and Gov. Jim Douglas.
Salmon offered to mediate budget talks among Gov. Douglas, Secretary of Administration Neale Lunderville, House Speaker Shap Smith and Senate President Pro Tem Peter Shumlin.
So far, only the guv has accepted Salmon's offer. Nice move on Douglas' part, as it makes the Democratic leaders look more entrenched than him — which isn't really true.
Salmon is also a Dem with gubernatorial ambitions. Salmon's dad was governor in the 1970s, and the younger fry is mulling a 2012 run. It's too early to tell if Salmon has taken any political shrapnel for his move, though it's not making him any friends with party activists. In their eyes, he's getting in the way of a good veto override.
Salmon says he's more worried about Douglas and lawmakers setting a bad precedent that will affect future budget talks than he is about his political future.
"Maybe I'm naïve, but this doesn't have to be complicated. These talks should be based on three ideas: simplicity, urgency and honesty," said Salmon. He's irked both sides since late last year — he rejected the guv's request to take a 5 percent pay cut, calling it a "gimmick." He also tried to get lawmakers to hold a special session on the financial mess. No dice.
Mediation isn't likely, given the special legislative session slated for June 2. Lawmakers seem focused on counting heads to override Douglas' budget veto, not on more talk. Ditto the guv.
Come Tuesday, we'll see if Democrats take up Douglas' veto. Technically, they don't have to. They could simply adjourn and set a new date for a veto session — one more to their liking.
They've got until June 30. No need to rush, right?
Teed Off — The Global War on Terror's got nothing on Burlington's War on Disc Golf.
Last week, the Burlington Parks & Recreation Commission unanimously voted down a proposal to build an 18-hole terrorist detention camp, er, disc golf course, at Leddy Park in the city's New North End. They then gave the OK for supporters to pursue a nine-hole course.
That didn't sit well with City Councilor Russ Ellis (D-Ward 4). He's seen and heard enough and wants to make sure disc golf never sees the light of day at Leddy.
Ellis has sponsored a resolution to that effect that now has the backing of five colleagues. A vote could come as early as the June 1 council meeting.
Opponents believe disc golfers should pack up their plastic discs and find an alternative site — preferably on private land far from Burlington. Meanwhile, supporters believe a nine-hole course in Burlington will prove so popular that an 18-hole course will follow.
Ever get the feeling we're going in circles here?
New Media? — An interesting bit of media news on Memorial Day — the Burlington Free Press announced the launch of 191 College, "a client solutions group that will provide customers with added-value services and integrated multimedia marketing solutions."
Wha? I thought 191 College was the bricks-and-mortar address of Gannett's Vermont HQ, not a full-service ad and PR firm. Apparently there aren't enough quality marketing and design firms in Burlington already.
"The creation of 191 College speaks to our commitment to change, more than to preserve, the status quo," Freeps Publisher Brad Robertson wrote in a statement. "For each client, the team will analyze the business objectives and operational challenges and develop efficient solutions that will produce results."
Sounds like good old-fashioned customer service to me.
At least it's nice to see the Freeps hiring rather than firing and issuing furloughs. They've hired Kathy Soulia, the Freeps' former marketing director, to run 191's day-to-day operations. Efe Cimrin, formerly senior manager of marketing and analytics at EpikOne, will work with advertisers on all things digital. Finally, there's Bob Coker, who has worked as an art director and designer on projects for NBC, Tommy Bahama, Miller Brewing Company, the Food Network and Panama Jack. He's the visual guy.
Will these folks be forced to take a weeklong furlough every quarter, like other staff?
We asked Robertson, but he's on furlough this week.
That their press release ran as a story in "Business Monday" — with editorial graphics but no byline —suggests the firewall between "news" and advertising is rapidly melting. And, ironically, it was published on a holiday when most businesses were closed for the day.
Nice, um, timing?
Got a news tip? Email Shay at shay@sevendaysvt.com
Click here to follow Shay on Twitter.