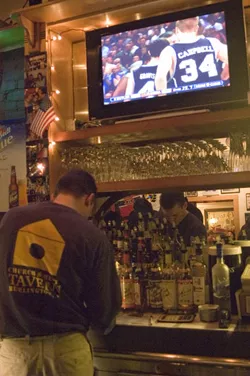 Bernie Sanders and I were chatting in the lobby of UVM's Patrick Gym on March 10 when a deranged SUNY Albany fan - painted face, fake hair, primal roar - stormed past. It was halftime at the America East championship game, and our hometown Catamounts trailed, 27-22.
"That guy must be crazy, huh, Bernie?" I said to my freshman senator. "Looks like he caught the March Madness bug." But I didn't mention to Sanders that I myself had caught it.
Over the next 10 days, I would speak with many of the leading figures in Vermont basketball in an effort to figure out what and who was behind the state's basketball obsession - or lack thereof. By any calculation, I'd picked the right time of year: Between UVM's NCAA trials, high school playoffs and ABA action in Barre, there would be plenty of hoops to go nuts over.
Bernie, however, looked at me distractedly. Home from D.C. for the weekend, he seemed to have other, less important, things on his mind - global warming? Iraq? Plus, he and his son Levi were bonding.
"Oh, and incidentally, Senator Sanders," I said, "I didn't know you were a fan."
"Sure I am," Bernie answered. "It's an exciting turnout today - nice to see the team get so much support."
"How's your dad as a player, though?" I whispered to his offspring. "Is he all talk, or what?"
"No way," said Levi Sanders, a legal advocate and part-time baller. "You should see Dad's jump hook." He flashed me a knowing grin.
***********
I was in for a week of surprises. For one thing, number two Albany upset the top-seeded Catamounts in a nail-biter, 60-59. Then, on Wednesday the 14th, I got a call back from Bernie's former political rival, Rich Tarrant.
As anyone who saw his TV ads knows, about 40 years before he failed at politics, Tarrant played as an All-American star forward for St. Mike's. He even joined the Boston Celtics for a few months after college. Tarrant's a lifelong fan of college hoops.
Nonetheless, noted the multimillionaire, "Big money has really impacted some of these universities. There's too much of a temptation to cheat." Tarrant claimed that, with "all the revenue from TV and the shoe contracts," the NCAA is "ripe for a scandal," possibly one involving steroid abuse.
This kind of talk didn't exactly pump me up. It was already 5 p.m., just three hours before tip-off between UVM and Kansas State in the first round of the NIT tournament. "What about the Cats' chances at NITTY glory, Rich?" I pleaded.
Tarrant said he supported the UVM team. "But let's face it, Mike," he conceded, "Vermont is more of a hockey state."
Indeed: If March Madness qualifies as a psychological condition, then the Green Mountain State is certifiably bipolar. Countless fans find themselves torn in two directions - including Congressman Peter Welch, who called from his D.C. office to explain how he'd had to choose between ball and puck in high school. With UVM, Middlebury and Norwich consistently ranked among the top skaters in the country, ice hockey poses a serious threat to hoops-induced insanity. I needed to find out - just how neurotic could Vermont really get over its hoops?
********
Around 8 p.m., I went down to speak with the body politic itself at Church Street Tavern. Pint o' Switchback in hand, I chose a spot near a cluster of sweaty, overfed IBM employees. Their ringleader informed me that they'd just played their weekly pick-up game at Memorial Auditorium. Everything about these guys' posture and expressions said March Madness - at least to me.
"Evenin', fellas!" I said. "So how do you feel about the game, as loyal Cats fans?"
Most of the techies ignored me. But one lone beer belly, who preferred to remain anonymous, spoke up. "I mean, we wouldn't not root for someone else, if UVM happened to suck," he suggested. "That's all we have around here, you know?"
It wasn't the biggest outpouring of support. But, as if to spite the IBMers' listlessness, UVM promptly began to kick Kansas' ass. Down after two quarters, the Catamounts opened the second half on fire. By the time Shelburne native Kyle Cieplicki tied the game at 35 in the middle of the third, the 80-person bar crowd had risen to its feet. Later, as UVM pulled ahead by 7, someone at the bar - an enigma who goes only by "Pidge" - led the crowd in a chant of "GO CATS GO!"
Unfortunately, that turned out to be the apex of our collective ecstasy: UVM would drop the contest by a point at the last minute. Afterward, as the crowd shuffled out, a guy by the TV pointed his finger at the Kansas fans and cried, "Look at those people - they don't even know where Vermont is!" Was he acknowledging that the UVM men's b-ball program still had miles to go before it could claim big-league status?
On the way home, I stopped to watch Francophiles slurping onion soup at Leunig's - as if in denial of our shared athletic misfortune! When I peeked into Church Street Tavern on Thursday night, the first night of the NCAA tournament, I noticed that half its televisions had been turned back to hockey.
***********
Insiders tell a different story, though: They say Vermont hoops culture is enjoying a golden age. On St. Patrick's Day, 24 hours before the Middlebury men's hockey team would face off against Oswego State for the Division 3 national championship, I sat around watching hoops with three local celebs: UVM star Kyle Cieplicki, his coach Mike Lonergan, and Rice High School boys' coach Paul Pecor.
"The way I see it," Cieplicki said over the TV's roar, "Vermont basketball is only getting better - high school- and college-wise." Cieplicki, who could have chosen to play for other college programs, noted that "A lot of people at UVM games know me. It's nice to see faces in the crowd."
Lonergan added, "People say this is a hockey town. But I'd say there's a lot more basketball than they think." He believes that "Vermont hoops got on the map with Taylor Coppenrath and T.J. Sorrentine."
Indeed. For many Vermonters, Coppenrath and Sorrentine - whose famous 25-foot 3-pointer against Syracuse in 2005 still sparkles in collective memory - serve as markers of a changing basketball climate. In addition to bringing UVM men's ball to a national audience, said coach Pecor, hoopsters such as Sorrentine, Cieplicki and Coppenrath have inspired droves of young players. (Coppenrath now plays with the Italian-league team Angelico Biela.)
Pecor himself had cause for celebration. On March 12, five days before our meeting, he'd coached his team to a one-point state-championship win over Burlington High. Pecor informed me that two Vermont seniors - Tyrone Conley from Burlington, and Pat Bergmann from Rice - will play for Division 1 programs next year. They're testament to a rising tide of interest in the sport.
"All of our kids at Rice look up to Kyle," Pecor insisted. "We'd love to see him get into coaching."
"We'll see," said Cieplicki, a junior English major, whose father Kevin used to coach at Rice.
***********
On Sunday, I took my seat in the Barre Auditorium to watch the number one Vermont Frost Heaves beat the pants off number 13 Strong Island, 103-75, in the second round of the American Basketball Association playoffs.
Seating capacity at the Aud may top out at 1650, but home-court advantage plays a full-court press. In this, their inaugural season, the Frost Heaves have already managed to retrofit every traditional basketball cliché with a - shall we say? - backwoods aesthetic. Instead of rap music between plays, they offer bluegrass. For road trips? A Ben and Jerry's-sponsored biodiesel bus. Popular fan accoutrement? You guessed it: Cowbells.
Though all but three Frost Heaves hail from out of state - or out of country - the team makes a point of giving back to the Vermont community. A few weeks ago, for instance, the team sponsored a charity ham supper to benefit a Northeast Kingdom family whose home had burned down during the Christmas season.
Issa Konare, a 6-foot-8-inch forward from Senegal, now calls Vermont home. Konare, 26, has settled in Randolph with his wife, Samantha, and said he considered his fans "kind and friendly." He added, "The kids love me so much that they follow my games in the newspapers."
***********
St. Mike's women's head coach Jen Niebling was on hand for the Frost Heaves game - but not just to watch. Niebling was the honorary player for the day, and she scored four points to thunderous applause. Afterward, the Vermont basketball scene veteran told me that she sees "more girls playing than ever." She mentioned UVM and Essex High all-star Libby Smith as a model for today's rising women's stars. (Former point-guard Smith is now 27 and a professional golfer.)
"When [aspiring women athletes] see another girl two towns over have success," Niebling said, "they get inspired." Led by senior Vermont-born twins Dani and Jevy Rayner, her team made it to the first round of the Northeast Conference Tourna-ment in February.
Down the Interstate, number-three-ranked UVM women made it to the semifinals of the America East Tournament, thanks in part to scoring by America East Rookie of the Year Courtnay Pilypaitis and the leadership of seniors Britney Cross and Alison Brown. (Former high-school all-stars Sarah Madley and Alissa Sheftic represent UVM's latest crop of locally raised hoopsters.)
Niebling, by the way, knows a thing or two about basketball in Vermont. A three-time America East Conference selection, whom Sports Illustrated designated as one of 50 top Vermont athletes of the last century, she's been in the scene for almost two decades. Standing courtside after the Frost Heaves game, she said of her performance, "I'm glad to give people a memory that they can go home and talk about."
Then, as if on cue, a man ran across the floor to say, "Hey, Jen! I felt like I was back in Patrick Gym!" It was none other than Tom Brennan, UVM coach from 1986 to 2005 - and veritable patron saint of the Vermont Rim.
***********
Smiling, I walked out to my car, turned the key in the ignition, and popped on the radio: Middlebury hockey had lost its championship game in overtime.
Related story: Seven Days staffer Ken Picard also became a local b-ball fan when he attended the Vermont Frost Heaves' first home game in November '06.