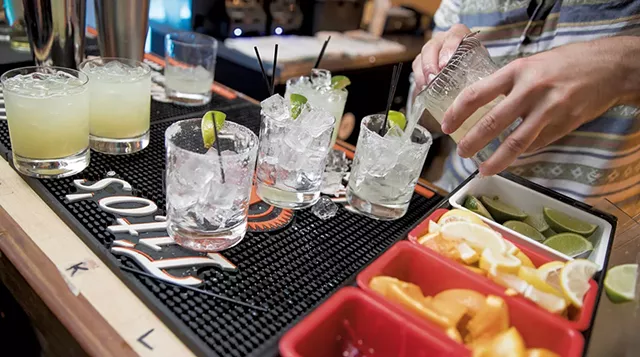 James buck
Pouring drinks
From his workstation behind the outdoor bar at the Spot on the Dock, Craig Stevens looks west to Lake Champlain and the Adirondacks. But he's so busy that he's missed the star of the show — the sunset — on all but two nights this summer. He's been looking at a sea of faces and glasses to fill, and often reaching for a bottle of tequila.
"Working here is like Groundhog Day for four months," Stevens says. "It's awesome."
Fellow Spot bartender Eric Larsen says his night flows more easily when his shift starts at 3 p.m. rather than at 5. The earlier start gives him time to get into a rhythm, to find a steady groove.
"It helps to build your mental organization," says Larsen, 24. "It's like anything — warming up before you play a sport. It helps what you're doing run smoothly."
Tessa Fancher says a missed encounter with visiting family sums up her summer behind the bar. While she was having dinner with relatives from South Carolina, they mentioned that they had gone to "the craziest place" the night before.
"It was like Miami," Fancher's relatives told her. As it turns out, they were at the Spot on the Dock, eating at the bar, while Fancher was working. They hadn't even noticed each other.
"If you haven't seen it, you don't get the magnitude," says Fancher, 28, a native of New Haven. "I think this was a huge niche that's been missing that Burlington has needed for a long time. This place really highlights the lake. People feel like they're on vacation."
The trio of bartenders is part of the team at what could be Burlington's busiest bar and restaurant this season: a reimagined outdoor waterfront hangout with a teak floor, lounge seating, an awning for rainy weather, music by DJ Craig Mitchell on Thursday nights, cocktail and restaurant menus built for a beach vibe — and a capacity of about 400 people.
The Spot on the Dock opened at 2 p.m. on June 20 on a pier at the end of King Street, the former site of Breakwater Café & Grill. Though the opening date was unannounced, the restaurant did more business on its first day than the Spot on Shelburne Road, its sister restaurant, has done in a single day since opening in 2009, says owner Russ Scully.
The second day, business at the Spot on the Dock doubled, Scully adds. He watched people stand on the edge of the patio, iPhones in hand, scanning the scenery and shooting photos.
"I'm like, 'Uh-oh,'" Scully says. People were wowed, and the word was out.
With its wooden floor where asphalt had been, upholstered couches in the lounge area built by a local craftsman, and standing rails facing the water, the Spot on the Dock is a fun and inviting space for patrons to enjoy drinks, tapas-style appetizers and light meals.
"That softens it for everything we want to do," Scully says of the teak floor. "It helps us set the tone, the mood."
When a storm rolls in, people can take refuge under the awning. The staff scurries to unfurl protective screens, then rolls them away when the sun reappears.
Bernard Jodoin, of Granby, Québec, spends summers with his family on a boat docked near the King Street pier. He appreciates the "new ambience" at the Spot on the Dock.
"Nobody can beat this sunset from here," says Jodoin.
He isn't alone in his appreciation. By the end of its first week, the Spot on the Dock was out of food, according to Scully. The restaurant staff served a limited menu for a few days, regrouped and decided to drop breakfast. Morning hours were necessary to prep for lunch and dinner.
"It's like an engine," Scully says. "Once you start it up, it runs."
The bar runs hard, fast and fun on all cylinders, ripping through 10 to 12 cases apiece of rum and tequila and about 30 cases of Bud Light per weekend, according to its managers. Bar prep includes cutting a gallon each of lemon and orange wedges and five gallons of lime sections daily; it takes 15 gallons of Bloody Mary mix to get through a weekend.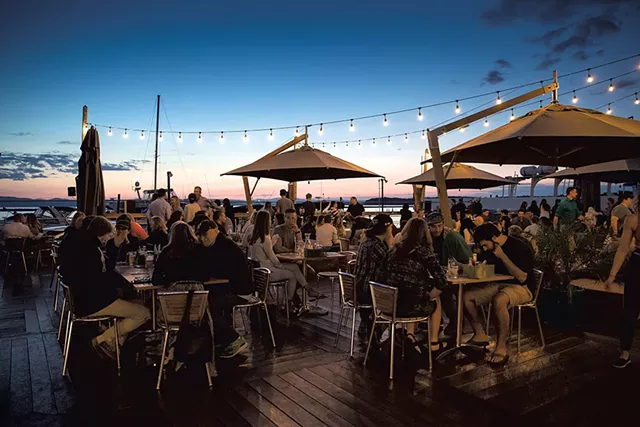 James Buck
The Spot on the Dock
The special cocktail list, called Spottails, was devised by co-general manager Ian Delorme, formerly of L'Amante and Trattoria Delia and currently beverage director of ArtsRiot's Liquid Arts bar catering company. The tropical menu revolves around tequila and rum drinks and includes a thick, rich piña colada made with fresh pineapple. (You might think it's a milkshake, but beware!) A velvety mango margarita is made with frozen mangos and fresh lime juice. A classic mojito swims in mint. A mezcal paloma is smoky and sublime.
Every good drink has already been invented, says Delorme, 40. "You're never gonna make a cocktail better than a margarita. It's perfect."
Delorme grew up on Alfred Street in Burlington near the original Spot back when the building was a gas station. He used to climb on the roof and shoot bottle rockets. Now he coaches Little League baseball with Scully.
With a four-month season at the waterfront, the key is to create a vacation vibe and serve cocktails that complement the restaurant's atmosphere, he says.
"It's the most sort of straightforward tropical menu you could get," Delorme notes. "Nothing on there is mind-blowing, but we took a beach-bar lounge and made it Vermonty." The bartenders are "hosting a party every night like it's their own living room," he adds.
If bartenders are too busy to catch the sunset, the colors of the drinks they mix are a worthy substitute. The mango margarita evokes the sinking sun on a clear night; the hue of the blue Hawaiian matches the distant place where lake and sky come together.
Five bartenders work on busy nights: three filling orders at the bar and two making drinks for diners at outdoor tables. Two barbacks hustle to change kegs, stock booze, keep juice at the ready and fill ice freezers. To stay cool and comfy behind the bar, bartenders wear some variation on a T-shirt or tank top, shorts, and sneakers — and their clothes get sticky as the night goes on.
"You learn to move and to be aware of what people are doing around you," says bar manager Woody Wright-Moore, 34, who grew up in Enosburg Falls and adorns his bar outfit with shades and a baseball cap. Along with Stevens, he worked seven days and about 110 hours per week, pulling double shifts the first month or so that the bar was open. He says he lost five to 10 pounds from being on the move.
It's a seasonal gig, a "relatively lucrative" position for a Burlington bartending job, Wright-Moore adds, and one with virtually unceasing demands. "We're fast paced and high volume," he says, adding that the position can be "incredibly stressful." For instance, "when there's three people at the bar, and they all think they're next, and they've all been waiting five to 10 minutes for a drink."
Sometimes Wright-Moore has a bad dream that the walk-in cooler, stocked with beer and other bar supplies, has broken down. In waking hours, he and his crew remind each other to drink water throughout the evening. They serve customers who arrive by boat and by bicycle and are always on the lookout for the person who probably shouldn't have another drink. They keep up conversations at the bar, mindful not to end one abruptly, no matter how slammed they are.
"I'll be right back," Wright-Moore will tell a customer, slipping away.
"It's a show," Scully says of bartending. "You're onstage. You're a performer."
When their shift is over, the bartenders wind down however they can. Stevens has a tall glass of low-fat chocolate milk and goes home to bed. Wright-Moore goes home, takes a shower and cooks dinner. "It's hours before you shake it off and process the night," he says. "That's the name of the game." Then it's time to sleep.
Ray Pecor, former owner of the property, says he's enjoyed many meals at the Spot on the Dock, including fish tacos and craft beer. He's noted the size of the crowds and agrees with Scully that the restaurant could get bigger.
"Yes, they need more room," says Pecor, whose son, Trey, now owns the land. "Yes, we'd like to accommodate it. And, yes, we're all surprised by how busy it's been."
The Spot on the Dock will close for the season on September 30, Scully says. In the off-season, Stevens might teach a little skiing, and he'll spend time in southern Florida. Wright-Moore plans to travel in the winter. He's looking forward to next summer at the Spot on the Dock when systems will be in place from day one.
"I might stay on a boat out there," he says with a nod to the lake. "And paddleboard to work in the morning."