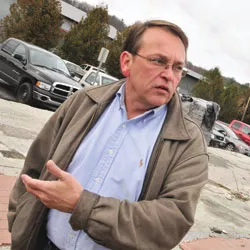 Jeb Wallace-Brodeur
Thom Lauzon
Mayor Thom Lauzon leads the way through downtown Barre to a vacant lot on North Main Street. Aside from a few granite sculptures, the parcel is just a patch of grass and gravel.
But Lauzon has a very different vision for the empty lot: a new office building big enough to accommodate a grocery store, a health club and 300 to 500 state employees.
As the Shumlin administration considers where to permanently house 1500 state workers displaced from offices in Waterbury, Lauzon is hard-selling Barre as a potential location. The city council recently approved a $1.3 million purchase-and-sale agreement to buy the properties that abut the vacant lot where Lauzon hopes to build a $13 million office building to be called "City Place."
Within a month of the floods from Tropical Storm Irene, Lauzon had toured the heavily damaged Waterbury complex and met with administration officials about moving some state workers to the Granite City. Lauzon says he has a direct line to the governor and his deputies and has spoken to them on several occasions.
"I wasn't chasing ambulances, but I wasn't wasting time, either," he says.
Meanwhile, Waterbury is preparing its own pitch, heating up a competition between the two Vermont towns for state workers and the dollars they bring.
As Lauzon pictures it, City Place would be a five-story, 100,000-square-foot building big enough to house an entire government agency, such as the Agency of Natural Resources. Barre is on a "little bit of an upward trend," the mayor suggests, and the sudden injection of hundreds of downtown workers would help jump-start the local economy.
Lauzon even expressed interest in acting as the project's developer before public concern about the conflict of interest made him give up the idea. Lauzon owns a development company with his wife, Karen. Together, they have spent millions of dollars buying and rehabbing Barre real estate, turning empty storefronts into furniture stores, law offices and a copy shop.
But much of downtown remains vacant and neglected. Strolling along North Main Street, Lauzon peers through the glass into one unoccupied space. The tile floor is buckled as a result of water raining down from the ceiling. Lauzon acknowledges this sort of blight contributes to the "scary Barre" image.
"People's perceptions of Barre are frozen in time," the mayor says. Transplanting several hundred workers to downtown Barre in "one fell swoop" could potentially fix that problem, he notes.
The town of Waterbury, meanwhile, has launched an equally aggressive effort to repatriate state employees that have worked there since the 1970s. The town hired two Montpelier lobbying firms — KSE Partners and MacLean, Meehan & Rice — to make the case for returning 1500 displaced state employees to Waterbury.
Rebecca Ellis, a state representative and chair of the Waterbury select board, says local businesses have suffered since the floods emptied out the state office complex. She says it would take no fewer than all of the workers to restore the town's economic vitality. As evidence, Ellis points to an online survey of local businesses. Of the 88 who replied, 60 said revenues had declined by an average of 30 percent in the two months since the floods.
Prominent landlords and newspaper editorial boards are wading into the battle, too.
In a recent Burlington Free Press op-ed, Ernie Pomerleau — whose company, Pomerleau Real Estate, owns a shopping center in Waterbury — called for the state to return employees to Waterbury and rebuild the complex to be "green" and flood-proof.
The Barre-Montpelier Times Argus recently penned an almost giddy editorial supporting relocation of state workers to the Granite City. "To have hundreds of state workers and professionals shopping and dining in downtown Barre is just the shot in the arm the city needs," the November 9 editorial reads. "Overnight, the city would be catapulted into being a cultural and economic center — much the way it was when the granite industry was king."
Neither Waterbury nor Barre has calculated the actual economic impact of hosting state workers — or losing them — but leaders in both towns say they are working on compiling such estimates.
The anecdotal evidence is strong in Waterbury, where Ellis says it's "obvious if you walk down Main Street that it's already not the Main Street it used to be." Around 200 workers with the Department of Public Safety and the Vermont Forensics Laboratory have returned to their offices at the Waterbury complex, but the rest of the 700,000-square-foot campus remains deserted. The other 1300 displaced employees are working out of leased office space at IBM in Essex Junction, Vermont Student Assistance Corporation in Winooski and a dozen other locations, mostly in Washington and Chittenden counties.
The inconvenience is costing Vermont a bundle. Records obtained by Seven Days show that the price tag to lease 166,573 square feet of office space for six months amounts to $1.4 million. Lease rates range from $12 per square foot at LNP Inc. in Williston to $20 per square foot for space at MicroStrain Inc. in Williston.
Secretary of Administration Jeb Spaulding says the Federal Emergency Management Agency and the state's insurance carrier will reimburse a portion of those costs. But neither will pay for the state to lease office space indefinitely — especially if insurance adjusters deem the Waterbury complex suitable for state workers to return. Spaulding says he expects the insurance companies to eventually cut off payments to the state, but predicts it will be "months" from now rather than "tomorrow."
"There's no way the state is not going to have to pay significant costs out of our own pocket," Spaulding cautions. "We'll probably do it through the capital program, an annual bonding allocation."
The state recently solicited ideas for redeveloping the Waterbury office complex from a number of construction, engineering and architecture firms. That's where the headline-grabbing idea to build a ski jump on the property came from. Spaulding says most proposals envisioned a mixed-use development on the site, with state offices alongside apartments, commercial office space, shops and gardens.
"It is likely the state will be a participant in Waterbury at some level," Spaulding says. "How much, I don't know."
How will the state decide where to permanently house the displaced Waterbury workers? Spaulding says cost will be a factor, but not the only one. Location matters, too, as does "co-location," or placing departments within an agency in close proximity to one another. Energy efficiency, access to high-speed internet and reliable mobile communications are all important factors, too, he says.
Lauzon hopes his new listing fits the bill: It'll be LEED certified, and 15 minutes from the capital. In the weeks ahead, the mayor says he'll be "lobbying [my] ass off" to convince Gov. Peter Shumlin's administration to relocate some workers to Barre. In the meantime, he's steering clear of Waterbury, where he's public enemy number one.
"I wouldn't want to be caught speeding in the village of Waterbury right now, that's for sure," Lauzon says. "They'll have me in jail!"