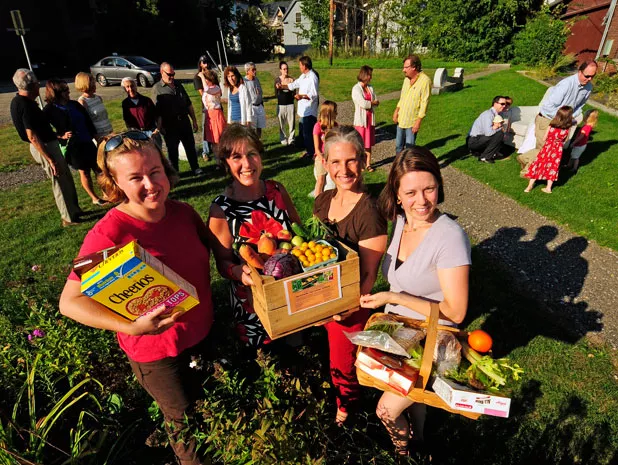 Aug 29: Last summer, a group of neighbors in Barre launched a campaign to create something residents had sought for 20 years: a downtown grocery store. Organizers behind the Granite City Co-op thought the time was right to push for it. Barre's $17 million Main Street revitalization project was just winding up, and residents spoke of a a renewed sense of civic pride.
Barre has chain grocery stores — there's a Hannaford two miles from downtown and a Price Chopper three miles away — but the city center doesn't offer much more than a few small food markets.
"We're tired of waiting for someone to come along and meet our needs," Barre resident Emily Kaminsky said in August, adding that if bigger grocery store chains didn't want to build downtown, Barre would go it alone.
Adding to the sense of optimism: Developers were about to break ground on the City Place development, a mixed-use office and retail space that would bring hundreds of new state employees into downtown Barre on weekdays. The development included plans for a first-floor grocery — seemingly perfect timing for Kaminsky and her compatriots.
"I feel like there's definitely a renaissance coming," predicted Hilary Schwoegler, a board member for the would-be food co-op.
Update: Barre's downtown residents are still going the distance for groceries. But Kaminsky and company have signed up 270 prospective members of the Granite City Co-op, now referred to as the Granite City Grocery. The goal is to get 300 pledged members by the end of December and 600 by next spring. The group also raised more than $12,000 through a homegrown fundraising drive to pay for a feasibility study. By February, organizers will have identified at least three prospective sites for the new grocery store.
After the City Place groundbreaking was delayed, Williston-based developer DEW Properties now expects construction to begin in January. DEW vice president Steven Morton says he's in talks with several prospective tenants for the first-floor space, including the Granite City Grocery group.
How's that civic pride?
"It's like the floodgates were opened up, in terms of emotion and energy, once Main Street was open," says Kaminsky. By the time October rolled around, she says the sense among Barre residents she spoke with was, "Wow. Things are really possible here."