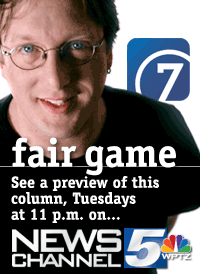 The recent war of words between Gov. Peter Shumlin and state employees isn't really about whether those who worked at the flood-soaked Waterbury complex post-Irene deserve extra pay. It's political posturing in anticipation of the two sides working out a new contract.
Roughly 90 employees have filed a grievance seeking double pay for being called into work during an emergency situation. What that amounts to — less than $1 million — is a pittance compared to the estimated $1 billion price tag to clean up after Tropical Storm Irene.
The real money is riding on whether the administration will restore the temporary 3 percent pay cut state employees took two years ago to help close Vermont's budget gap. That could cost taxpayers an extra $9 million at a time when the shortfall for FY 2013 stands at close to $70 million.
Shumlin's response to the grievance — finger wagging and "dismay" — may be a strategy to get the public on his side as he prepares to hammer the union in private bargaining talks.
To be clear: Most of the employees asking for double pay are folks who were called into work when other workers were told to stay home. In fact, more than one third of the workers listed on the grievance are Vermont State Hospital employees. Many of them spent days on the road, living out of hotels, in order to care for residents displaced from the state's psychiatric hospital.
According to their contract, state employees summoned to work during an emergency are entitled to hazard pay. For nearly a week after the storm, some department heads and supervisors led many workers to believe the Waterbury Complex would be under "emergency" closure for as long as a week. Then Shumlin retroactively changed the "emergency" to a single day — the Monday after Irene slammed the state.
Some workers were upset by the retroactive change, and union leaders claim they tried, and failed, to work out a compromise with the administration. The union says the Shumlin team ignored its proposals. Shumlin officials deny that. Simply put, the gov asserts the union claim is indefensible and undermines the hard work of hundreds of other state employees during the crisis.
"I can't express enough my dismay at the 90 state employees who are doing an extraordinary disservice to the rest of our hardworking employees by asking for double time when they don't deserve it," Shumlin said last week.
Clever, eh? On one hand, Shumlin praises hardworking state employees for their efforts post-Irene; at the same time, he's perpetuating the myth that public union employees are greedy and only in it for themselves.
The tension between the union and Team Shumlin is only likely to increase. Why?
All signs indicate Team Shumlin will try to renege on the agreement the union reached with Republican then-governor Jim Douglas to restore the 3 percent pay cut state workers absorbed, and that their contract says will be reinstated as of July 1, 2013.
"As we are in the early stages of collective bargaining, I don't believe it would be appropriate for us to comment," said Jeb Spaulding, Shumlin's secretary of administration.
Spaulding may not want to comment, but the message is crystal clear in the budget instructions the administration issued last month to bean counters throughout state government: The base budget for FY 2013 should not include a restoration of the 3 percent pay cut. In addition, budget writers need to cut more to reduce spending by 4 percent in FY 2013.
"Any changes to these salary levels, including any resumption of step increases, will be subject to state/VSEA bargaining and are not part of the FY 2013 budget," wrote Finance Commissioner Jim Reardon in a memo to budget writers.
Isn't this the same administration that spent about $400,000 more than its predecessors on top appointees and cabinet officials? Not sure that qualifies as leading by example.
Most labor unions, including the Vermont State Employees Association, didn't support Shumlin in the Democratic primary. Instead they backed his challenger, Doug Racine.
The VSEA rallied behind Shumlin, though, in the general election and the governor promised them a seat at the table. He never said it would be a hot seat.
As soon as he took office, Shumlin leaned on state workers to absorb more cuts to help balance the state budget. VSEA members agreed to increase their retirement contributions, take unpaid furloughs, allow more job cuts through attrition and other measures that saved the state $12 million. All the while, the gov refused to raise taxes on Vermont's wealthiest residents.
For its part, the union remains open to working out an amicable solution rather than let the Vermont Labor Relations Board decide on the double-pay deal.
"I would say that our door is still open if the administration does want to have discussions," said Conor Casey, VSEA's legislative director. "We have always preferred discussing issues like these at the bargaining table rather than in the press."
For good reason, too. Irene is becoming Shumlin's 9/11. The way the gov's framed it: As the state rebuilds after Irene, you're either with us or against us.
Whose side are you on?
Retirement Redux
While state employees are in the budget-cutting crosshairs, workers in the state's largest city are getting nervous, too.
Growing concern about Burlington's underfunded public pension system is beginning to become a political issue. As of press time, a city council subcommittee is working on a proposal to change the makeup of the city's pension board that would decrease employee representation to a minority. Employees currently represent half the votes on the pension board.
One Democratic mayoral hopeful is floating another idea: Let the voters weigh in on any proposal to fix the pension fund. Estimates suggest the city pension pot is underfunded to the tune of $50 to $75 million.
Last week, mayoral hopeful Miro Weinberger issued a five-point plan to address the city's financial woes. Point four was "Put Plan to Fund the Pension System to the Voters."
What is this, Wisconsin?
It sure isn't going to win Weinberger any endorsements from the city's five major unions that represent police officers, firefighters, electrical workers, city staff and teachers.
For what it's worth, Weinberger believes pension promises made to current employees must be kept. After that, however, he said it's time to reevaluate how pensions are funded and doled out to city workers.
If elected, Weinberger would convene a summit of major stakeholders in the pension issue — unions, Burlington institutions, property owners and businesses — to negotiate a plan that benefits all constituencies by resolving the city's largest financial uncertainty. Weinberger would then put that plan to the voters of Burlington for confirmation.
While Weinberger isn't going so far as to put all the details of a pension system up for a vote before the rabble, er, public, he does think voters should be given a chance to weigh in.
"What I'm saying is that I expect that there will be issues regarding the funding of the pension system that voters will have a stake in, and they should get a choice in the resolution of it," said Weinberger.
Kiss the Job Goodbye
The Burlington mayor's race could get a little more crowded next week. State Sen. Tim Ashe (D/P-Chittenden) tells Fair Game he'll decide by Friday whether to jump into the race. He'll make his decision public by Monday.
Word is Ashe is leaning toward jumping into the Democratic caucus to challenge the three Dems already in the race: stand-up comedian and State Rep. Jason Lorber, councilor and deputy state's attorney Bram Kranichfeld and housing developer and airport commissioner Miro Weinberger.
Despite strong support for each Democrat, the race still seems up for grabs; none of the three has emerged a clear victor, and each of them seems to know it.
Almost every day, their supporters call Fair Game to inquire if Ashe will be a candidate. Some inquire out of nervousness for their stated choice; others indicate they hope Ashe jumps in.
Former Progressive City Councilor Brian Pine, who is currently the city's housing director, has opted against a mayoral run. The reason? The federal Hatch Act forbids him from running since his position is largely federally funded.
"I can't even run for the nomination," said Pine. "To run I would have to give up my job immediately and perhaps go without a paycheck for five or six months. I just can't afford to do that."
That nearly clears the field for Ashe on the "P" side. A former staffer for U.S. Sen. Bernie Sanders (I-VT), Ashe, a former three-term Burlington city councilor, has a Progressive pedigree.
Of course there's also Progressive Mayor Bob Kiss — remember him? The normally quiet Kiss is silent still on his electoral plans. If he does run, it seems unlikely he'd defeat Ashe in a Progressive caucus.
If Ashe can pull off a fusion nomination, it would pit the senator against Ward 4 GOP Councilor and Rep. Kurt Wright and any other latecomers. No word yet from Councilor Karen Paul (I-Ward 6), though it's rumored she's looking for a campaign manager.
The Democratic caucus to pick a mayoral candidate is tentatively scheduled for November 13 at Memorial Auditorium. Good thing they picked such a big venue. With this many candidates, each of whom will be recruiting supporters to show up and vote for them, it's going to be crowded.