Tom Mcneill
The Elijah West-ini
At 6:20 p.m. daily — if the train is on time, which it occasionally is — Amtrak's northbound Vermonter pauses at the Windsor station. Passengers — usually just a few, unless it's holiday travel season — disembark onto the cement platform. The brick station looks on, long and lovely, its arched windows blending Queen Anne Victorian flourish with the straightforward utility that defines old New England architecture.
The last station agent departed decades ago, when the station stopped being used as a portal to passenger rail. These days, bartenders greet the passengers who wander inside, offering sudsy brews and strong cocktails, wings and burgers, and bowls brimming with rigatoni alla vodka or handmade ravioli.
Throughout Windsor Station Restaurant & Barroom, rail-related artifacts offer glimpses of the station's history. In the main dining room — the ladies' waiting room, in times past — a three-light train signal towers above the host stand. And owners Jon and Stacy Capurso — formerly of Hartland's late, great Stella's Restaurant — have stacked every available out-of-the-way surface with vintage luggage.
Tom Mcneill
The bar at Windsor Station Restaurant & Barroom
The Capursos aren't the first people to own a restaurant here. The building has served food and drink intermittently since 1976. But when the couple bought the building in early 2013, they found rotten food in the coolers, floors warped from pipes left to freeze in winter and a sink full of dirty dishwater.
The new owners replumbed and rewired the place, installed a new kitchen and gave everything a fresh coat of paint. They dusted the old-style candelabra chandeliers to a gleaming finish and hung king-size disco balls in the bar and dining room, hoping live music would draw evening revelers in a town sorely lacking in nightlife. The new restaurant opened for dinner in August 2013.
Three years into business, Windsor Station runs like a well-oiled machine. Jon's kitchen crafts quality plates with local ingredients. Behind the bar, Stacy's cocktails blend classic and modern without a shred of hipster pretension, making nimble use of the Silo Distillery spirits distilled just across town. And even with a live band rocking out at a decibel level that precludes anything but screaming conversation, the volume is somehow ... comfortable.
Tom Mcneill
The bar at Windsor Station Restaurant & Barroom
Last Thursday, not a barstool was empty as visitors packed in for local country-blues rockers Sensible Shoes. Balancing a tray of drinks, a waitress dodged dancing couples as she made her way to a table. "Do you know what you'd like to eat?" she asked.
A young man in a dinner jacket leaned toward her. "I think I'd like the lasagna with a side of meatballs," he half shouted, straining to project over the band. "Does that sound crazy?"
"Sounds crazy good," the waitress said, scribbling the order.
The band noodled into the opening bars of Merle Haggard's "Mama Tried." A youngish couple skipped to the dance floor, bouncing and twirling in the narrow space between the bar and the horseshoe banquettes that hug the back wall.
Seated nearby, a reporter sipped a cool pint of von Trapp Brewing's Oktoberfest lager and hummed along to the music. She noted one dancer's hat, which was styled after those worn by Union foot soldiers during the Civil War. She envisioned the predecessor of this station — the original building burned near the turn of the last century — as a busy hub in service to the Union army.
During the war, workers at Windsor's Robbins & Lawrence armory (whose building now houses the American Precision Museum) manufactured thousands of guns and pieces of gun-making equipment used to arm Yankee fighters. And, according to web records, more than 80 Civil War soldiers rest in Windsor cemeteries. How many of those guns and men shipped off to battle — or returned home — from this very spot?
Even with the music, it's easy to lose oneself in history beneath the station's soaring, wood-lined ceilings — at least until supper arrives.
Diners seeking something refined could start with a crisped confit leg of duck, while those who'd rather judge a bar on its execution of the classics might open with a dozen wings. On our visit, the latter crackled with cornmeal dredge beneath a slick of piquant orange Buffalo glaze. Whatever your pleasure, Jon Capurso's fare is unassuming but crafted with precision and good taste. His menu meets diners where they are, as opposed to where the chef aspires to be.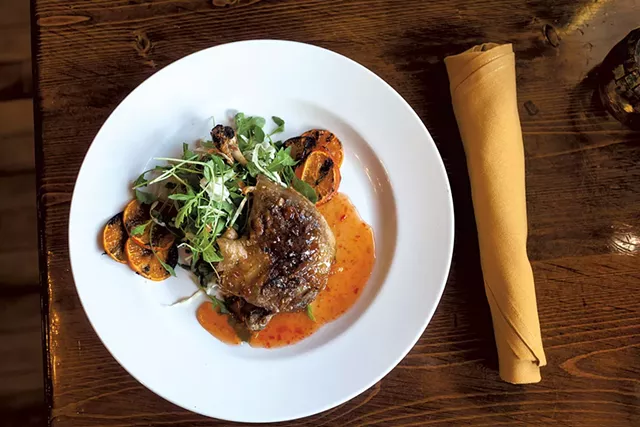 Tom Mcneill
Duck-leg confit
When you order a Caesar, your server may ask, "With anchovies, or without?" Draped over a plate of super-fresh, well-dressed romaine, the tiny fish lent briny punch to each crunchy bite. While the anchovies' inclusion honors the salad's platonic ideal, the ability to opt out with grace is a quiet gift to guests averse to pickly fish.
And it's hard to argue with a generous Vermont beef burger, exactingly cooked to temperature and topped with smoky bacon from nearby North Country Smokehouse. Or with a bowl of bubbling red-sauce lasagna, which tasted of sun-ripened tomatoes preserved at the height of harvest — with a side of meatballs.
Call it fuel for dancing feet. By the time that burger arrived, more than a few partners, ages twentysomething to postretirement, had taken to the floor. An older pair — the man weathered but still tall in green Dickies work pants — spun and shuffled wearing wide grins like spring chickens. When the band hit the opening chords of "Quinn the Eskimo," others jumped up to join them. Outside, a freight train rumbled by, sending a barely there shudder through the building.
Surrounded by all of this, with a big, juicy burger on the table, how could one not feel happy?