Melissa Pasanen
Hickory-smoked pork nachos and beer at the Otter Creek Brewing pub
Driving home up Route 7 from southern Vermont several weeks ago, my husband and I became a little peckish right around Middlebury. But where to go for a bite — and, possibly, a sip — on a Sunday afternoon at around three? One of us is a food writer and the other is not, but the latter gets full credit for remembering the off-the-beaten-path Otter Creek Brewing pub deep in the town's industrial park.
Things started to smell very promising as we pulled into the parking lot in front of the 120-barrel brewhouse. Just to the right of the pub and store entrance, a smoker exuded the mouthwatering aromas of slow-cooked barbecue.
It turns out that Kevin Archambeault, hired as the retail and pub manager last June, brought serious 'cue expertise to Otter Creek. When I called to chat with him a few weeks after our visit, the person who answered the phone said, "Kevin's currently outside manning the smoker. He's got pork belly and turkey breast on there today."
A New York State native, Archambeault grew up just across the Vermont border in Washington County. He spent eight years working in the wine business in California, where he also ran a barbecue catering operation, before returning to the Northeast with his family.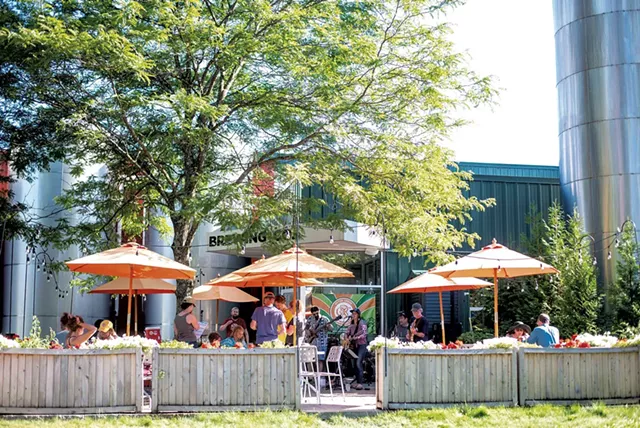 Courtesy Of Otter Creek Brewing
Seasonal patio at Otter Creek Brewing
Much of the pub menu is infused with the compelling scent of that smoker, from smoked chicken wings to a chopped-pork sandwich with a mustardy Carolina gold sauce. The pork belly Archambeault was smoking goes on a potato roll with tomato jam and lemon-pepper mayo — all made in-house, including the roll. Smoked turkey from Stonewood Farm in Orwell is sandwiched with Cabot cheddar, sliced apple and bacon. On the specials menu, guests might find a central Texas-style beef brisket simply seasoned with salt and pepper and cozied up with pimento cheese on a brioche roll.
But visitors to Otter Creek's pub aren't likely to come (just) for the barbecue, so let's talk beer for a minute. Otter Creek is nearly a grandfatherly figure in the world of Vermont beer, founded way back in 1991, long before the state could claim the most breweries per capita or the crowds of beer tourists rivaled those of leaf peepers.
The brewery's now-discontinued flagship Copper Ale was the kind of balanced, easy-drinking, well-made beer that everyone could enjoy; it didn't demand your attention, unlike many contemporary high-profile styles. These days, though, it takes more to stand out in the crowd, and Otter Creek's line runs the gamut from hazy IPAs to an amber lager brewed with locally grown corn that has been nixtamalized (processed with lime) into hominy by All Souls Tortilleria in Burlington.
Courtesy Of Otter Creek Brewing
The pub and tasting room at Otter Creek Brewing
Along with Otter Creek's own core and seasonal offerings, the 16-tap draft list includes Shed Brewery Ales, its acquired brand, and a couple of beers from Long Trail Brewing, Otter Creek's parent company since 2009. There's also always a Woodchuck hard cider from the brewery's neighbor in the industrial park, Vermont Cider.
One of the draws to a brewery tasting room is the chance to sample new or special releases that may or may not get broader distribution. At Otter Creek, the list always features a few side projects, pilot brews or test batches, Archambeault said. All Souls lager, for example, was originally available only at the Middlebury pub and tasting room.
When we visited, pub-only releases included Windswept wheat ale, Shed Mountain ale nitro and an intriguing-sounding Super Brut IPA brewed with local La Crescent grape skins and German Hallertau Blanc hops. Soon, Archambeault said, visitors can expect a passion fruit saison available both on draft and in limited four-packs at the adjoining retail store.
For people who have trouble choosing, a taster of four five-ounce pours is an appealing and affordable $8 (pricing may change this summer). My husband picked four very different options, ranging from Head Charge (a bitter-edged double IPA) to the dark and toasty Drip Drop coffee stout made with beans from another industrial-park neighbor, Vermont Coffee. I snuck sips between focusing on my own 12-ounce glass of All Souls lager ($4), refreshingly clean and crisp with whispers of sweetness and malt.
In the airy, industrial-chic pub space, we had installed ourselves at a high-top table against the windowed wall with a view of the bottling line. Tendrils of barbecue smoke still in our nostrils, we ordered the smoked-pork nachos ($12) and the VT Blues & Bacon salad ($12) to share. Both were generously sized, boldly flavored and satisfyingly filled with multiple forms of crunch.
The nachos not only showcased the in-house smoked chopped pork, but also demonstrated what Archambeault called the pub's "full-circle approach" with the use of All Souls tortilla chips and rich, All Souls lager-infused cheese sauce. That approach shows up again in the brewery's signature cheddar-ale soup and the meat brines deploying different beers.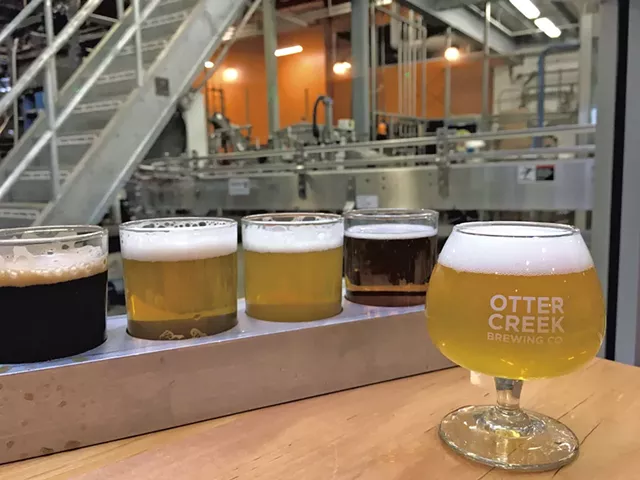 Melissa Pasanen
Tasting sampler and beer
Archambeault expects to keep increasing the barbecue offerings as he works with the rest of the kitchen team to build their expertise. "Smoked meats and beer go back at least 100 years in America. They just go really well together," he said, noting that the malty, caramel character of stouts and porters makes them "meld" especially well with barbecue.
The pub menu isn't all about meat, though. Warmer temperatures will bring more fresh salads, Archambeault said, including some with citrus that pair well with IPAs. Beers with "bigger floral and citrus aromas and lots of dry hops at the end," he explained, are an excellent match for salads featuring grapefruit and tangerine. "You take a bite and take a sip," he said, and "it brings out more of those characteristics in both."
Late spring and summer will also bring the year-round Friday night concerts back out to the patio in front of the pub. This year, the patio will expand, and Archambeault plans to provide lawn games for the enjoyment of guests of every age.
Just one more reason to take a detour into an industrial park in Middlebury.