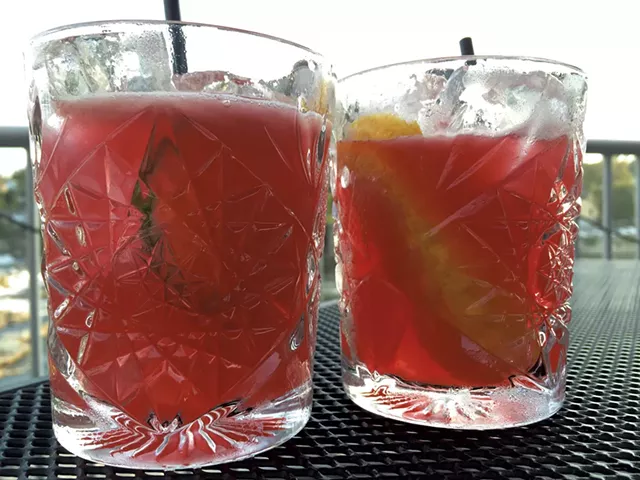 Sally Pollak
Weaver (left) and Abdon't cocktails
Tuesday is trivia night at Waterworks Food + Drink in Winooski, but the fun and games started for us before the contest kicked off. The theme last week was "adult sitcoms." We brought our own laughs.
Soaking up the extra dose of summer, my friend and I sat outside at a table overlooking the Winooski River, its rock ledges visible, and watched dog walkers splash and wade with their pups. We peered around the building that houses the restaurant and glimpsed the setting sun. For drinks, we charted different paths: My friend chose the Weaver, a tequila cocktail named for a nearby street. I ordered a bourbon drink, Abdon't, a riff on the name of Waterworks owner David Abdoo.
We laughed at the look of the drinks: identical. They shared a shade of bright pink, even though they had no ingredients in common. We identified them by their citrus peel — lime in the tequila, orange for bourbon. Yet one sip of each drink revealed lovely and distinct flavors. Mine was perfect — an easy opening swallow followed by a snappy kickback of booze.
We shared a good-looking order of nachos, served on a cutting board, and cheered our culinary good fortune. The blue corn chips were crunchy under a topping of pulled pork, garlicky Peppadew salsa, melted cheese and avocado-lime crema. The food and drink disappeared so quickly that our server asked if we wanted a second round.
Sally Pollak
Nachos and a drink
We looked at her, and each other, dumbly, as adults do in sitcoms — and apparently in real life.
"Think about it," she advised.
"We're very thoughtful people," my friend assured her.
We decided to call it quits, and my friend split. I started to leave, thought it over for two seconds and headed back inside for a seat at the bar. Bartender Eddie DiDonato greeted me by name, remembering me from last spring. He's a prize-winning drink maker who, at my request, mixed me a libation of his choice. DiDonato set before me the Upside Down — a luscious, herbal concoction of Fernet-Branca, Chartreuse, fresh lime and pineapple, and cream of coconut, topped with a sprig of mint. Around the bar, young couples flirted, guys in shorts and baseball caps watched sports on TVs (on mute), and friends drank beer and shared a plate of short-rib poutine. The restaurant started to fill up.
"It's a collective consciousness," DiDonato explained. "Everybody's on the same page when they want to eat."
Waterworks is a deluxe hang, with a spectacular bank of south-facing windows high above the river on one wall and an ensemble of cooks working the open kitchen on the opposite side. In between is a 34-seat wooden bar that offers something handsome to look at from all angles.
I returned to Waterworks a few nights later to sit at the bar and talk with Abdoo. I've been a fan since the later years of the Chickenbone Café, a bar he owned on the corner of King and South Champlain streets in Burlington from 1975 to 1993. I lived across the street from the Chickenbone for seven sleepless years. (It was loud.) Sometimes, the only thing to do was leave my apartment, cross the street and join the crowd. Remember pitchers of beer, anyone?
Abdoo, now 65, lives in Colchester with his wife and two sons. He opened Waterworks in December 2014. He was also a founding co-owner of Pizzeria Verità in downtown Burlington but has since sold his share to his former business partners. Abdoo and I talked while a retirement party was heating up in one corner of his restaurant and a wedding rehearsal dinner was under way upstairs. A twosome at the bar drank espresso martinis; another pair shared the special flatbread and a bottle of sparkling wine. Above the din, the kitchen expediter made her voice heard.
Abdoo revealed that he had a party of his own — his son Jude's 11th birthday — to host the following day: He'd be grilling mini hot dogs and hamburgers for about 20 boys.
"I'm blessed," he said. "You don't know what will happen tomorrow. But today, I'm blessed."
Conversation with Abdoo flowed and meandered like the Winooski River. A few of his managers — whom he called "twice as smart" as he is — pitched in to answer the final question.
Sally Pollak
David Abdoo on the patio
SEVEN DAYS: We're sitting here looking out these big, beautiful windows. What's the most interesting time of year, the most interesting time of day, to hang out at this bar?
DAVID ABDOO: I think sitting inside here, or outside, and watching the sun go down on the river is absolutely beautiful; it's gorgeous. For me, I do Sunday brunch, and I come in here about 7:30 Sunday morning and sit out there with coffee, alone, and I see species of wildlife. It's always nice to sit and watch that peacefulness — just watching the river — and there's nothing going on yet in the restaurant. The river goes up, the river comes down, the river always changes. It's a pleasure to come to work every day.
And then, at 8 or 9 on a Friday night, or a Thursday, that's when it's all happening. The music is going, there's so many people in here; they're drinking at the bar, and the energy is incredible. That's what this business is all about. When things are clicking, you got a great staff, customers are smiling — you've got an electric gratitude to this whole thing.
SD: When your family comes here to eat, what do your boys like to get? And what would you tell them if they were interested in going into the restaurant business?
DA: My 16-year-old [Kam] does work here. He works in the kitchen, prepping and helping [to make] pizzas. I tell my son — I tell both of them — "If you're going to come work for me, you better be better than everybody." I expect them to be responsible for their own actions and respected for their work ethic. I'm very proud of my son Kam and how his fellow employees enjoy working with him.
They love the flatbreads. Kam loves the chicken eggrolls, and they like the hummus.
SD: The Chickenbone closed about 20 years ago, but it still holds a special place for a lot of people around here. What was it about that bar that made it click, made it so cool?
DA: It's so funny, we get so many requests. People say, "David, open it again." I joke: "I need ramps, and I need oxygen to come down from the ceiling, like an airplane, 'cause all the [former customers] are so old now."
It's not a never; I will do [the Chickenbone] again. I have ideas for what I want to do. It's like everything else that we have in our minds that was great from our past. I can't re-create what was, but ... it's always about the people who came there and the staff that treated them well. It's about having fun in this industry. That's no big secret.
The rooster [which sat on the café's roof] is put away, but I've got it if we need it.
SD: How has Burlington changed since those days, and what does that mean if you're trying to create and run a business?
DA: It's about the image you create. But I still think you want energy, and you want people working for you who appreciate the people coming in, and people who come in who appreciate the people who work for you. You want to see people smile, and I notice people don't smile anymore. Not like they used to. Come on, smile! Enjoy life! We're in the hospitality business, and that's been lost.
SD: About two years ago, you added a 2 percent charge on guest bills that goes to the kitchen staff. Are you still doing that, and how is it working out?
DA: We're still doing it, and it's highly successful. If we do 450 or 500 dinners, your waitress is going to make $200, $300, $400. That guy in the kitchen is going to make $14 an hour. It's unrealistic [for] having a compatible workforce. We tried to level the playing field. It's been very well received by the public, at a 99.9 percent rate — almost 200,000 people [approve, according to in-house surveys]. It's something we're very proud of.
SD: At the Waterworks bar, you'll see people dressed up and people who are wearing T-shirts and baseball caps, and it seems cool either way. How did you guys make that mix happen, both casual and out on the town?
DA: I think the way we designed the place, and the way we designed our food and beverage menus, is that we want to appeal to everybody. It's a very difficult thing to do, but that's what we try to do here. You want a Pabst Blue Ribbon and burger at the bar, we have that. Or you want a bottle of wine and a nice filet, we have that, too.
In Vermont, in a restaurant of this size, you have to appeal across the board. And I think we're starting to hit where it should be. We responded to our customers' needs. We are continuing to grow in a real nice way. I'm very happy with the progression. Progress toward excellence is what we're trying to achieve.
SD: Trivia Night on Tuesday is popular at Waterworks. How about seven pieces of Waterworks trivia?
DA and staff:
Bottles of different spirits at the bar: 207
Number of restaurants kitchen director Adam Raftery, age 37, has cooked in since graduating from South Burlington High School: 19
Most people served in one meal: 500 at Mother's Day buffet brunch
Why the staff wears black tops: they conceal spills and sweat (and look spiffy with jeans)
How many cooks from a kitchen staff of 22 attended the first 8:30 a.m. yoga class in the restaurant: 4 (and 3 were managers)
Most popular theme night at the restaurant: Lebanese, with meatballs, kebabs, mezze and kibbeh nayeh; next one is October 19
The photographer whose images of Winooski millworkers (in a photo on the wall) influenced early-20th-century labor laws: Lewis Hine