Luke Awtry Photograpy
Deli 126
I've eaten hot pastrami sandwiches with a side of coleslaw, a serving of potato salad and a big half-sour pickle. I've even had them with French fries, a sacrilege in the Jewish deli world. But, over a lifetime of eating pastrami sandwiches, last Thursday was the first time I paired one with gin. Beefeater. And I highly recommend it.
I consumed this combo at Deli 126, which opened in early April on College Street in Burlington. The business itself is an improbable pairing: one part deli/sandwich shop, another part throwback barroom/jazz lounge. This hybrid was born in the mind of owner Jacob Shane, 32.
The two parts are connected, as well, by an opaque entryway. When I opened the door on my first trip to the bar, I half expected to see a slab of corned beef and a jar of pickles. Instead, I found a speakeasy-style lounge decorated in deep reds and black and furnished with plush love seats and sets of tables and chairs in intimate arrangements.
The space is divided into two areas: a barroom with red leatherette seats at the bar and booth-like sections separated by curtains, and a lounge where jazz musicians play several nights a week. The concept is a Prohibition-era speakeasy. The 1920s and '30s are represented on the cocktail menu, in the vintage glassware and on the drink lists concealed within books. The cocktail selection notes the source of the drinks, including house originals, and puts virgin drinks under the heading "Temperance."
"We're trying to do a very specific thing," said bar general manager Emily Morton, 29. "We want to stay 'on brand.' We're trying to stick to the theme without getting too kitschy with it."
Shane, who grew up in Duxbury, is the former owner of Henry Street Deli. He thought downtown Burlington was missing a couple of things: an affordable sandwich place and a loungy bar where people could enjoy music and conversation. He's created both in the space that used to hold Vin Bar & Shop, adding the deli and, in collaboration with Morton, transforming the bar into its stylish new self.
"The two go hand in hand," Shane said. "There weren't too many establishments focused on a little older crowd, where you're not getting beers poured on you."
Morton, who is from Williston, most recently tended bar at Waterworks Food + Drink in Winooski. At Deli 126, her contributions range from developing the bar menu and pouring drinks to stocking the in-house library with period books such as The How and When: An Authoritative Reference Guide to the Origin, Use and Classification of the World's Choicest Vintages and Spirits.
Morton picked up that 1940 tome at Barge Canal Market on Pine Street and purchased glassware at ReSOURCE and Goodwill. Her full-range cocktail menu emphasizes three spirits: brandy, sherry, and fortified wines such as port and Vermouth.
"This is a place to learn about historic spirits," Morton said. "It's the old becoming new."
My Beefeater was the featured ingredient in a white Negroni, a twist on the classic. It was the color of lemon-lime Gatorade due to the inclusion of Suze, a French liqueur made with gentian root. Though my cocktail looked like a sports drink, it was rather more complex: booze-forward, a little bitter and surprisingly refreshing on a hot afternoon. It was served at the bar before my pastrami sandwich arrived from the deli, and several swallows remained after the food was gone. So, in this unusual pairing, the drink served as both appetizer and dessert.
Perhaps also in a throwback move — to the days when sandwiches weren't the size of footballs — Deli 126 offers a half sandwich for $5 (including tax). I chose this option, which, served on thick-sliced rye, was plenty big. The grilled sandwich was piled high with pastrami, rimmed with the necessary fat, and layered with melted Swiss cheese, sliced dill pickles and mustard.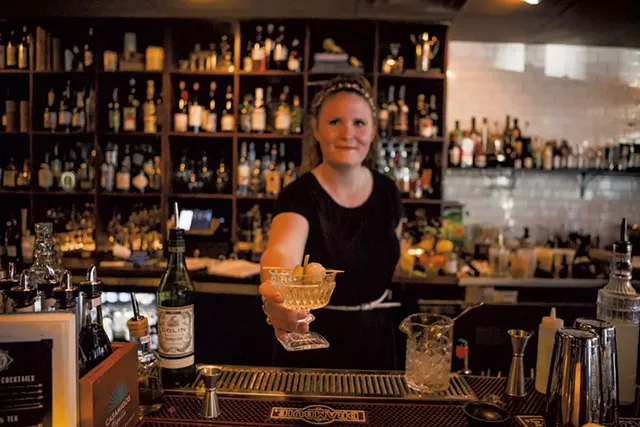 Luke Awtry Photograpy
Drinks at Deli 126
My meal was at cocktail hour, about 5 p.m., during the three hours a day — 4 to 7 p.m. — when both deli and bar are open. I ordered at the sandwich counter, popped into the lounge for a seat at the bar, and my sandwich was delivered there. After the deli closes, bar snacks, desserts and sandwiches are available at the bar into the night.
Shane said he envisioned a downtown place where people could "eat at an affordable price and walk away full." He thinks Burlington has been missing that in a sandwich shop since the Mad Hatter closed more than five years ago. The deli is a takeout shop with the option of eating at the bar when their hours coincide.
"I love being downtown west of Church Street," Shane said. "I think it's the future of Burlington. We love tourism, but we want to support the local crowd, the industry crowd."
It was a local crowd at the bar on my first visit to Deli 126 on May 30. Saxophonist Matt Dolliver, 24, fronted a jazz quartet onstage, and guest musicians were invited to join in. Deli 126 hosts this sort of open-mic jazz set every other Wednesday. In addition, the club presents jazz on Thursday through Saturday nights.
I listened to the music while sipping a drink that Morton had recommended: The cocktail is called Autumn Leaves, and the recipe is from the book The How and When. The jazzy mix of Pisco, Drambuie and Campari had a fiery red hue that matched the furnishings. I sank into a corner couch and ate rich chocolate cake along with my cocktail, but I rose to talk to Dolliver after his set.
"This place brings a whole new thing to Burlington," he said. "It's the first strictly jazz club in town, and it's just a beautiful atmosphere. It's got a New York vibe."
Deli 126 serves a New York drink — the egg cream — in two versions: the classic with malted chocolate syrup, whole milk and seltzer, and a boozy alternative with housemade Irish cream in place of the milk. The large ($11) comes in a fluted sundae glass and serves two.
I can imagine making a night of it on the maroon couch in the corner, drinking a spiked egg cream made for two and listening to jazz on the west side of town.