You could say that I misled my husband when I encouraged him to join me on a day trip to Montréal. I promised him a room full of big-busted blondes. And that's what he got, but I neglected to mention that the gals were part of the new Barbie Expo.
On February 11, the downtown shopping center Les Cours Mont-Royal put more than 1,000 Barbie dolls on permanent display. Touted as the world's largest Barbie museum, the exhibit is a paean to fashion history — or at least to fashions since Mattel created the doll in 1959.
If you're a sucker for haute couture, you'll love the Barbies flaunting Kate Spade, Vera Wang, Bob Mackie and Versace, among many other famous designers. Fans of classic TV might prefer the "I Love Lucy" Barbie. Art aficionado? Try the Barbie wearing a "Starry Night" dress, or the one in a "Water Lilies" gown.
Pop culture is not neglected, including fantasy and sci-fi. Scully and Mulder (from "The X-Files") are here, as are The Twilight Saga's Bella and Edward — in their wedding scene from Breaking Dawn. The Pink Beauty Fantasia Barbie Centaur is truly mesmerizing.
For royal watchers, Prince William and (nonpregnant) Kate Middleton represent. Music royalty appears in the form of Beyoncé and not one but two Cher Barbies. There's even a Barbra Streisand.
One meta display of self-awareness features Barbie wearing a dress emblazoned with her own name and face. In a diorama depicting a moving runway, Barbies model the latest fashions while rows of seated Barbie photographers snap photos (with real flashing camera bulbs!). I found myself obsessed with a tousle-haired Barbie in lingerie called, disturbingly, "Tout de Suite."
The dolls that are ostensibly meant to portray the international appeal of Barbie show instead American cultural blindness. Barbies representing India, Japan, Ghana and many other countries allow for a diversity of skin color, but their costuming is more "It's a Small World" than United Nations.
Product placement among the dolls pushes capitalism, too. Several dolls wear Coca-Cola paraphernalia; other brands on display include Campbell's Soup, NASCAR, Pottery Barn Kids, Harley-Davidson, John Deere and Avon. There's something jarring about a character with an unrealistically slim body carrying an Oreo purse.
The exhibition is like a matryoshka of consumerism: Within a large shopping mall is a Barbie museum, and within that is a doll wearing Mickey Mouse ears. I couldn't help thinking of the film Inception, though the concepts being "implanted" here are far from subliminal.
The only thing all these dolls have in common is their body shape. Nowhere to be found are representatives of the new Barbie Fashionistas, which Mattel debuted on January 28. The line contains, among other dolls, a "curvy" version. A standard Barbie is 11.5 inches tall. If scaled to human proportions, she would stand 5-foot-9 and possess an 18-inch waist. Let's just say that the Sports Illustrated Barbie, posing here in a one-piece swimsuit, is a striking contrast to the plus-size model the magazine recently featured — to wide acclaim — on its cover.
Ironically, the store adjacent to Barbie Expo is Monroe and Main, a boutique for women sizes 8 to 18.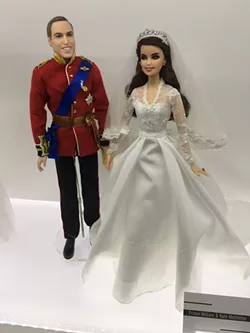 Prince William and Kate Middleton Barbies
The Barbies reside behind glass in a 5,000-square-foot exhibition hall with crystal chandeliers and a large fountain. During my 45-minute visit on a Friday afternoon, many of the 200-plus visitors were mothers and daughters or clusters of female friends. But there were also some men, including a guy whose pink pants must have been intentionally thematic. Everyone seemed genuinely to enjoy the cheerful display.
The expo bills itself as "not for the little girl you once were [but] for the very grown-up, sophisticated fashionista you've become, for the connoisseur of haute couture and lover of all things beautiful that you are today." Heavy handed? Sure. But when I spotted a 7-foot-tall pink box in which I could take my picture as if I were Barbie, I couldn't resist.