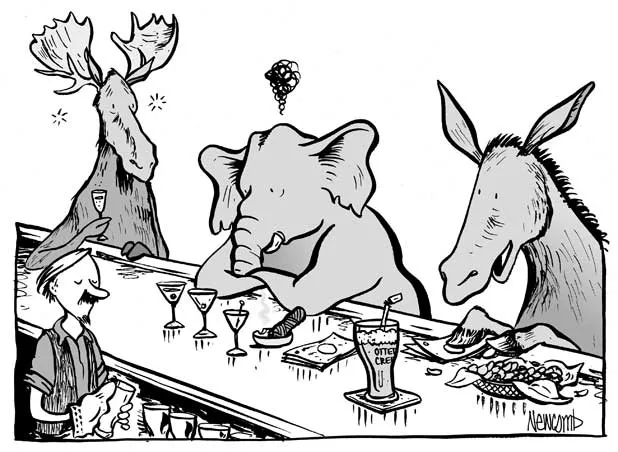 Sen. John Campbell walked into a bar at the Capitol Plaza Hotel. It was Wednesday, April 8, the day after the big bill he sponsored — to legalize same-sex-marriage in Vermont — passed by one vote over a gubernatorial veto. Campbell, whose pink face matched the color of his dress shirt, ordered a "Jack and water." Then he greeted Rep. Bob Helm, a Fair Haven Republican who was sipping Pinot Grigio with a young woman from the secretary of state's office.
Five days earlier, Helm had voted against the gay-marriage bill, but you would never have known from the compliment he paid Campbell — for his singing skills, not his legislative ones. Apparently the Quechee Democrat is a regular at Tuesday-night karaoke sessions at Charlie O's on Main Street. But Campbell feigned surprise at the revelation. If such a rumor was leaked to the press, he entreated, it might hurt his chances of reelection.
Helm reassured him amiably, "But people like to vote for an average guy."
Campbell ordered another whiskey. At a back table, he greeted a Republican representative from Stowe and a high-ranking Douglas administration official. A few other political types pulled up chairs. "I'm the only Democrat in here right now, but these are some of my best friends," Campbell noted. "Maybe it's like camaraderie in battle?"
Every January, elected representatives from all 14 Vermont counties flock to Montpelier for the annual four-month legislative session. Most weekday evenings until May, they eat, drink and schmooze at Capital City bars and restaurants. Some pols choose to commute home every night, but those from outlying counties rent downtown apartments for the Statehouse session, which means they're always within walking distance of a crash pad. No designated driver needed. The result is a high-powered and strategic social scene that combines the "networking" of a business conference with the antics of summer camp.
Compared with the Vermont Statehouse, where politicians, lobbyists and advocates are always arguing over something, the Capitol Plaza Hotel bar — aka J. Morgan's Steakhouse — is considerably more easygoing. But Sen. Campbell's allusion to bipartisan tippling also begged the questions: Do Vermont legislators really drop their guard over drinks? And where do they go, post-Statehouse hours, to do it?
My primary source was Gerry Morris, of the lobbying firm Morris & Demag. The 61-year-old has been working at the Statehouse for 22 years and used to frequent The Thrush, a popular bar near the Statehouse that closed in September. He now drinks his signature Bud Light — "They happen to be one of my clients," he says of Anheuser-Busch — at the Capitol Plaza every Tuesday, Wednesday and Thursday evening.
Back in September, Morris told Vermont Public Radio that The Thrush was his "ancillary office." He told me that the State Street hotel where he now unwinds after work may have a different atmosphere than that of The Thrush, but similar social codes apply. Such as? "Leave everything at the door," he said.
Hitting the streets of Montpelier, I heard several anecdotes that reinforced Morris' theory. Andrea Cohen of Vermont Businesses for Social Responsibility, for example, recalled watching a band of "anti-nuke lobbyists" rock out for Republicans at The Black Door Bar & Bistro. A chef at McGillicuddy's Irish Pub, where legislators play trivia on Wednesdays, said the crowd after recent gay-marriage hearings included a healthy mixture of Democrats and Republicans. And after a recent vote on the gay-marriage bill, Paul Burns of the Vermont Public Interest Research Group spotted Sen. Campbell dining at Sarducci's with Progressive and Republican politicians and a state official whose father works for Entergy Nuclear, the company that owns Vermont Yankee.
"It wasn't that Campbell was going out with a group of like-minded legislators to celebrate his victory," Burns told me. "To have a tripartisan table after that historic vote said a lot about Vermont."
But just because legislators can eat and drink together doesn't mean they always get along. To wit: Last Thursday evening, I watched Burns and Sen. Vince Illuzzi (R-Essex-Orleans) arguing over beers at a crowded Black Door. Tempers were flaring over a VPIRG bill that Illuzzi claimed was poorly drafted. Dress shirts and ties didn't stop the two men from getting right up in each other's faces.
Post-skirmish, Burns ordered a Switchback and grabbed a stool at the bar. "Usually you're out for more of a social thing," he explained, "but these are important issues being debated, and you don't always leave [politics] at the door." Burns, who started a biweekly "green drinks" gathering at The Black Door four years ago, added that he sometimes has more "honest and fruitful" conversations about politics in bars than he does at the Statehouse — the VPIRG vet said he'd already discussed four bills that night with advocates, administrators and legislators.
Senate President Pro Tempore Peter Shumlin has a different view. He finds such "fruitful" conversations are increasingly rare; when he arrived on Vermont's political scene 15 years ago, there seemed to be a lot more bipartisan schmoozing. "Mingling in the evenings created a bond that was helpful to the process," Shumlin noted. "But as partisan politics have become more intense in Vermont, so has evening socializing."
Shumlin and others remember The Thrush as a cornerstone of that old bipartisan spirit. Lobbyist Morris said that, in addition to great hamburgers, the venue had a "congenial atmosphere" where title and party affiliation were the last thing to be considered. After The Thrush closed, he reported, "People went in other directions."
Most Thrush regulars now frequent the Capitol Plaza, The Black Door and McGillicuddy's, Morris shared. Politicos still socialize at official functions, he added, and the restaurant Positive Pie 2, where Independent gubernatorial candidate Anthony Pollina held an election-night campaign party, has recently emerged as another political watering hole. However, Morris said, the Capitol Plaza — where Gov. Jim Douglas celebrated his November victory — tends to attract Republicans, while Dems are more likely to gather at The Black Door.
"You'll have a hard time replacing a bar like The Thrush," added Rep. Bob Helm, noting that Thrush waitresses were always up for a good laugh.
At The Thrush, "You could catch up on everything that was going on because you'd run into people from every committee," recalled Sen. Kevin Mullin, a Rutland Republican who now orders an occasional drink at the hipster-friendly Langdon Street Café. A co-owner there says politicos have asked her to stock more liquor.
One point of agreement? Many a Vermont pol — minus Gov. Jim Douglas — likes to party into the wee hours at Charlie O's. Bartender Nell Chap opined that Charlie O's is Montpelier's "baseline bar." After the recent gay-marriage vote, she said, a dancing spectacle at the Main Street haunt recalled the phrase "legislators gone wild." (On condition of anonymity, a state employee corroborated her observation.)
Chap — whose aunt, Rosemary McLaughlin, was a Windsor County rep — has never seen Sen. Campbell perform karaoke. She said she doesn't work on Tuesdays. What's more, she doesn't recognize many legislators.
Sen. Shumlin does. Last Thursday, I found the Putney Dem swilling beer at The Black Door with Sen. Illuzzi. It was almost 7 p.m., and Shumlin, with a neon-green tie brightening his gray suit, was heading to Sarducci's for Italian food. Sen. Campbell was ordering a drink at the far end of the bar.
I asked Shumlin if he'd ever seen Campbell perform at Charlie O's on Tuesday nights. The prez pro tem glanced furtively over his shoulder. Then he cracked a smile and declared, "Senator Campbell is the best karaoke singer in Vermont!"
Campbell had to have the last word on this one: It came via email. "Dear Mike," the electronic missive began. ". . . someone must have misled you. I do not drink alcoholic beverages. They are the Devil's brew, which only leads to debauchery and sin. And, Charlie O's — from what I hear — is a terrible den of depravity. I will think of you while I am in Church this weekend and pray for your soul if you make the mistake of visiting these locales."