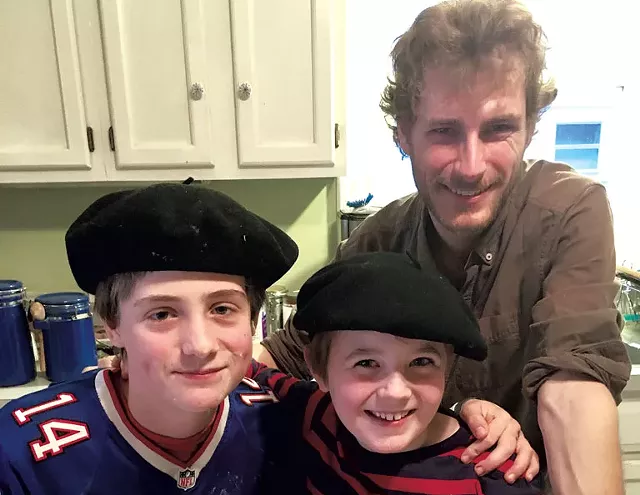 Elizabeth Seyler
Left to right: Liam and Kyle Buck with Baptiste Delvallé
It's a gray Sunday morning when Baptiste Delvallé and I arrive at the home of Pamela Moreau and Tom Buck in Burlington. A wiry, jovial man in his late twenties, Delvallé is a French teacher, and he's there to guide the couple's two sons in a French immersion class. I'm there to watch ... and practice my French.
Moreau has just returned with 8-year-old Kyle from a sleepover birthday party. We exchange pleasantries en français, and she reminds Kyle that it's time for class. He mumbles hello, slinks out of the car and then bolts sideways to disappear behind the house.
Buck greets us at the door, engaging in fluid French conversation with Delvallé and motioning to 11-year-old Liam to come and say hello. Liam unfolds himself from a chair, shuffles forward and greets us like a somnambulist.
I begin to wonder how Delvallé is going to get these two munchkins to learn French — or anything else — on this sleepy morning.
But he is unfazed, even animated by the challenge. Born and raised in southwestern France, Delvallé specializes in teaching French and English courses that immerse students in the language not through reading and writing exercises, but through activities such as cooking and making art. The catch? Everything is done in the target language.
Owner of the Hands-On Language Program in Burlington, Delvallé is impassioned about immersion as pedagogy for youth and adults.
"The hammer is an analogy that I like to use," he says. "In a school, you wouldn't have a class on hammers — what they look like, how they're made, how to hold them. You'd have a class that uses hammers to build tables or shelves."
"Language is a tool," Delvallé continues. Courses on grammar and vocabulary, he notes, don't elicit much excitement. "But if you invite people to take a class on French cooking in which they'll learn how to make French desserts and dishes and eat them at the end, then they're usually much more interested."
Participants know in advance that everything will happen in French. "But it's not presented as the focus, even though really it is," says Delvallé. "Because by the end of the cooking session, they've learned a lot of French."
In the Moreau-Buck household on Sunday morning, Delvallé pulls a recipe, a metric scale and a notebook out of his backpack. A reappeared Kyle pokes his head into the kitchen as Delvallé begins chattering in French. "Comment ça va? Êtes-vous prêt à cuisiner?" (How's it going? Are you ready to cook?)
They respond in English, but Delvallé counters, "Que faisons-nous aujourd'hui?" (What are we making today?)
Huddled around the recipe, the boys begin reading aloud: "Deux cents grammes de chocolat noir, 120 grammes de beurre, 90 grammes de sucre." I hear imaginary gears rattling and squeaking as they wrap their mouths around the rolled Rs and guttural sounds common in French. Delvallé gently corrects them, sometimes reading along, sometimes bringing a hand to his ear to invite them to listen and repeat back to him.
Their mission? Fondants au chocolat et coulis aux fruit rouges (chocolate fondant and red fruit coulis). By the time they've read the recipe and checked the ingredients on the counter, the two young chefs are engaged and focused, breaking out pans and rolling up their sleeves. They've had eight classes with Delvallé and know the ropes. They can do this.
"No matter their mood when Baptiste arrives, he casts a spell, channeling their energy toward French and cooking," says Moreau.
"Baptiste is young," adds Buck. "He relates to kids well. He makes it fun."
Moreau and Buck hired Delvallé last fall to supplement the boys' French education. The parents are proud of their French heritage: Moreau traces her lineage to Québec and to Lille, France, and she speaks some French; Buck is fluent, thanks to his Parisian mother, Nicole. They travel regularly to the family's summer home in a village in the Gascony region of France.
"I regret that we haven't spoken much French at home, so the boys really don't know it," says Buck.
On a family trip two summers ago, Moreau and Buck realized the boys were having trouble interacting with their French cousins and resolved to help them learn the language.
Since October, Kyle has been taking an after-school class for 8-year-olds taught by Delvallé and run by the Alliance Française of the Lake Champlain Region, which offers French classes, conversation groups, films and social events. This year, AFLCR began using a new textbook and CD series with an interactive focus. It will soon add an after-school class for students Liam's age.
"In addition to the classes, we wanted a fun way for the boys to begin speaking French with us at home," says Moreau.
Enter Delvallé and his French immersion cooking classes.
Delvallé has known since sixth grade that he wanted to be a language teacher. He drew inspiration from his first English teacher, who spoke primarily in English. "She acted and made a lot of gestures," he says. Subsequent teachers "were hardly using English," he laments. "They were just teaching us grammar and vocabulary and rote learning."
In college, Delvallé studied English and majored in teaching French as a foreign language. Armed with a master's degree in education from the University of Oregon, he has taught at French immersion schools in Oregon, Minnesota, Australia and Vietnam, working with students from middle school to adulthood.
Cooking works as an immersion technique because "it's very practical, it's very visual," Delvallé says. "The purpose is clear, too, so it becomes very meaningful." Even students who don't understand everything will find themselves internalizing words through the use of gesture and repetition. Delvallé helps by clarifying spelling and grammar as needed on a portable dry-erase board.
His approach is in line with findings from the Center for Advanced Research on Language Acquisition (CARLA) at the University of Minnesota. It deems immersion a highly effective teaching method, one that allows students to learn a second language in a manner similar to how they learned the first.
Still, immersion classes have their own distinct challenges. One Shelburne parent, who wants to remain anonymous, notes that her two children had opposite reactions to a cooking class with Delvallé: While her 9-year-old son enjoyed the puzzle of trying to figure out what the teacher was saying, her 11-year-old daughter, who knew some French, found it frustrating to understand some but not all of Delvallé's words.
Tricia Gustafson of South Burlington says her daughter, Hanna, and a friend likewise felt overwhelmed during Delvallé's classes. But she told them "that it's OK. You're not going to understand every word, but your brain will pick it up," she says. "We also work with Baptiste to find a balance, so he can be clear how much the girls are understanding and adjust, if necessary."
Parents are unanimous in their accolades for Delvallé, whom they describe as professional, organized and "relentlessly positive."
Gustafson homeschools 12-year-old Hanna, who attends French classes at Accents School of Foreign Language and Frederick H. Tuttle Middle School, both in South Burlington. Like Moreau and Buck, she hired Delvallé to supplement her daughter's classroom learning with more conversation. "I'd like her to be fluent before she goes to college," says Gustafson. "Once you learn a language, it's easy to learn another. I think it's a good skill to have."
Research has identified numerous benefits to speaking more than one language. According to CARLA, learning multiple ways to say the same thing can enhance creativity. Bilinguals are also skilled at understanding the relationship between words and their meanings, show increased sensitivity to communication, and may be better able to grasp the needs of others and respond appropriately, researchers say. Exposure to new cultures can also foster respect for differences among people.
While many parents are sold on the benefits of Delvallé's classes, their children have a more practical approach. "It's good for learning vocabulary — he offers many new words," says Hanna. "He's a really nice guy, it's fun, and the food tastes good!"
Delvallé teaches youth and adults, with or without prior French experience, through activities such as storytelling, playing games and making crafts. But cooking is clearly his favorite.
When asked about his culinary training, he laughs and says, "I'm just French! My family was typical in that we cooked everything." His mother began teaching him when he was very young. "So I learned a lot that way, through immersion, I guess," he muses.
Since 2007, Delvallé has written Cuisine de Rêve (Dream Cooking), a blog of traditional French recipes and his original creations, each presented in French and English. From savory salmon zucchini tart to maple syrup mousse, the blog offers more than 50 recipes.
Before a cooking class, clients select a recipe from the blog or elsewhere. "I'm totally open to all sorts of foods. It doesn't have to be French," says Delvallé. But he lights up when describing a series of classes he taught on global francophone cooking at an academic summer camp organized by the University of Oregon. French is an official language in more than 40 countries, "so at each class," he recalls, "I taught a dish from a different country: Morocco, France, Belgium, Senegal, Vanuatu — a tiny island in the Pacific."
Once clients have chosen a recipe, Delvallé sends them a list of ingredients to purchase ahead of time; he sometimes prepares items in advance to make sure students can achieve their cooking goals during the one-hour lesson.
In the Moreau-Buck kitchen on Sunday morning, Liam and Kyle alchemize chocolate, butter, strawberries and raspberries into six delectable servings of dessert. They beam with pride, their faces and clothing streaked with flour and chocolate, as we praise their creations and dig our spoons into the warm, sweet wonders.
All I can say is, c'est délicieux! (It's delicious!)