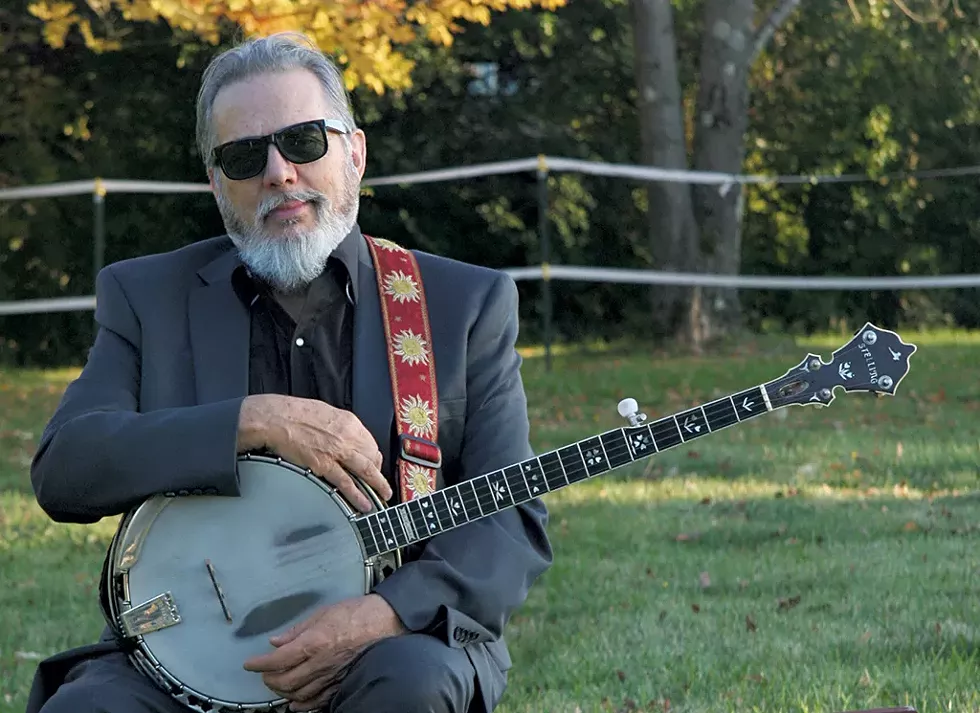 Courtesy Of Katherine Lucas
Gordon Stone in 2019
I was warned," Patrick "Pappy" Biondo said. Wearing a black T-shirt and round, gold-rimmed sunglasses, the slim, tattooed 35-year-old leaned against a shaded park bench outside the Kellogg-Hubbard Library in Montpelier in early June. Coolly dragging on a cigarette, he continued, "Some of the guys he used to play with, they told me, 'Be careful with that Gordon.'"
"I'm considered a risk," Gordon Stone said, nodding in grudging agreement, as he sat socially distanced at the other end of the bench.
Stone, the celebrated but troubled Vermont banjo player, was discussing with Seven Days the perceived danger that his substance abuse had posed over the years to his friends, family, fellow musicians and anyone else who might rely on him. That included people like Biondo, a talented, ambitious fellow banjo player who in recent years had become 70-year-old Stone's friend and protégé — among other roles.
"I'm your manager, your chauffeur, your therapist. I walk your dog. I clean your apartment," Biondo chided, feigning exasperation and prompting a sheepish shrug from his friend. The dog in question, Charlie, sat at Stone's feet tethered with a belt; Stone had forgotten to bring his leash.
Stone has long been regarded one of the finest banjo players of the late 20th century, frequently cited in the same breath as modern banjo icons Béla Fleck and Tony Trischka. Banjo fans know him as a stylistic trailblazer who was as comfortable in a traditional bluegrass or country setting as he was exploring funk, jazz, rock and world music. He was a technical savant, an imaginative composer with a gift for melody, and a go-to Phish collaborator — at least for a time.
"Anybody post-Scruggs, he's right up there with them," Stone's friend and former bandmate Jimmy Ryan said in a phone call, referring to banjo legend Earl Scruggs. Stone's work on his secondary instrument, the pedal steel guitar, won him nearly as much respect.
But if he has been celebrated, Stone has also been persona non grata in certain quarters. The trail of bandmates who stopped playing with him — and, in some cases, even speaking to him — stretches back to the early 1970s. The warnings that Biondo heard were rooted in Stone's decades-long struggles with addiction and the erratic and volatile behavior his demons sometimes unleashed, especially on those closest to him.
"He's burned a lot of bridges," Biondo conceded in the Montpelier interview.
Judging by the number of people who declined to speak to Seven Days about Stone, or who would do so only conditionally, Biondo's assessment rang true. In the end, though, for all those harmed by his addiction, the greatest risk that Stone posed was to himself.
Early on the morning of July 10, four months after Stone had gotten clean at a California rehab facility, his wife and longtime manager, Jennifer Harwood, found him dead.
The cause of Stone's death remains under investigation, but rumors of a heroin overdose were widespread. Harwood recently disputed those, noting that Stone had serious health complications stemming from decades of substance abuse, including pancreatitis and cirrhosis. She added that Montpelier police found a bag of pure fentanyl in his room. A representative from the Montpelier Police Department declined to comment on the open case.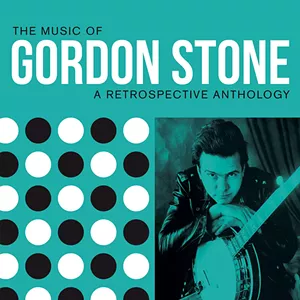 Courtesy
The Music of Gordon Stone
Stone's death came just hours after what both Harwood and Biondo described as one of his best days in a while. The previous afternoon, Biondo had delivered to Stone's Montpelier apartment several boxes of vinyl records — a new collection of Stone's music.
"It was the happiest I'd seen him in months, man," Biondo said a few days after Stone died.
"We just had fun. We were laughing and talking and holding hands," Harwood recalled. "It was like a fucking James Taylor song."
The Music of Gordon Stone: A Retrospective Anthology is a limited-edition double album curated by Stone and Biondo and featuring 21 songs from different stages of Stone's long career. Released last week on Astrology Days Records, Biondo's label with John Morgan Kimock, the album was meant to signal a modest reemergence for Stone, who'd nearly vanished from the public eye in recent years.
In the months before the pandemic, Stone had begun to play occasional small gigs again, often with Biondo. Though five different physical ailments in his arms and hands — one for each string of his banjo, Stone joked — diminished his precision and stamina, he could still lay down jaw-dropping licks when he wanted to.
"It would take him about an hour to get warmed up," Biondo said. "But once he did, he was still Gordon Stone."
Now, instead of heralding the return of a Vermont great, The Music of Gordon Stone serves as a eulogy — and perhaps a cautionary tale. It's the capstone on the career of a musical pioneer — "a genius," as his friend Trischka called him. Though instrumental, the record also could be said to represent the last words of a man whose legacy is every bit as brilliant and flawed as he was.
Scratchin' the Surface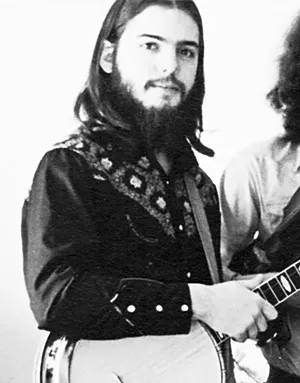 Courtesy
Gordon Stone in Pine Island, 1974
Stone's life began with disaster. When he was 6 months old, his mother died in a car accident in Cleveland, where Stone was born. At the wheel was Stone's father, whose twin sister also perished in the crash, along with her unborn baby. The driver of the other vehicle was drunk.
"So that's how my life started: with the greatest tragedy I don't remember," Stone said at that interview in June. He and his brother George, who was 18 months older, weren't in the car and had no memory of the crash's aftermath. He continued, "The shrinks and therapists, they love that."
Stone's father eventually remarried and had two more children. An engineer, he moved the family around frequently for work, including stints in Bennington and St. Albans when Stone was a kid.
Stone was at best an uninterested student, he said, which he attributed to undiagnosed attention deficit disorder. As a teenager, he often butted heads with his stepmother. So, for high school, his father sent him to the Stockbridge School, a progressive boarding school in Stockbridge, Mass.
Stone noted with some amusement that the school's alumni include musicians Arlo Guthrie and Taj Mahal, as well as comedians Jerry Seinfeld and Chevy Chase, though none was his classmate.
School was a struggle for Stone, but music never was. His stepmother was a trained singer, and music was a constant presence in the household as he grew up. Stone took to piano lessons naturally at age 7 — though, like most young kids, he didn't much care for his piano teacher, he said.
When Stone was 13, his brother decided to start a trio. Since George and his friend both played guitar, Gordon wanted a different instrument.
"So I got a banjo," he recalled.
Stone began attending banjo great Alan Munde's banjo camps in Massachusetts, where famed folkies Pete Seeger and the Kingston Trio taught workshops. The instructors also included Bill Keith, who would become Stone's most significant influence.
"He had a very mechanical mind," Stone said of Keith, the inventor of the D-tuner, or Keith Banjo Tuner, a revolutionary mechanism for tuning the instrument.
Keith, who died in 2015, was also considered the godfather of chromatic banjo, a post-Scruggs style that emphasizes melody and is now commonly referred to as "Keith style." That evolution paved the way for the progressive bluegrass style that Stone pioneered along with Trischka, Fleck and others.
"If you went to his theory class, everyone was lost within the first two sentences," Stone recalled of Keith. Everyone, that is, except Stone.
Following a brief, half-hearted attempt at college in upstate New York, Stone transferred to the Berklee College of Music in Boston. But when he got there, he realized his skills already surpassed those of most of his instructors.
"Aside from the private lessons, the courses were taught by musicians that couldn't make it," Stone explained. "They were frustrated people."
After less than a year, Stone left Berklee equally frustrated and found himself at a crossroads.
"I thought, What are the two things I want to do?" he said. Recalling his time in the Green Mountains as a child, he found an answer: "Go to Vermont and play music. And that's what I did."
Touch and Go
Courtesy Of David Roby
The Decentz (from left): Gordon Stone, Pamela Polston, Peter Torrey, Jimmy Ryan and Brett Hughes, circa 1982
Stone landed in Vermont in 1973 and quickly met like-minded musicians to play and party with. These included bassist Jim McGinnis and guitarist Tim McKenzie, with whom Stone founded the proto-progressive bluegrass band Pine Island.
As folk music scholar and Vermont Public Radio host Robert Resnik noted in a 2003 Seven Days article, Pine Island played plenty of straight-ahead bluegrass and country, but they also dabbled in rock, gypsy jazz and other styles not typical of string bands. Pine Island, Resnik wrote, were "arguably one of the first 'jazzgrass' bands anywhere."
Stone deserves ample credit for that, according to Ryan, a gifted mandolinist who played with Stone in Pine Island for three years. Later the two would reunite in the popular Burlington new-wave band the Decentz, for which Stone switched to pedal steel and Ryan to bass. Following the demise of that band, Ryan went on to form the acclaimed alt-country band Blood Oranges in Boston, where he still lives and plays.
"He's an intellectual banjoist," Ryan said of Stone prior to his death. "He had a cerebral approach to the banjo and was always good for adventures in music.
"We had a lot of fun together putting banjos and mandolins and pedal steel into musical situations they didn't belong in," he continued. "He taught me how to improvise."
Stone left Pine Island in 1978. In addition to playing with the Decentz, outsider folk songwriter Michael Hurley and others, he made headway as a solo artist on the heels of his 1981 debut Scratchin' the Surface. The album teased some of the stylistic innovation and fusion for which Stone would become famous. Most emblematic of those innovations was the song "Monkey Wrench," a weird, fiendishly groovy tune that showcased his unique approach to composition, not to mention his elite chops.
"People still tell me that's the funkiest fucking banjo tune they've ever heard," Stone said in June.
In 1988, Stone cofounded Breakaway with guitarist Andy Greene, mandolinist Andy Sacher and bassist Peter Riley — who was also Stone's roommate for a time. Featuring outstanding vocal harmonies, the group was regarded as one of the most successful bluegrass bands in Vermont history. Breakaway's changing cast of players produced several well-received studio albums and toured widely.
Breakaway also held down a weekly residency at the original location of Sneakers Bistro in Winooski. Its bluegrass sessions drew fans and fellow musicians alike, including the members of a young band called Phish.
Riley has a story he likes to tell about those sessions. One night during a set break, he was chatting with Phish drummer Jon Fishman outside the restaurant.
"He told me, 'Let me tell you something, Peter,'" Riley informed last November. "'If my band sang as well as yours, we'd be famous.'"
Courtesy Of Laury Shea
Breakaway (left to right): Peter Riley, Gordon Stone, Gene White, Andy Greene and Andy Sacher, 1991
Fame found Phish soon enough, and Stone had a hand in that. He appeared on the 1992 Phish album A Picture of Nectar, as well as the band's 1993 record Rift. More importantly, Stone's association with the band, and specifically bassist Mike Gordon, helped raise his own profile to a national level, particularly in the jam band scene.
Stone played on Gordon's first solo album and toured with the initial incarnation of the Mike Gordon Band. Gordon turned up on a few of Stone's records, as well. Stone even played at Gordon's wedding in 2012.
In an email, Gordon recalled Stone's session for Rift, recording his part on "Fast Enough for You" with legendary Muscle Shoals Sound Studio producer Barry Beckett in Nashville. Gordon was alone in the control room with Beckett and engineer Justin Niebank, who were making some final tweaks in the song.
"I kept having this mini religious experience every time Gordon did that initial pedal steel swell after the first or second line of the first verse," Gordon wrote. When Beckett and Niebank cut the lick to save it for the second verse, Gordon "went to battle."
"I needed to save that lick," he explained. "It represented the purest kind of emotion for me — my favorite instrument being played in just the right way. They finally agreed to put it back in, and I wrote a 10-page letter to my girlfriend just about that one steel lick."
As rapidly as Stone's star was ascending, his problems with drugs and alcohol were reaching a breaking point. In the early 1990s, he was asked to leave Breakaway and sober up. He did and returned to the band six months later before leaving for good in 1996.
Substance abuse affected all of Stone's projects. "We'd get these huge bar tabs at the end of the night, and I'd have had, like, two beers," recalled drummer Russ Lawton, who played in an early incarnation of the Gordon Stone Trio and later, owing to Stone's Phish connection, with the Trey Anastasio Band. "We'd be like, 'Well, how many did you have, Gordon?' And it would be, like, 12."
According to several friends and bandmates, as well as Stone himself, his professional behavior became increasingly erratic, from arriving late to shows to playing poorly, out of tune or at an obnoxious volume.
"I'd show up fucked up to gigs, or show up sober and then get fucked up," Stone said.
When he was clean, Stone could be gregarious and charming, with a quick, dry wit and a good sense of humor. But when he was drinking, he said, the sarcasm turned mean and petty.
"Ninety-eight percent of the time, I was fine. Just a happy drunk," he said in June. "But that other 2 percent, I could be a real son of a bitch."
Monkey Wrench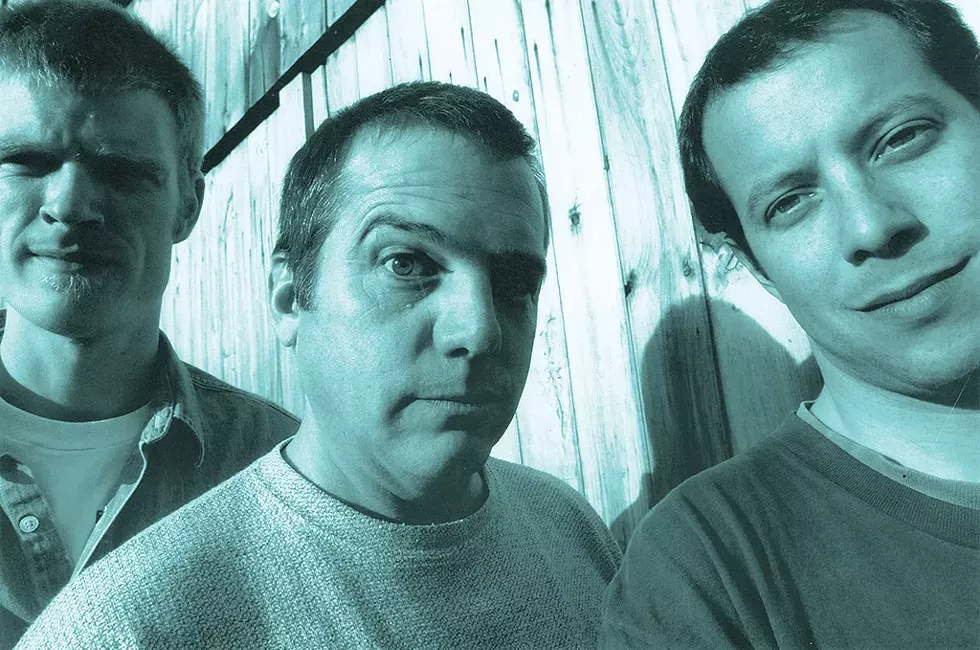 Courtesy Of Laury Shea
Gordon Stone Trio (from left): Josh Stacy, Gordon Stone and Andy Cotton
Stone and Biondo were born 35 years apart at the same hospital in Cleveland, just one of many curious cosmic connections between the two.
"The more I've gotten to know Gordon, the more I've realized how much we have in common," Biondo said during the Montpelier interview in early June. "He was one of my first inspirations. Gordon encouraged me to play how I wanted to play. He opened up the freedom in my banjo playing."
"He plays more like me than I do," Stone interjected.
"Except I don't know what I'm doing, and you know what you're doing," Biondo replied. To which Stone responded with a shrug, "Eh."
Today, Biondo lives in Hinesburg with his wife and three children, but the two men first met in 2009 when Biondo's band Cabinet played a show with the Gordon Stone Trio in Wilkes-Barre, Pa. After that, Biondo, who has family connections in Vermont, sought out Stone whenever he was in the area to pick his brain about their shared instrument. When Biondo moved to the Green Mountains in 2013, Stone introduced him to the local bluegrass scene.
"That's when I realized I was actually pretty good," Biondo recalled. "I was sitting in on these jams and holding my own." He was also learning, he said, "all the crazy fucking old stories in the bluegrass scene."
Though Stone and Biondo had a mentor-mentee vibe, "it's more than most banjo teacher/student relationships," Biondo said. "It turned into a friendship pretty quick."
As that friendship grew, Biondo took on a sort of caretaker role in Stone's life. When Stone returned from rehab in April 2020, he and Harwood were on the outs. So Biondo found Stone a place to quarantine for two weeks in Montpelier. He later helped find him a more permanent place to live and checked on him regularly, bringing him supplies and even occasionally cleaning his apartment.
"The guy needed real help," Biondo explained. "And no one else would help him."
All the while, Biondo was helping to spearhead the double album, which he described as the light at the end of the tunnel for Stone, the reason Stone was able to maintain even a tenuous grip on sobriety.
"It was all he had," Biondo said after Stone died. He added that, prior to his death, he and Stone were considering issuing a second anthology of Stone's music. They had also talked about recording a new "funk banjo" duet album.
Harwood said she isn't sure whether Stone's death was intentional. But she does believe he suspected the end might be coming for him sooner rather than later.
"I think he was in the process of saying goodbye," she said, choking back tears. "The last thing he said to me was, 'I love you to death.'"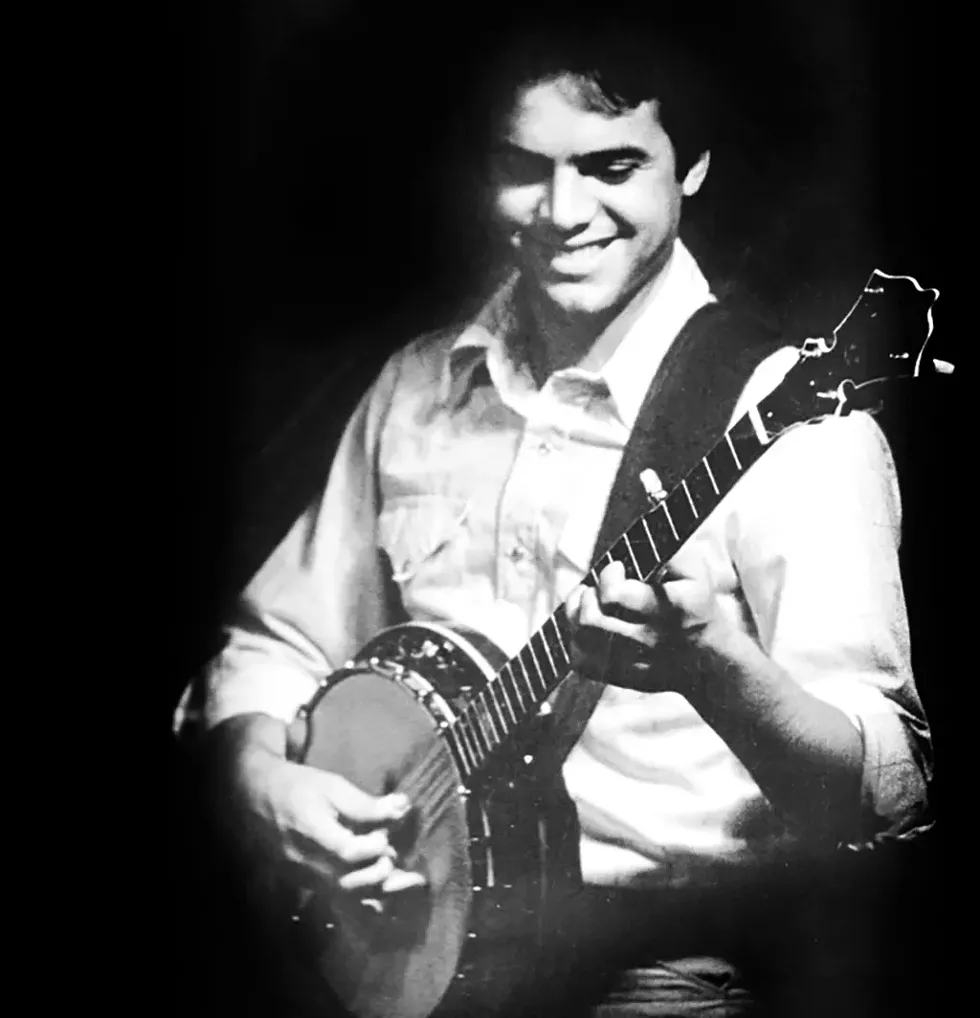 Courtesy
Gordon Stone, 1981
As goodbyes go, The Music of Gordon Stone is a good one. Curiously for a retrospective, there's no rhyme or reason to the ordering of the songs. While the album starts with "Chicken Hill," a shimmering bluegrass tune from Stone's 1981 solo debut, Scratchin' the Surface, the track list is far from chronological, jumping around with cuts from each of his six albums, including those as the Gordon Stone Band. And there's no discernible theme.
"I was never big on set lists," Stone explained in June. "I'd just make a list of songs, and we'd play 'em. It always seemed to work out OK."
It works out just fine on the record, as well.
Of all Stone's musical gifts, his mastery of melody might have been his ace in the hole. From the bright and lilting "Pachysandra" to the easy sway of "Hammock Time" to the sweet melancholy of the closing track, "Jelly Cake Rag," Stone's melodies stick with you, even amid his high-flying technical wizardry.
"He wrote beautiful, strong melodies," said mandolinist Jamie Masefield, an original member of the Gordon Stone Trio who went on to acclaim with his own genre-bending band, the Jazz Mandolin Project. "There were all these harmonic underpinnings that were so much fun to improvise off of."
"He's fearless," Trischka said of Stone in a June interview. "His timing, his groove. He's a master of syncopation and does these subtle things that are fantastic. He has great tone, and he takes chances."
The proceeds from the digital sales of The Music of Gordon Stone will go to Backline, a nonprofit organization that offers mental health, substance abuse and crisis management resources to music industry professionals. With Biondo's help, Backline also organized an online memorial for Stone last week featuring performances by Mike Gordon, Trischka and Burlington band Twiddle, as well as Biondo, Riley and other friends and contemporaries of Stone's.
"It was great, man," Biondo said of the memorial, which also served as a celebration of the anthology's release and is available to watch on Backline's Facebook page.
"Gordon definitely didn't do himself any good in the later years of his career," Biondo acknowledged. "But the record really encapsulates the good things about him, the good side of his life.
"I would hope that when I'm 70 and I've burned all the bridges," he continued, "there might be someone out there who'd help me get my music out there."
A Major Breakdown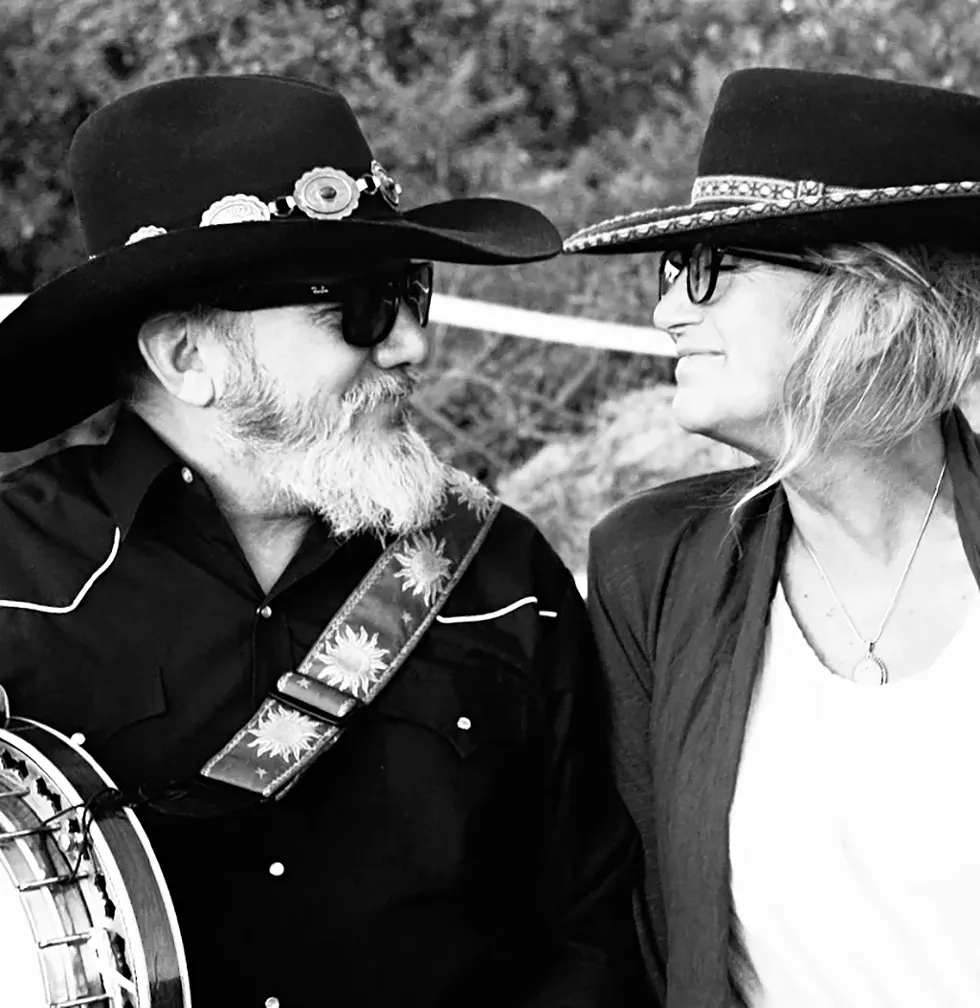 Courtesy Of Katherine Lucas
Gordon Stone and Jennifer Harwood
Generally, profiles like this one don't have strong first-person elements. This story is an exception — not just because I have my own memories of Stone, but because his ups and downs had a role in shaping this story, just as they affected the people around him.
In winter 2020, Stone and Harwood contacted me about his double album because Stone wanted me to write the liner notes. I had covered Stone a bit when I was Seven Days' music editor, and Harwood said he'd always liked my writing. I was delighted and heartened to hear from him. But I declined the offer. What I really wanted to do, I told him, was write a deeper profile of Gordon Stone, warts and all.
He thought that sounded like a good idea and, most importantly, agreed to be candid about his addiction. "I think it might help some people to know about it," he told me.
I'd hoped the piece would be something of a redemption story.
In early spring, Stone and I began chatting occasionally on the phone. These weren't precisely interviews, though we talked about his past, his music, drugs and the 20-plus years he was sober before he stumbled again in 2012. We also talked about what it was like to be in rehab when the pandemic hit. Our conversations were meandering and casual. Often Stone sounded vital and energized, especially when the topic of his record came up. Other times he sounded tired, weary.
I had my own memories of Stone from the early 2000s, before I became a journalist. As a twentysomething local musician with dreams of bigger stages, I had the good fortune to play live with him from time to time. When a band of mine hired Stone to play pedal steel on our first full-length record, he strode into the studio clad in a flowing, bizarrely colorful wool coat that somehow seemed regal on him.
Then Stone sat down at his steel and proceeded to blow us away by transforming our songs with his playing. I suspect that's what Mike Gordon experienced in Nashville. To me, especially back then, he was a giant. He was Gordon fucking Stone.
I wasn't alone in feeling that way. The night after Stone died, I spoke with a friend and former Stone bandmate who declined to be interviewed because, despite loving him deeply, this person had become irrevocably estranged from Stone. As Biondo put it, Stone burned a lot of bridges. But I've thought a lot about something this friend said that night, which I'll paraphrase: "Sometimes you forget that, once upon a time, your dreams did come true and you got to play with your hero."
I knew what he meant, as I'm sure many of the people Stone played with do.
And I know, as many of those same people also do, what it feels like when a hero lets you down.
One night a few years ago, my girlfriend and I were coming out of a restaurant in Waterbury when a man across the street began shouting my name and waving. He was waifish, frail and ragged. He looked like hell and seemed, frankly, disturbed — to the point that my girlfriend nervously clutched my arm as we crossed the street to our car. As we got closer, I recognized him: Gordon Stone.
I hadn't seen him in several years. I'd heard the whispers that he'd fallen off the wagon and stopped playing. But rumors couldn't have prepared me for the desiccated specter who stood — wobbled, really — before me that night, or helped me to reconcile that person with the robust man I used to know.
When Stone, Biondo and I met for our interview in Montpelier — Stone's last, as it turned out — Stone seemed far healthier than the last time I'd seen him. Maybe a little worse for wear — he was missing his top teeth and moved with an elderly gait. He and Harwood were in the midst of divorce proceedings, so he was sad and sometimes distracted. But when he got rolling, he was reminiscent of the funny, wryly charismatic Stone I used to know.
That two-hour interview was to be the basis of a June 17 cover story about Stone, his new record — which was scheduled to come out that week — and his friendship with Biondo. Like Biondo, I had been warned to be careful with "that Gordon" by a number of local musicians who knew him better than I did. And, sure enough, less than a week before the story was set to run, it all fell apart.
On June 11, I called Stone to ask some follow-up questions to our earlier in-person interview — specifically, how he was doing with sobriety. He admitted it was a daily struggle and he'd slipped up on occasion. But in the story, he added, he wanted to be described as completely sober because drinking would violate the conditions of his release.
"Release from what?" I asked.
Stone revealed that he had been arrested in February for domestic assault, a felony. According to the police report, Stone and Harwood, both intoxicated, were arguing at their apartment late at night when Stone allegedly placed his hands around Harwood's neck and later threatened to kill her.
Stone conceded that he and Harwood had a bad argument that night — Valentine's Day, no less. He added that their 26 years together were often volatile and that arguing — including idle threats — wasn't unusual. But he adamantly denied the assault charge, which, because of the pandemic, never went to court. (Stone was later arrested again for violating his house arrest; he'd gone to a music store to buy guitar strings.)
Considering the nature of the charge against Stone, Seven Days postponed the story at least until the case was resolved. In its place, we quickly pulled together a cover story on calls to defund state and local police departments. Astrology Days Records owners Biondo and Kimock also postponed the release of the anthology, which was to be the flagship of their burgeoning label Astrology Days Records.
So why run the story now?
At the risk of sounding ghoulish, we see Stone's death as a resolution of sorts. Not to the case but to some of the ethical issues related to running this story — including, most importantly, any potential risks to Harwood in the event that the accusations proved true. Legitimate questions on that point remain, on both sides.
In the weeks before he died, Harwood and Stone reconciled. In a June phone call, Harwood said the night of the alleged assault "was a blur"; like Stone, she chalked up the ugly episode to the drama of their tumultuous relationship. Harwood added that she had dropped the charges against her husband, which Stone had previously suggested she exaggerated.
"We're working together toward solutions," Harwood said. "I hold him in the highest regard and will forever."
Fans around the world have mourned Stone's death. But the story about him doesn't end with his music and fame. When Stone and I began working on this story, telling the other parts was something we both wanted to do. He understood that his musical legacy was important. But he also knew that the pain he'd caused to others was another kind of legacy.
I don't believe Stone sought forgiveness or absolution, at least not through me. While I'm sure he wanted attention for his record, I think that in telling his story, he also hoped to help others understand the complexities of his life and music and, more broadly, of addiction.
"He had some demons," Mike Gordon, the Phish bassist, wrote. "When people make it through to the other side there is a depth of character that comes out, like they've been somewhere, learned something," he continued. "This is not a happy-go-lucky person we are talking about, but a real person."
— D.B.