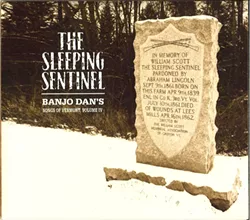 (Self-released, CD, digital download)
For something like half a century, Dan Lindner has served as Vermont's preeminent banjo authority. After all, you don't just pick up the nickname "Banjo Dan" willy-nilly. As the leader of the acclaimed group Banjo Dan and the Mid-nite Plowboys, Lindner reigned as the foremost ambassador — some might say godfather — of Green Mountain bluegrass. That group ended its four-decade run in 2012. But Lindner has remained active in so-called retirement. The septuagenarian still performs regularly with a number of groups, most notably the Sky Blue Boys, a duo with his brother and fellow Plowboy, Willy Lindner.
Recently, Banjo Dan has intertwined his considerable musical prowess with another passion: Vermont history. The result is series of albums dubbed "Songs of Vermont." The fourth, latest and best of these is The Sleeping Sentinel, released in late 2016.
At the core of the record is an original nine-movement suite that recounts the tale of private William Scott, aka the Sleeping Sentinel. Scott, a Groton native, is Vermont's most famous Civil War soldier. But it's a somewhat dubious distinction. The infantryman fell asleep at his post in August 1861 after volunteering to relieve an exhausted friend. He was court-martialed and sentenced to death. Assuming 250 years is time enough passed to risk spoiling the story, a last-minute appeal to Abraham Lincoln spared Scott's life — at least for a while. Scott was killed in action eight months later.
"The Sleeping Sentinel Suite" unfolds like a Ken Burns documentary, for which Banjo Dan's rustic strain of Vermontiana is the perfect soundtrack. Lindner masterfully colors Scott's tale from farm boy to fallen soldier with flourishes that evoke the music of the era. On "Call to Arms / The Farm I Left Behind Me," his roaming banjo looks south to Appalachia. On the ominous "No Rest for the Weary," Plowboy Phil Bloch's fiddle whirls with gloom, a fine complement to Willy Lindner's fiery mandolin runs. "When the Toil Is Over" is a stirring slice of gospel-country featuring Bob Amos on lead vocals, with backing vocals courtesy of his quartet, Catamount Crossing. The title track closes the suite, condensing Scott's story into 80 seconds of folkloric genius.
The album's latter half presents a mix of Lindner-penned nuggets that deal in history both obscure and personal. Of the former, take "Romaine Tenney." Tenney was an Ascutney farmer who, in 1964, set fire to his family's farm rather than cede the land to the state to build a connector to Interstate 91. He died in the blaze, possibly committing suicide.
From Lindner's personal history, there are cuts such as "Ascutney Launch." The tune is an homage to Vermont's hang-gliding community, of which Banjo Dan was a member for 20 years.
Informative, entertaining and artistically crafty, The Sleeping Sentinel is yet another monument to the unique, down-home brilliance of Banjo Dan Lindner: banjo whiz, bluegrass godfather, hang glider and, now, musical professor emeritus of Vermont history.
The Sleeping Sentinel by Banjo Dan is available at CD Baby.