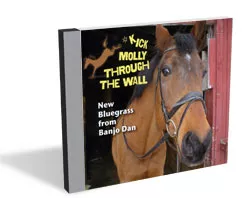 (Self released, CD)
Maybe you've heard — hopefully by reading the cover story in this very issue — that after 40 years, Banjo Dan and the Mid-nite Plowboys are calling it a career this week. The Plowboys retire as the longest-running bluegrass band in the state and quite possibly the longest-running Vermont band, period. They are credited with introducing bluegrass to the Green Mountains and, ahem, plowing the way for the innumerable pickin' and grinnin' outfits of all manner of grassy varietals that have followed locally. The band's contribution to Vermont music, bluegrass and otherwise, cannot be overstated. Neither can the void that will be left when the lights go down on the Barre Opera House stage, and the band, this Saturday.
Fortunately for fans of local bluegrass, though these Plowboys have raked their last, several members of the band plan to continue writing, recording and performing. That includes founding member and band namesake: Banjo Dan himself, aka Dan Lindner.
Lindner's latest album, Kick Molly Through the Wall, is a solo project, albeit in name only. The record, released earlier this summer, features most of Lindner's Plowboys, including his brother, mandolinist Willy Lindner, fiddler Phil Bloch and bassist Jon Henry Drake — the last solely on tenor vocals. There are contributions from some other fine local players, as well, including bassist Clyde Stats, guitarist Bob Amos and Dobro ace Jim Pitman. The album also features guest vocal turns from Dan Lindner's wife, Jaye Lindner, and daughter, Deanna Booth, and it is dedicated to another Lindner daughter, Molly. (The title is a reference to a horse, not Lindner's daughter, by the way.)
Molly is a loose epilogue of sorts to Lindner's three-volume local classic, Banjo Dan's Songs of Vermont. Unlike that collection, which Lindner crafted from bits of Vermont folklore, the tunes here are largely culled from Banjo Dan's personal lore, specifically from old notebooks crammed with songs he's penned over the years. As he writes in the album's liner notes, Lindner wanted to set some of the better songs to tape before he retires for good — he hints this may be his final record. Local bluegrass aficionados will be glad he did.
Molly may not be as roundly excellent as Plowboys classics such as Fire in the Sugarhouse. But it is nonetheless a fine example of what Vermont bluegrass has come to represent, as well as the unique charm that Banjo Dan and Co. have offered these past four decades. Performances range from solid to sublime; the album's songs are colored by understated humor and sensitivity matched only by Lindner's subtly tasteful musicianship on banjo, guitar or tiple. If Molly really is Banjo Dan's final record — and let's hope it isn't — it would be hard to imagine a more fitting last act.
Banjo Dan and the Mid-nite Plowboys play the Barre Opera House this Saturday, September 29. Kick Molly Through the Wall by Banjo Dan is available at banjodan.com.