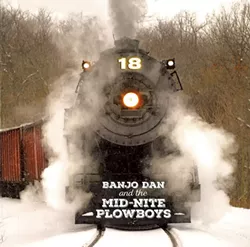 (Rootstock Recordings, CD, digital download)
Banjo Dan and the Mid-nite Plowboys might be gone, but they are certainly not forgotten. In part, that's because since the legendary Vermont bluegrass band called it quits in 2012, founders and brothers Dan and Willy Lindner have gone to great — and welcome — lengths to remind us just how special it was. In 2013, the band released a video of its farewell concert at the Barre Opera House, Forty and Farewell. In 2014, they released a double album, Caught in the Act! Very Live Recordings 1975-2010, that corralled some of the best concert recordings from their distinguished 40-year career.
Combined, the DVD and double album were excellent representations of the band's rightfully acclaimed live act. But as wonderful as the Plowboys were in person, they were equally excellent and prolific in the studio. Released in late 2015, a new compilation, 18, brings that facet of the band into sharp focus.
The title of the record is a nod to the number of recordings the band and its various offshoots released over the years — in other words, 18 is the 18th. It is also, conveniently, a reference to the number of tracks contained therein. These cuts represent a carefully curated retrospective of the band's best original studio work. And they serve as a crash course for anyone interested in the history of bluegrass in Vermont, which, for all intents and purposes, begins with the Plowboys. Banjo Dan and his pals might not have been the very first bluegrass band in the state. But they were among the earliest to turn the Green Mountains blue, and arguably the most important. Digging into 18, it's not hard to understand why.
In a 2012 story on the band in Seven Days, Starline Rhythm Boys front man Danny Coane — also one of the Vermont's most respected bluegrass players — opined that what made the Plowboys special was their original material. "I've always thought their original music was what made the band," he said. He was right. After all, anyone can cover Bill Monroe. But the humor and heart with which the Lindners and cofounding member Al Davis wrote were as integral to the Plowboys' ethos as their fiery chops.
Ultimately, that's what makes 18 so compelling. While appearances by the likes of noted instrumentalists Jim Ryan, David Gusakov, Bob Amos and Phil Bloch are impressive, what's really showcased here is the Plowboys' collectively unique songwriting prowess. That includes staples such as "Death Come Down to Danville" and "Fire in the Sugarhouse," as well as lesser-known gems such as "Aremel" and "Karelia," all of which highlight the band's signature and influential style. For bluegrass fans, 18 is required listening.