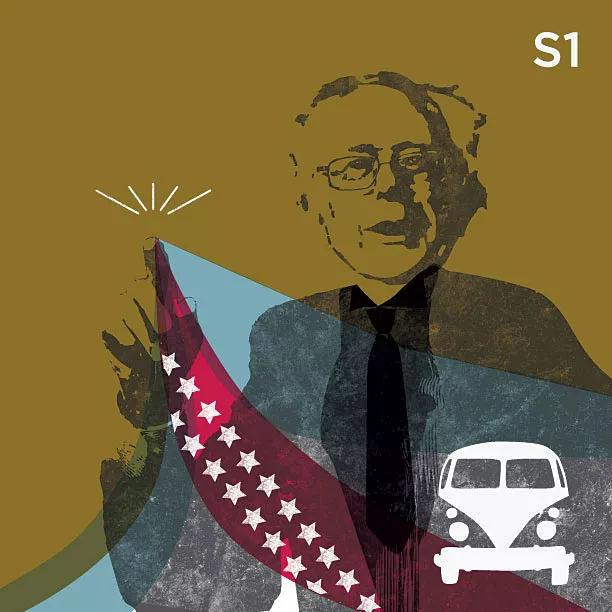 A public radio producer and recent Middlebury College grad is devoting the entire inaugural season of his new podcast series to following the presidential aspirations of Sen. Bernie Sanders (I-Vt.) — or, more accurately, to following people around the country who are "feeling the Bern."
Bandwagon, which bills itself as "a podcast about being a part of something larger than yourself," is the brainchild of Josh Swartz, who graduated Middlebury in January 2015. The 23-year-old radio producer, who lives in Providence, R.I., and works for Public Radio Exchange in Cambridge, Mass., has been following Sanders' supporters in real time since he launched the series over the summer. In each episode, Swartz profiles a different Bernie backer, or group of backers, as they try to build momentum for Sanders' national grassroots campaign.
"I'm a big podcast fan," explains Swartz in a phone interview, "and I love the idea of combining the intimate storytelling of podcasting with the newsy journalistic information that ... typical news stories don't have time to get into."
Swartz says he conceived the idea for Bandwagon while attending the Transom Story Workshop, an intensive eight-week program in Woods Hole, Mass., that teaches public radio tools and techniques to aspiring producers.
His initial idea for Bandwagon was to profile hardcore music fans, such as Deadheads and Phish fans, who travel around following actual bands. However, when the political campaign season kicked off, Swartz says he broadened the show's scope with the goal of delving into one topic per season. When Sanders formally announced his bid for the presidency in Burlington on May 26, Swartz saw it as the most relevant and timely topic with which to begin the project.
Swartz, who's funding the podcast with a successful $8,500 Kickstarter campaign he conducted over the summer, plans to release new episodes every four to six weeks. He expects to have eight to 10 episodes online and available for free download by the time the Super Tuesday primaries are held on March 1.
So far, Swartz has released two episodes. The first is a lighthearted seven-minute piece on the Bernie Sanders All-Star Kazoo Band, which marched in Bristol's annual Fourth of July parade.
Bandwagon's second episode tackles a more somber subject: the efforts of Tyson Manker, a former U.S. Marine Corps infantryman and Iraq War veteran. Manker made national news after he drove six hours from his home in Springfield, Ill., to Des Moines, Iowa, to speak at a Sanders campaign rally. In the 16-minute Bandwagon interview, Manker explains how his combat experiences in Iraq left him severely traumatized and suicidal — and why he's thrown his weight behind Sanders.
Following the release of the first two episodes, Bandwagon was highlighted in iTunes' "New and Noteworthy" podcast section, which Swartz says attracted several thousand new subscribers.
Future Bandwagon episodes will feature members of the Black Lives Matter movement and its relation to the Sanders campaign, as well as an examination of how the health care issue has attracted new supporters. Swartz says he's also considering an "anti-bandwagon episode" about people who vehemently oppose Sanders' bid.
"The podcast doesn't really depend on Bernie winning. I think the uncertainty of what will happen is one of the exciting parts of doing it," he adds. "Whether he gets the nomination or not, it'll be interesting to listen to these stories in that context in the future."