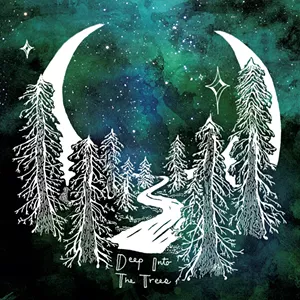 Band of the Land, Deep Into the Trees
(self-released, digital)
It should come as no surprise that Band of the Land feel deeply connected to nature. The Burlington group revels in the splendor of its home state, threading field recordings of trickling streams, red-winged blackbird and mourning dove calls, and the sound of riverbed stones crunching underfoot into a debut full-length album, Deep Into the Trees.
The band — vocalist Lillian Seibert, guitarist/vocalist Dan Hibbs, multi-instrumentalist Eli Goldman, drummer Michael O'Connor and multi-instrumentalist Ron Rost — enlisted a swarm of some of Vermont's finest musicians to fill out its folk- and reggae-driven sound, and there are too many to list. But even this powerful posse can't save the album completely. Along with some sophomoric lyrics, Band of the Land's stylistic dichotomy is their biggest weakness.
When Band of the Land lean into their folk and soul inclinations, they make some truly lovely and groovy music. Right from the get-go, opener "Love Is Strong" oozes with Motown panache. A dense network of horns, organ and strings cushions Seibert and Hibbs' sensual back-and-forth. It's a dynamite way to kick off a record, and it shows major progress from their scrappy 2016 self-titled EP.
"Generations" introduces Appalachian vibes, a staple of the group's sound. Banjo pickin' and saucy fiddlin' lead the jaunty tune, the lyrics of which artfully express the nearly silent, omnipresent dread of living in the present.
"House Song" is an atmospheric campfire ballad. Seibert's vocals oscillate between steely resolve and raw vulnerability as the string section wraps her up in glowing tendrils.
But things have already started to go off the rails at this point. "It Is the Earth," a reggae-bluegrass hybrid, skews heavily toward the irie side. It hints at what's to follow.
Cloying sentiments thicken on "Constantly," a more down-the-line reggae song than "It Is the Earth." "Life on Earth is such a miracle / Our existence is spiritual," Hibbs sings without a hint of irony. It's bumper-sticker philosophy with a dash of daily affirmations purchased from Urban Outfitters.
The lyrics of "Revolution," yet another reggae-aping number, come off like a fact sheet given to first-year college students at their first political protest. "We got oil in the ocean / Plastic spinning 'round / You know the drills keep drillin' / And we gotta shut 'em down." It's the kind of on-the-nose messaging expected from a troupe of activist educators who perform at elementary school assemblies. Actually, that might be something for Band of the Land to consider, because they'd likely be great at it.
On Deep Into the Trees, Band of the Land get lost fighting causes — an absolutely worthy pursuit in real life. But it's hard to imagine that anyone listening to this music would be swayed by such blatant messaging. They're likely already aligned with the band philosophically, at least to some degree. Nearly half the record proves that the group has so much more to offer artistically.
Deep Into the Trees is available at bandoftheland.bandcamp.com.