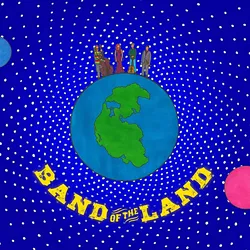 (Self-released, digital download)
The serenity and open spaces of rural Vermont allow ample room for hearts to expand. Burlington's Band of the Land have hearts so wide, the world could fit inside. The group's self-titled debut EP is a tender tribute to the goodness of the Green Mountains. It uses folk and bluegrass to convey messages encouraging respectful cohabitation on Earth.
During the summer of 2015, guitarist Dan Hibbs, bassist Eli Goldman and vocalist Lillian Seibert reconnected at the Native American Elders Gathering at Sunray Meditation Society & Peace Village in Lincoln. The three immediately began writing songs together and later invited Michael O'Connor to join on drums. BOTL recorded their EP in February 2016 with producer Ron Rost in Panton, shortly before embarking on a tour of Ethiopia with One Love Theater, a youth troupe that raises awareness about HIV/AIDS and gender equality.
BOTL collaboratively write their beautifully harmonic songs outside in the woods. This peaceful immersion in the natural world is an integral part of the group's creativity — each song on the EP is rooted in an experience of the environment.
The opening track, "Walkin'," is a slow, winding reimagination of the Old Crow Medicine Show/Bob Dylan campfire sing-along "Wagon Wheel." Guests Anne Hibbs on violin and Taylor Paone on cello add dimension to the song's simple acoustic guitar rhythm and warm, walking bass line. Goldman and Dan Hibbs lead the group's characteristic three-part vocal harmonies, lyrically describing the choice of enjoying mental presence while hiking mountain paths and casting restless thoughts aside.
"Birdsong" allows Seibert's bright and confident voice to shine, with lyrics and cadence that would make Dolly Parton smile. While the instrumentals dance in an uplifting bluegrass style with pretty melodic intervals, Seibert sings an allegory of a bird escaping a cage, declaring, "Shoot me down and take me now / but you'll never bind my wings."
A soothing sample of an actual birdsong in gentle rain introduces "Little Words." It's an especially sweet and short folk piece, lovingly composed with reserved layers of cello, sparkles of piano and Seibert's gorgeous voice in self-harmony.
Band of the Land finishes with a touch of reggae influence and activist lyricism. "Wildflowers" incorporates bluesy chord progressions and reverence for the Grateful Dead amid three-part vocal harmonies singing about the urgency of environmental protection. Over rich, festival-folk jams, "Castles" culminates with a philosophical musing about learning to live deliberately.
BOTL begin a weekly, monthlong residency on Thursday, July 6, at the Skinny Pancake in Burlington. Band of the Land is available at bandoftheland.bandcamp.com.