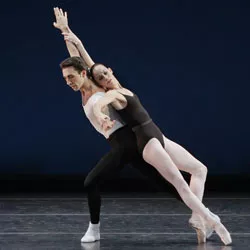 Suzanne Farrell is considered one of the most influential ballet dancers of the 20th century. In the early 1960s, the wisp-like teenager from Ohio joined the New York City Ballet and became the muse of George Balanchine, regarded as the greatest choreographer in contemporary ballet.
On stage, Farrell was known for her reckless, almost off-kilter dancing and the vulnerability she exuded. In a 2003 New Yorker essay, Joan Acocella writes, "Even when her dancing was slow, it was wild: pooling, flooding… In time, she affected every American company. If, today, American ballet dancers are notably headlong — feat-doers, ear-kickers — that is due in part to Farrell. And if, when they are also profound, they are profound in a cool, exalted, unactory way, that, too, in large measure is Farrell speaking, or Farrell and Balanchine."
Just over a decade ago, Farrell took the helm of an educational program at Washington, D.C.'s Kennedy Center that swiftly evolved into her own dance company, the Suzanne Farrell Ballet. Now 66, she has dedicated this phase of her life to presenting the works of her mentor, Balanchine, who died in 1983.
Farrell responded via email to questions Seven Days posed in advance of her company's performance at the Flynn.
SEVEN DAYS: What's it like to watch young dancers take on the roles you once danced?
SUZANNE FARRELL: I give my dancers all the tools they need to successfully dance a role, but I don't want them to be carbon copies of me. [Dancers] are not machines where the volume can be turned up. We have to do it all visually and energetically. We are our own technology, our own instruments.
SD: How do you differ as a leader from Balanchine? How are you similar?
SF: Good theater should always send people away feeling changed. Everybody I met in the audience during that wonderful era when Balanchine was working, and everything seemed so right with the world, said how their lives had changed, no matter what walk of life they came from. I want to bring that same sense of urgency and importance to the time we're living in.
SD: When did you realize you had truly made it as a ballet dancer?
SF: After studying ballet for many years, people forget what first attracted them. Many dancers begin to feel noble simply because they come to class at all. They should have this wonderful feeling unlike anything else in life: the state of balletic grace. I caution my dancers and students alike not to focus on being a star, but to remember the stars they had in their eyes that made them want to dance in the first place.
As you become experienced and perfect the technique, you have to remain vulnerable and not lose that wonderful innocence, that freshness.
I enjoyed all the opportunities to perform so many wonderful roles. Whenever people ask what my favorite ballet is, I say, "the one I am currently working on." I was lucky to live in so many different "worlds" onstage.
SD: You've described the process of developing the dances Balanchine created for you as "whipping up this dust, and after hours and days, it becomes a ballet." Were you aware, in those moments, that you were making history?
SF: When Mr. B started working on a ballet for me, there would be no one in the room except Gordon Boelzner at the piano, George and myself. He would show me a little something and I would try to imitate or shape or decode what he indicated.
Choreography is not born as choreography; it grows out of a suggestion and then it gets shaped into choreography. Rarely would he say, "That's not what I wanted." Our collaboration was very special and filled with trust. He would put the ball in my court and allow me to run with it. Sometimes he would have a mistake become part of the choreography — not that every mistake can be put to music and become beautiful, but he made us see life differently.
This is all part of my personal history, and I knew these were significant ballets, but I was living in the moment (busy trying to improve) and never thinking of history.
SD: You are considered one of America's greatest ballet dancers, but you're best known for being Balanchine's muse. What does it feel like to have your artistic legacy tied to someone else's?
SF: Every time I stage one of Balanchine's ballets, I see something different. I'm constantly discovering another facet of his genius. Though he was a brilliant man, Balanchine never acted like he knew everything about everything. He was also a very good listener. It was that kind of connection — with his dancers, with the music and with himself — that made working with him so extraordinary. At the same time, he would say to me, "It's you on stage" — not him.
SD: Why does the world still need ballet?
SF: Ballet is unique because [its] true essence resides in the muscle memory and integrity of its creator. Before videos/DVDs, it was passed on by the people who first danced it. They had firsthand knowledge. Not just of the steps but of the history. That fragile essence gets lost and is not easily replaced. Essence has to be replaced by essence, not technique or something else. This is why I believe Mr. Balanchine's ballets are important — they remind us of the importance of seeing life differently in the moment.
The Suzanne Farrell Ballet performs at the Flynn Center for the Performing Arts in Burlington on Friday, February 24, at 8 p.m. $25-50. Info, 863-5966. flynntix.org