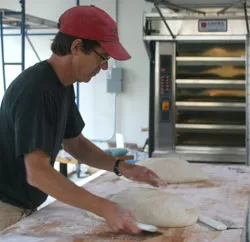 Phil Merrick at August First
The beginning of August has come and gone, but August First bakery, located at South Champlain and Main Street in Burlington, hasn't yet opened its doors to the public. "We still [need to] have five inspections," notes co-owner Jodi Whalen. She and her husband, baker Phil Merrick, hope to start selling organic loaves sometime next week.
"There's gonna be a lot of variety," Merrick promises. "About half our breads will be made with a natural starter. The others will be made with commercial yeast." Initial offerings will include sourdough, a healthy seven-grain bread and baguettes, which Merrick will whip up in the afternoon so they'll be fresh at dinnertime. ("For me, baguettes have a three- or four-hour shelf life," he says. "A chewy baguette is not a baguette.") Special breads, such as one studded with Kalamata olives and another with walnuts and scallions, will make occasional appearances.
The bakery will be open from 8 a.m. to 6 p.m. on weekdays, with more limited hours on Saturdays, and in the mornings patrons can swing by for what Merrick calls "simple pastries," including scones, cinnamon rolls and cookies made by NECI graduate Brian Prendergast. Eventually the couple will add "fancy pastries." Burlington's Fresh Coffee Now will supply the beans for espresso and brewed coffee. Homemade granola will be available by the pound.
Whalen and Merrick plan to turn the spot into a full-blown café — complete with baguette sandwiches, soups and salads — but will add those items as time allows. "We'll make everything here," Merrick says. "I don't want to use off-the-shelf, boiled-in-whatever meat. If we're going to have meat sandwiches, we'll roast the turkey here, or bake salmon for salmon salad." Panini and flatbreads are on the roster, too.
Whalen, who does the bakery's marketing, is looking forward to seeing how her Web 2.0 efforts play out in real life. On Twitter, she notes, "We have over 200 followers, and a lot of them are true fans: They're spreading the word." She's also had luck with Facebook and a bakery blog. "It's such an easy way to communicate … As long as the fans follow through and actually come."