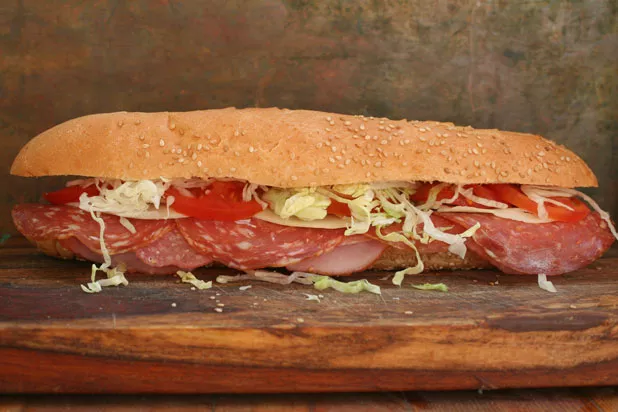 After much anticipation and a three-month wait since the initial announcement, Burlingtonians will have a new sandwich spot on April 4. Stacks Sandwiches opens that day at the corner of Pearl Street and North Winooski Avenue in the space vacated by Vermont Sandwich Company at the end of 2011.
Sandwiches are about the only thing the two businesses have in common. Stacks owners Jodi Whalen and Phil Merrick of August First are bringing their local, handmade ethos to the new venture, open seven days a week from 11 a.m. to 9 p.m. They'll bake their 12-inch seeded sub rolls daily at August First and deliver them by bike.
The sandwiches include basics, such as turkey and ham with Swiss (fancied up with Cajun turkey and applewood-smoked ham), plus big-city-style Italian subs. Vegans have nothing to worry about. "I do a lot of Indian cooking at home, and Indian spices really lend themselves well to a base like chickpeas," says Whalen. That principle yields an Indian-style sandwich with spiced chickpea spread, pickled cucumbers, roasted peppers and cilantro chutney. Vegheads looking for something hot but not spicy can try the broccoli rabe slow-roasted with garlic and Italian spices, then topped with provolone and mayo.
But they'll have to pass up Stacks' "famous roasted meats." Porchetta consists of slow-roasted pork from Vermont Family Farms, served with the aforementioned broccoli rabe and sharp provolone. Chicago-style Italian roast beef has antibiotic-free meat smothered in jus and topped with peppers.
The Cubano is Stacks' most innovative sandwich. Instead of being piled with ham and pickles, the local pork shoulder, rubbed with cumin seeds and garlic, is stuffed with them and layered with mustard and Swiss. "We were inspired by cooking roasted meats at home using Molly Stevens' cookbook [All About Roasting]," explains Whalen. "When you slow-roast meat, it just pulls out all the flavor."
For now, most of Stacks' business will be takeout, though diners are welcome to stand at counters made from upcycled wood from an Addison County barn. They can also settle in with a brew and a Stacks sub at the Other Place, a few doors down, thanks to a deal between the owners. By summer, Whalen hopes to have outdoor seating.
And she has thought about her clientele. "One of our philosophies here is, the next generation, the ones in college now, are the 'flavor-burst generation,'" Whalen posits. "This generation of kids grew up with Extreme flavor Doritos and all of the big flavors. We're all paying attention to that." She hopes Stacks' big flavors will soon be drawing big crowds.