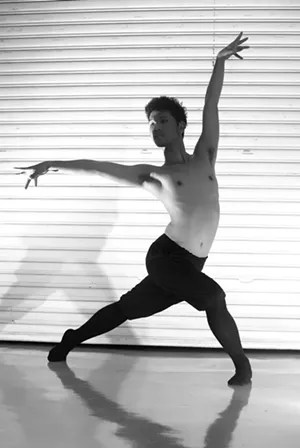 Courtesy Of Don Adrian Obviar
Don Adrian Obviar
Last year, Jericho-based drummer Chanon Bernstein produced a show with a collective of musicians and artists to celebrate the music of jazz drummer and bebop pioneer Max Roach. The experience of putting together a production that gave participants license to express themselves creatively within an overarching theme was fantastic, Bernstein recalled.
This year, he's back with another supergroup — the Bad Hombres. It's an ensemble of musicians, artists and "everyday people" who have come together to address issues related to immigration, migration and evolution through music, dance, video and the spoken word.
The group debuts with its performance of The 4.54 Billion Year Flood at ArtsRiot on November 24. The 90-minute production combines live, original hip-hop music with presentations from Vermont's immigrant communities. Referencing the age of the Earth and the expression "100-year flood" in its title, the revue "is kind of saying that the upheaval that's happening in the world is the flood of consequences coming from a culmination of 4.54 billion years of poor decisions and improper actions," said Bernstein. It explores those ideas through various immigrants' stories of their journeys to Vermont.
"There's a lot of work that's gone in," said Bernstein. "It's not going to be a loose jam."
A confluence of factors inspired Bernstein to create the show. As an English-language teacher at Vermont Adult Learning, he's had "neat discussions" with his students about their life experiences, he said. Their stories resonated with his experiences living abroad in countries such as Afghanistan, Chad, Iraq and Kyrgyzstan.
The Bad Hombres - My Country (clip)
Update Required
To play the media you will need to either update your browser to a recent version or update your
Flash plugin
.
Eight months ago, Bernstein started work on a project that would address refugee and immigrant issues. After reading numerous books and watching fiction films and documentaries on the subject, he decided on a multimedia production to avoid replicating previous efforts.
"I want this to be original," he said. So the show draws both on stories his students have told him and on things he has witnessed to create a composite narrative.
Bernstein reached out to local musicians, artists and students from Vermont Adult Learning. A core group composed of Ryan Cohen from Robot Dog Studio, Mister Burns aka Scott Lavalla, and keyboard player Jamie Bright composed the music and wrote the lyrics.
Bad Hombres will perform 10 original songs, one of which, called "War Pigs," is about the U.S. invasion of Iraq. The song includes a snippet of then-president George W. Bush's address to the nation about his decision to send troops. It also incorporates samples of Iraqi music and a guitar riff from English heavy-metal band Black Sabbath's famous anti-war song, also titled "War Pigs."
The Bad Hombres -In the Beginning (clip)
Update Required
To play the media you will need to either update your browser to a recent version or update your
Flash plugin
.
Philippines-born choreographer Don Adrian Obviar will tell his immigration story through spoken word and contemporary dance. "I hope to convey the opportunities America holds over other places," wrote Obviar in an email. The U.S., Obviar continued, has given him the opportunity to teach dance, buy his own house, feel pride in seeing his husband in the audience at his recitals and enjoy a healthy living environment.*
Another immigrant who will share her life story is English-language student Zeynab Kankou Kouyate. The Benin-born personal care attendant, who works at a local nursing home, said she hopes to inspire others to believe in their dreams.
Though the Bad Hombres will perform The 4.54 Billion Year Flood only once in Burlington, Bernstein hopes the group will take it to other New England locations, particularly those with immigrant and refugee communities, he said. He wants to persuade other immigrants to share their stories and to invite local musicians to open the show. "I have big dreams for this," said Bernstein.
*Correction, November 24, 2017: An earlier version of this story misstated the role of Don Adrian Obviar's husband during his recitals.