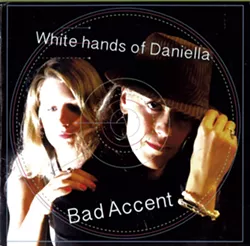 Bad Accent, White Hands of Daniella
(Self-released, CD, digital download)
Putting together an entire album of ballads is a tall order. Storytelling is a craft of its own, and the ability to turn a story into a compelling song takes a special kind of magic. The worldly troubadours of Bad Accent describe their music as "working-class, sardonic folk rock." While this description holds water, it's not even close to whole truth. On their sophomore LP, White Hands of Daniella, tales of compelling characters and pan-global influences converge for a dynamic, theatrical experience.
Most of the songs were written or cowritten by multi-instrumentalist Evzen Holas, the most notable exceptions being a cover of Simon & Garfunkel's "The Only Living Boy in New York," and Emmylou Harris via Carlene Carter's "Easy From Now On." Holas is originally from the Czech Republic, and his wife, lead vocalist Karine Poulin, hails from Montréal. Rest assured, their accents are real, but when naming their band they decided to poke a little bit of fun at themselves.
The fun continues on their website. Take a look at the White Hands of Daniella VIP Club. Though the purchase of only one copy will yield you no fun extras, a purchase of 500 copies will get you a Bad Accent-themed tombstone, adorned with carvings of the bands' likenesses.
The album invites us into a smoke-filled cabaret, operated by a diverse group of drifters fighting through the ennui to put on a good show. While it's mostly Poulin's voice telling the tales, each song takes influence from a place distinctly different from the song that came before it. The result is a feeling that we're hearing tales of woe from a whole host of wistful chanteuses.
For instance, "Let Her Be (Princess)" is straight-up acoustic folk, yet the subsequent track, "Angels Over Mar Del Plata," with prominent Spanish guitar picking, is unmistakably Latin. A reworked version of "Naked Nurse," the original version of which was released under their previous moniker Drumbeat Marianne, flits between jazz and country.
Lyrically, the album is packed to the brim. Bad Accent have a lot of stories to tell and strive to be as clear and precise as possible. After all, a good story should be full of detail and embellishments. While these stories are entertaining, they are not songs that are memorable in the way a pop song is. With pop, you remember the hook. With Bad Accent, you remember the tale.
White Hands of Daniella by Bad Accent is available at cdbaby.com/artist/badaccent. Their CD-release party is on Saturday, October 8, at Radio Bean in Burlington.