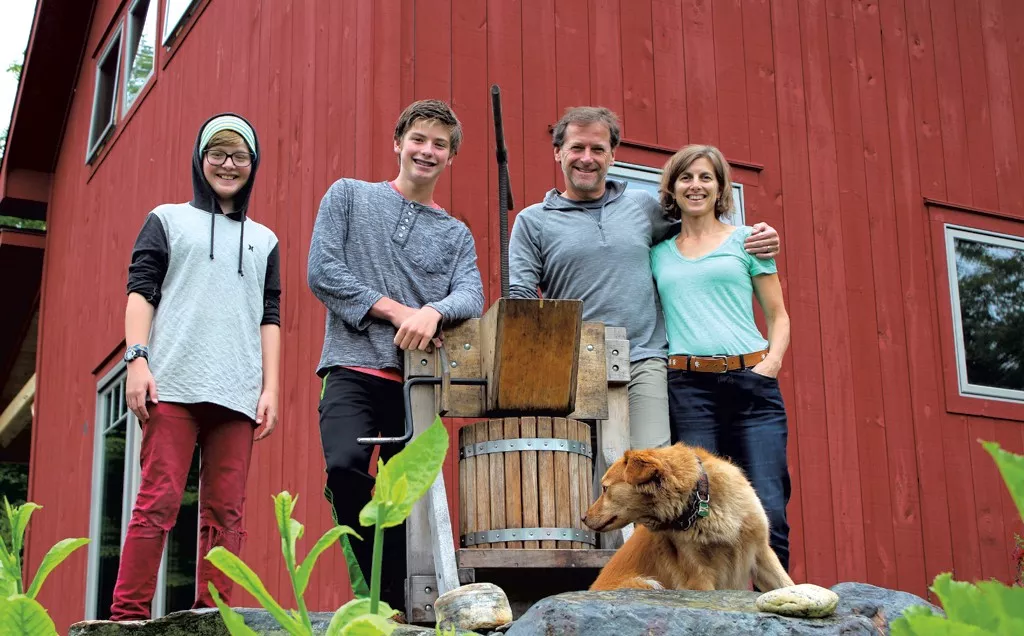 Parents: Hal Ellms and Sally Fox Sons: Hayden, 14, and Bridger, 12
tristan Von Duntz
Cider collects in a stainless-steel pot
The wooden cider press tucked into the corner of Hal Ellms' and Sally Fox's Middlesex garage comes out just once a year. It's the centerpiece of the family's annual backyard cider-making party in early October.
Thirty to 40 of their friends attend, bringing apples —anywhere from a bagful to a carload, some harvested from their own yards. They form an assembly line around the press. Kids and adults wash the apples, chop them in half, load them into the grinder and begin pressing cider. The peels stay on; they're responsible for the cider's zingy flavor.
Here's how it works: The press sits atop a wooden frame, a few feet off the ground so a bucket fits underneath. Cider makers turn a hand-crank grinder to mash the halved apples. From there, the mash goes into a lidded wooden barrel, where someone squeezes out the juice using a hand-crank auger. Cider pours out of a hole at the bottom of the press, is strained through a sieve and collects in a stainless-steel pot.
Once the batch is done, the leftover mash is loaded into a wheelbarrow and dumped on a compost pile.
tristan Von Duntz
The press in action
Ellms, who bought the used cider press 12 years ago, estimates that the party produces 15 to 20 gallons of fresh apple cider for his family and friends to enjoy every year.
"It's a lot of fun because it brings people together in a participatory fashion," he says. And because everyone gets to drink fresh cider on the spot — and take some home. Ellms and his family enjoy the sweet stuff cold or warm with cinnamon; they reserve a few gallons for their freezer, too.
"A lot of people are amazed that that's all cider is," says Ellms. "They think of cider from the store and don't realize it's made from just squeezing the apples."
---
Used cider presses are often for sale in classified ads, at tag sales or in local bulletins. They typically range in price from $200 to $300; Hal Ellms scored his for $125.
A wooden press doesn't need much care, but it should be cleaned and moisturized with olive oil before it's stored for the season.
For a twist on traditional apple cider, try adding berries or pear slices to the apples before grinding.