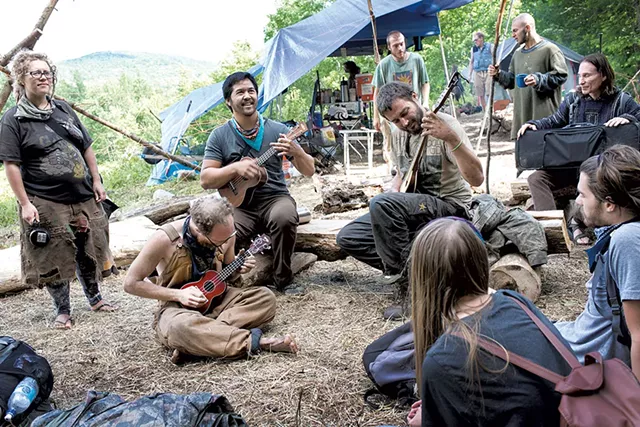 File: Caleb Kenna
Scenes from the Rainbow Family gathering
["A Reporter Gathers With the Rainbow Family," June 29]
The Seven Days staff is chock-full of tattooed, leafy-substance-enjoying lefties and some experienced campers and hikers, and I am ... none of those things. So it was to the sound of more than a few snickers that I departed the newsroom last June and headed into the woods to commune with the Rainbow Family of Living Light, a leaderless collection of hippies and lost souls who congregate annually to celebrate peace and nature.
For their 2016 gathering, which was expected to attract up to 20,000 people, the group had chosen the Green Mountain National Forest in tiny Mount Tabor. The diehards spend a month in the woods, setting up a sprawling encampment where everything is free and everyone is expected to pitch in.
I set up my tent in a patch of woods a half mile into the encampment — strategically distant from the nearest hand-dug latrine and drum circle — and spent hours meandering the three-mile U-shaped trail, along which small camps and kitchens were beginning to come to life.
What did I learn?
Honestly, I'm still not entirely sure. But here's a partial list:
I learned that law enforcement sees fit to maintain a heavy, if friendly, presence at Rainbow camps, even though the only crimes being committed involve a drug that many states are rushing to legalize. I learned that when Rainbows ask to see your asshole, they are really asking if you are an undercover cop. And, I learned, as I invariably do on almost every story, that most people are decent and willing to meet you halfway, or even further, if you just extend yourself a little.
Most of my fellow campers called me "brother," greeted me with hearty calls of "welcome home" and tried their damnedest to explain what the hell they were doing in Vermont — even after I told them I didn't have any cigarettes.