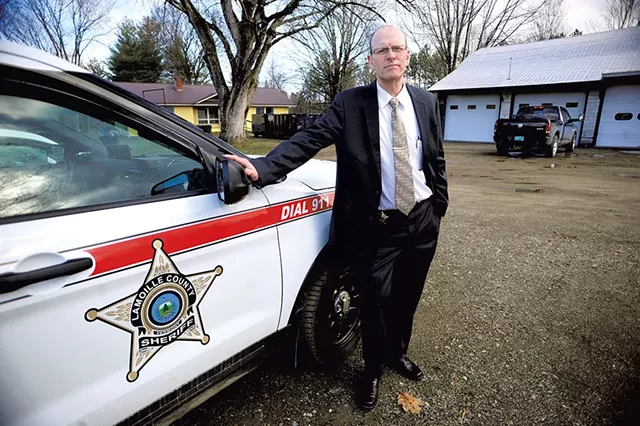 File: Stephen Hard
Sheriff Roger Marcoux Jr.
["A Second Chance: A Vermont Sheriff Risks His Career by Hiring a Sex Offender," April 27]
When he learned that a "high-risk" sex offender had moved into his jurisdiction, Lamoille Sheriff Roger Marcoux Jr. was alarmed — and annoyed. Timothy Szad had served a 13-year prison sentence for sexually assaulting a young boy in Rockingham. Media coverage of his release prompted vigilante-style reactions. After a failed cross-country search for a new home, Szad ended up in Hyde Park, where he knew no one. Outraged residents demanded that the elected sheriff do something.
Marcoux came up with an improbable solution: In hopes of keeping an eye on Szad and also giving him a purpose, he hired the sex offender. Under the supervision of one of his deputies, Marcoux contracted Szad and his roommate to renovate a run-down building that the department had purchased in Hyde Park to serve as a new office.
Seven Days documented their collaboration in April.
Both men feared the story could provoke a backlash — or even violent reprisals. Instead, Marcoux and Szad have welcomed dozens of officials who were curious to see their project up close. Johnson State College students made them the subject of a class project. Marcoux, along with this reporter, accepted an invitation from a prison ministry to speak to inmates inside Vermont's Southern State Correctional Facility.
Since the story ran, Szad, with the help of Marcoux and others, managed to get a driver's license, arrange for a bank loan — no easy thing, since he had no credit — and buy his own pickup truck.
At Marcoux's urging, Szad allowed the sheriff's department to install a GPS unit inside the truck, to protect Szad from community members who might make false reports — it has happened — and to keep tabs on him.
Szad says he feels a little more comfortable with every passing day. While he once talked of leaving Vermont and starting over somewhere warmer, alone, now he says he'll probably stick around.
But his struggle to adjust to his peculiar brand of small-town notoriety continues. "It's still a little weird in the world after 13 years of incarceration," Szad said. "You can get so used to a routine ... When you get out in the world, you have to fend for yourself. It's still hard to get used to everything. Sometimes I feel the eyes upon me in the community — people recognize me. It still feels weird ... a lot of times."
Work on the building should be wrapped up in the coming weeks. But the sheriff's department owns other nearby buildings in need of repair. And there is lawn care, maintenance, mechanical work on the cruisers — Szad may turn into a long-term contractor for the department.
"He continues to impress us with his work ethic, and we just think he's in a good place in his life," Marcoux said. "When you peel everything back, Tim wanted this to work. Tim deserves the credit."
In the end, though, Marcoux may have been more impacted by their relationship. The sheriff, a Republican with a traditional law-and-order outlook, has found a new calling: helping recently released inmates. He talks excitedly about potential programs he could house in the buildings Szad is busy repairing.
Could he convert one into some kind of halfway house for long-term inmates — including violent sex offenders such as Szad — to help them find work and gain a foothold in society?
Female inmates, who are often saddled with child-rearing responsibilities, are notoriously difficult to help — could he get a state contract to house a few families affected by incarceration?
"So many ideas have come out of this," Marcoux said. "Having to figure a way to protect my community from Tim, I had to readjust my thinking and do the best I could."