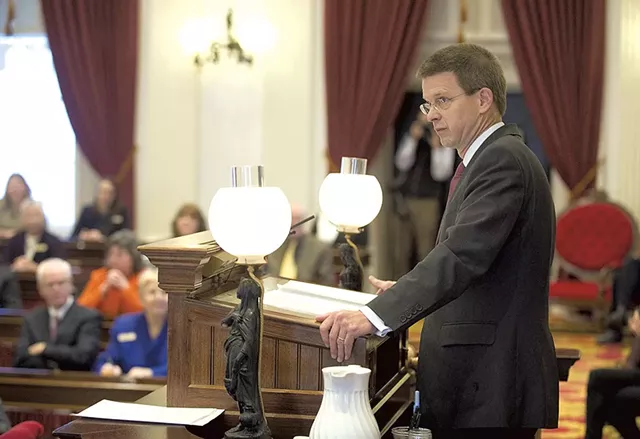 Jeb Wallace-Brodeur
House Speaker Shap Smith
["Back in Montpelier, Lawmakers Pick Up Where They Left Off," January 5]
The 2016 race for Vermont governor could have had a different outcome — and I'm not referring to whether Democratic candidate Sue Minter stood a chance against governor-elect Phil Scott.
A year ago this month, House Speaker Shap Smith (D-Morristown) sat down with Seven Days and talked about his difficult decision to give up his bid for Vermont's top job when his wife was diagnosed with breast cancer.
"It was something I really wanted to do, that the family was all in on. My supporters were all in," he said. "It is hard to shift gears that quickly, but it was so clearly the right decision to make."
As recently as last winter, with his wife on the mend, Smith considered rejoining the governor's contest.
"I thought a lot during the session about whether I could get back in that race," he said this month. "I couldn't raise the kind of money necessary or put together a team and put forth that kind of a sustained effort."
Ultimately, in May, he opted to run for lieutenant governor and mounted a less vigorous campaign than expected. Smith lost the Democratic primary to eventual general-election winner Sen. David Zuckerman (P/D-Chittenden).
Smith said he's confident he made the right decisions, given the circumstances. And between those decisions, he said, he didn't dwell on what might have been.
"I stopped thinking about whether I could have won," he said.
Of course, no one can know what a four-person Democratic primary would have been like instead of the three-candidate race we witnessed. If Smith had won that, would he have fared better against Scott than Minter did?
Asked this month to dwell on it just briefly, Smith indulged. Scott, better known to statewide voters after six years as lieutenant governor, was going to be tough for any Democrat to beat, he said.
"With the benefit of hindsight, if anybody was going to win, they would've had to run the equivalent of a straight flush," Smith said. "Everything would have had to break right."