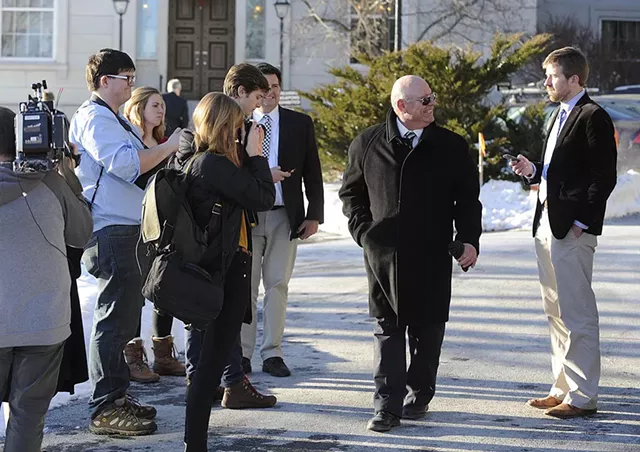 File: Jeb Wallace-Brodeur
Sen. Norm McAllister grinning at Paul Heintz (far right) after his suspension from the Senate
["Montpeculiar: A Suspended Senator Gets the Last Word," January 7]
The press conference is typically a staged and staid affair. A well-briefed politician stands at a podium, delivers perfectly on-message, pre-scripted remarks and answers a few questions before a flack yanks him or her out of harm's way.
Sometimes, however, a press conference goes totally off the rails.
Moments after Sen. Norm McAllister (R-Franklin) was suspended from the Vermont Senate last January over allegations of sexual assault, he walked out of the Statehouse and headed for his truck. A pack of reporters, me included, followed him out the door, asking him about the day's unprecedented proceedings.
The senator should have kept walking. But here's the thing about McAllister: He loves to talk. That's why every time I called him about his legal troubles, the conversation would start with him telling me his lawyer had instructed him to keep his mouth closed — and end with him doing the opposite.
The same happened that January day. McAllister paused on a sidewalk outside the Statehouse and started yapping. He kept answering our questions until we somehow ran out of them.
In one characteristic exchange, WCAX-TV's Kyle Midura asked, "Did your attorney give you any advice as to whether to speak today?"
"Not to talk to you guys!" McAllister responded, laughing hysterically.
It wasn't terribly funny. The senator had been charged with serious wrongdoing — allegations he vigorously disputed — and he had just become the first senator in state history to face suspension.
There's a reason lawyers tell their clients to keep quiet. As anyone familiar with their Miranda rights knows, anything you say can and will be used against you in a court of law.
At his impromptu press conference, McAllister discussed not only the politics of his suspension but key details in his criminal case. He proceeded to contradict an earlier statement that he had engaged in consensual sex with one of his accusers. That particular exchange, initiated by Vermont Public Radio's Peter Hirschfeld, would eventually lead to a prosecutor subpoenaing the radio reporter — even though half of the political press corps had also witnessed it.
After 15 minutes, the scrum of reporters began to dissipate, retreating to the Statehouse to write their stories.
"I think I've answered every question you guys wanted," McAllister said, looking pleased with himself. "Well, maybe not all of them."
He turned to me and cracked a joke about a subpoena I had recently received to testify in his case.
"Could I ask you—" he began, pretending to interview me. "Oh, never mind. I know you've gotta take the Fifth [Amendment] or whatever."
I stared back at him and didn't say a word.
"You're not even smiling about that one," he said with a laugh. "Thanks, guys!"
McAllister walked away from us and headed to his truck. The press conference, it seemed, was over.