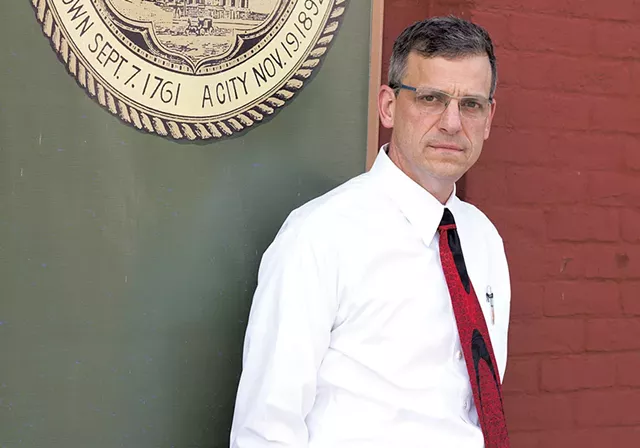 File: Caleb Kenna
Rutland Mayor Chris Louras
["Right in Rutland: Will Mayor Chris Louras Fall on His Sword for 100 Syrians?" June 8]
Rutland Mayor Chris Louras was in political hot water when Seven Days profiled him in June. The Republican-turned-independent had quietly made arrangements to resettle 100 Syrian refugees in the city — without informing some key players. A number of aldermen attacked Louras for a lack of transparency, and he faced an angry backlash fueled by nativist rhetoric and ignorance about the refugee process.
But Louras held firm — even when opponents called for a citywide vote on the resettlement plan.
"The people that have concerns about process, the people that say they have concerns about process, my issue with that is ... the other option would have been voting on allowing people to come into our community," said Louras, whose paternal grandfather emigrated from Greece to the U.S. "And we don't do that in America."
Meanwhile, then-presidential candidate Donald Trump was on the campaign trail, promising to ban all Muslim refugees from entering the country.
I bumped into Louras in Rutland's Coffee Exchange Café in late September and mentioned that I was surprised that the refugee debate showed no signs of abating. We at Seven Days had thought we caught him at the height of it, I said.
"I know!" Louras said. "Me, too."
Two months later, Trump became the president-elect.
That hasn't made the Rutland mayor's job any easier. "The constant and unabated nature of the rhetoric around refugee resettlement, I think, is a direct result of the language our president-elect ... was using in the summer," said Louras. "It gave people the license to continue with that dialogue."
Louras, who is up for reelection next year, said he has no idea how Trump's win will affect Rutland's plans. The first Syrian refugees are still scheduled to arrive in January.