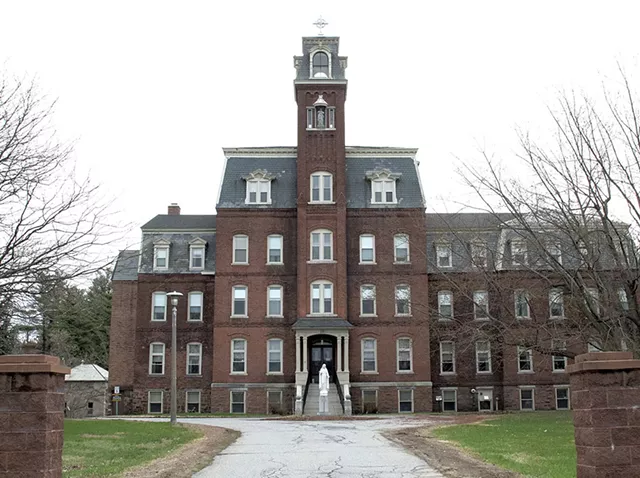 File: Courtney Lamdin
Sisters of Mercy convent
This "backstory" is a part of a collection of articles that describes some of the obstacles that Seven Days reporters faced while pursuing Vermont news, events and people in 2019.

---
Reporters are used to dealing with cagey sources. It's annoyingly common for public officials to dodge us, and it's understandable when the random person we approach on the street would rather not be quoted in the newspaper. But some interviews we expect to go well, particularly when your source has just issued a press release. That practically invites a phone call, right?
Not if you're the Sisters of Mercy. I realize I probably shouldn't speak ill of little old nuns, but I assume the women of the cloth would want me to tell the truth. In May, we got word that the order of nuns would vacate their convent on Mansfield Avenue in Burlington. It was my first print story for Seven Days, and I was psyched: My grandmother is a devout Catholic and knows many of the Sisters. I fully intended on dropping her name the first chance I got.
But I didn't make it past the doorway. Sister Laura Della Santa stopped me in the vestibule and warmly told me that all interviews were to be handled by the Burlington nuns' overlords at the Sisters of Mercy headquarters in Rhode Island. She subtly shooed me back outside. What the H-E-double-hockey-sticks was I to do now?
I tried several times over the next few days to phone the mothership, to no avail. Luckily, I interviewed enough non-nuns to cobble together a story, but it was still a little weird to write about such a historic building without ever setting foot inside.
A few months later, I got a call from an employee at the Thomas Hirchak Company auction house. They would be selling off the Sisters' stuff in a couple of weeks, and did I want to come? Of course I did! I would finally get inside and talk to some Sisters, I thought.
When I arrived, I immediately noticed a sign taped on the door: "No pictures," it said. Something told me if the nuns knew that even a camera-less reporter was in their midst, I might get the boot. I found my auctioneer pals in the next room and asked them about the no-picture policy. They shrugged.
Trying to appear like a fellow bargain hunter, I laid low and spent the next hour avoiding the Sisters instead of seeking them out. But I was on deadline, and my editors needed a story. So incognito I went, interviewing shoppers discreetly with my cellphone recorder and leaving my telltale reporter notebook tucked away in my bag.
I stayed for the beginning of the auction, long enough to see a local restaurateur buy up a bunch of kitchen equipment for next to nothing. When I made my way to the exit, Sister Laura was sitting in the hallway. I flashed her a smile, not looking back to see if she recognized me from before.