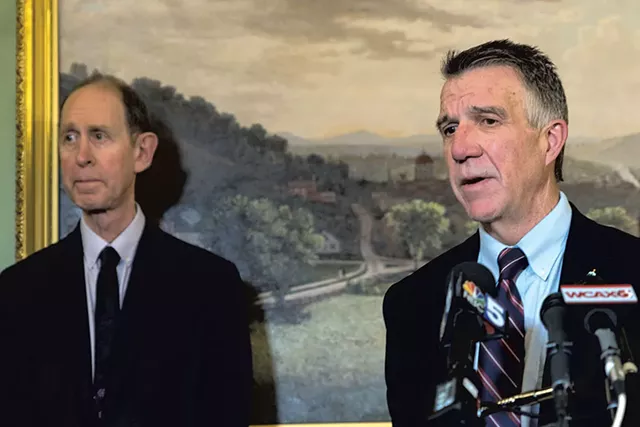 File: Colin Flanders ©️ Seven Days
Health Commissioner Mark Levine (left) and Gov. Phil Scott
This "backstory" is a part of a collection of articles that describes some of the obstacles that Seven Days reporters faced while pursuing Vermont news, events and people in 2020.

---
I hurried out of Gov. Phil Scott's March 13 press conference with many questions, but none so pressing as: Where the hell am I going to write this?
The governor had announced moments earlier that he was declaring a state of emergency in Vermont in response to the growing threat of the coronavirus, which had just begun to spread across the United States. Now, after lockdowns and restrictions, that day stands out in my mind as the official start of the pandemic, a specific moment that differentiated before and after. At the time, though, it was just a busy Friday that I needed to get through.
I had spent the day prowling the Statehouse, where I could normally find a spot to complete a late-night writing assignment. But the building was shuttering that evening due to the pandemic. The few coffee shops within walking distance were also closed, and my third option — driving back to my Winooski apartment while every other media outlet published their stories — was out of the question.
I trudged up a hill to retrieve my car and drove to a nearby Dunkin', where I ordered an iced tea, loosened my tie and made painfully slow progress on one of the most consequential stories I had ever written.
An employee eventually walked over and, looking at my untouched drink, announced that the place was closing. I headed out to work in my car, and the same young woman rapped on my window 20 minutes later to say I couldn't stay in the parking lot, either. The reason America runs on Dunkin', I realized, is because they keep you moving.
I sped back to the Statehouse and pulled into a spot as close to the Golden Dome as I could find, one that just so happened to be reserved for Lt. Gov. David Zuckerman. I spent the next hour on the State of Vermont's internet until I finally filed the first of many COVID-19 stories.
Exhausted and ready for a beer, I flicked off my car's overhead light and turned the key, only to hear a click-click-click-click-click-click.
Yes, dear readers. My battery was dead.
I was unsure of the punishment for appropriating the parking spot of a top-ranking state government official, but I didn't want to find out. As I cursed myself for not renewing my AAA membership, I sent up some digital flares. My girlfriend's mother, who lives nearby, agreed to give me a jump. Thirty minutes and one righteously bruised ego later, I was on my way.