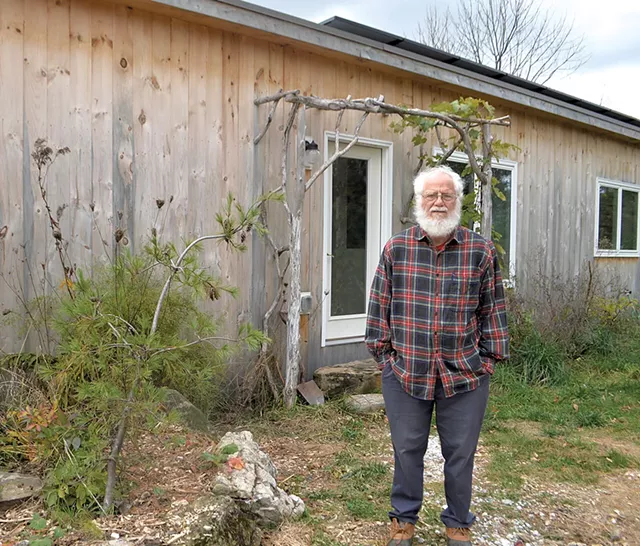 File: Molly Walsh
Tim Fisher in front of his Vermod
This "backstory" is a part of a collection of articles that describes some of the obstacles that Seven Days reporters faced while pursuing Vermont news, events and people in 2019.

---
Vermod is trying to remake the modular home business. But people who have purchased the Vermont-made zero-energy units have had some problems with them. Earlier this month I went to Waltham, where there's a cluster of 14, in search of sagging floors and cracking walls.
Roaming through the small affordable housing development, I met Michelle Kilbreth, who lives with and cares for her disabled brother. She introduced me to several of her neighbors on McKnight Lane. After about 90 minutes, my notebook was full. Time to go.
It was late October and chilly. Darkness was falling in the fields surrounding the neighborhood as we walked toward my car in a small gravel parking area. The front right tire was flat, probably from a slow leak that I had been filling periodically (but not often enough) with air at the gas station. I sighed and pulled out my phone to call for roadside assistance, not knowing how much it would cost. I felt the stress mounting. A good day on assignment was turning into a bad one.
Kilbreth gave me a puzzled look. "Why don't you change the tire yourself?" she asked.
Because it would take all night, I thought. My tire-changing skills were as rusty as the trailer hitch on the back of my 2011 Toyota. Kilbreth saw my dismay and cheerfully volunteered to walk me through the job. In other words, she did most of the work. When I couldn't get the jack unwedged from the storage compartment in my car, Kilbreth got her own jack from her truck.
The awkward lever that cranks up the jack? She worked it patiently and raised the car just enough to put on the spare. She knew to turn the wrench counterclockwise to loosen the lug nuts — and showed me how. As we were changing the tire, her brother offered bits of friendly advice from his wheelchair, which he'd rolled to the parking area.
It took about an hour to change the tire, and by then it was totally dark. I thanked Kilbreth repeatedly. She said it was no bother, which is untrue. I got in my car and drove away, not sure I would remember how to put on a spare again but determined to emulate her generosity. This was a good assignment after all.