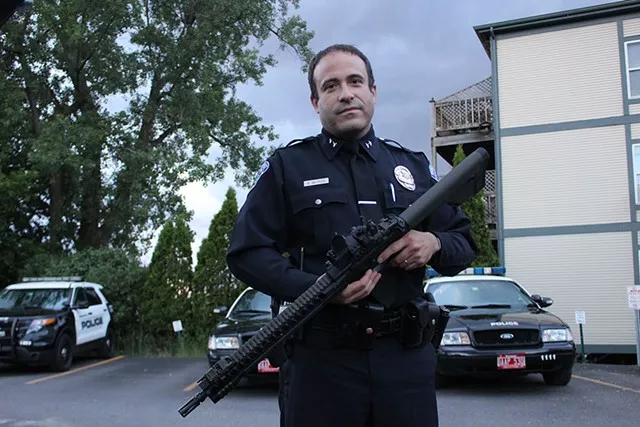 File: Paul Heintz
Burlington Police Chief Brandon del Pozo with the AR-15
["The Gun: How I Bought an AR-15 in a Five Guys Parking Lot," June 15]
["Courting Disaster: An Erosion of Press Protections in Vermont," June 22]
I've said it before, and I'll say it again: Journalism ain't free. Especially when I'm spending Seven Days' hard-earned advertising dollars!
This year I managed to blow plenty of dough in the service of filling these pages. So, which story was the most expensive?
Well, there was that time in June when I bought an AR-15 in a South Burlington parking lot to show how easy it was to avoid a criminal background check. I can still see the bemused look Seven Days business manager Cheryl Brownell gave me when she handed over an envelope stuffed with $500 cash.
At first I thought we might be able to resell the weapon after I reported my story — and, you know, make a little scratch off the deal. Then I realized it might not be wise to market a potentially stolen firearm. In the end, we turned it over to the Queen City Police Foundation, care of Burlington Police Chief Brandon del Pozo.
With any luck, Seven Days can at least deduct the expense as a charitable contribution.
Far more expensive than "The Gun" was our coverage of Sen. Bernie Sanders' (I-Vt.) presidential campaign. In 2016 alone, we spent more than $9,500 on plane tickets, motel rooms, rental cars, mileage, freelance photographers and two very expensive days ($2,087.57) on Sanders' chartered Eastern Airlines Boeing 737. Those figures don't include the salaries of the many reporters and editors who pitched in on the project.
Even those stories were cheap compared to our coverage of Sen. Norm McAllister's (R-Franklin) legal travails. Six months after the Vermont State Police arrested the Franklin farmer for sexual assault, a county prosecutor delivered subpoenas for three Seven Days staffers. She hoped to question us under oath about the reporting we'd done on the McAllister allegations — and get her mitts on our tape recordings, notebooks and emails.
We fought back, hiring Gravel & Shea's Robert Hemley to argue that the move was an unconstitutional abrogation of our press freedoms. The prosecutor eventually dropped news editor Matthew Roy's subpoena, and a state judge quashed mine. Reporter Mark Davis wasn't quite so lucky. But before he could be called to the stand at a June trial, the prosecution's case fell apart.
By then, Seven Days had already forked over more than $15,000 in legal bills to protect us from this prosecutorial overreach.
We may not have seen the last of the Franklin County Courthouse. McAllister faces a second trial in January — and Davis is on the witness list.