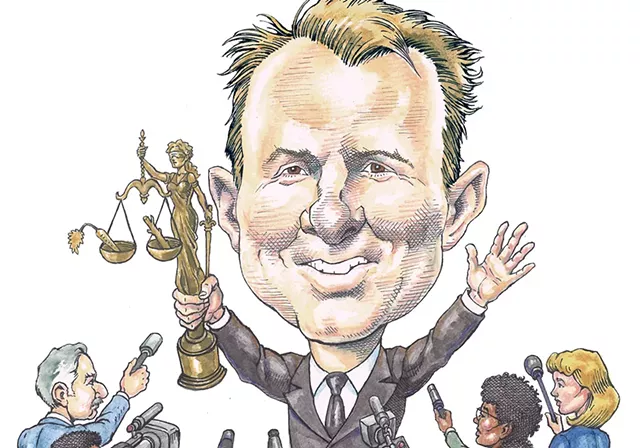 ["TV T.J. Donovan: The Likely Next AG Pushes Criminal Justice Reform," September 21]
I had been on the campaign trail with Chittenden County State's Attorney T.J. Donovan for 12 hours — through staff meetings, court hearings, interviews and a political rally — and was really hoping the "day" was wrapping up at 8 p.m. on a Friday in September.
But he wasn't done and announced plans to grab a quick beer at a bar in Killington. It took the Democratic candidate for Vermont attorney general an hour to work the room.
After that, we hit the road. Whytnee Bush, Donovan's sole paid campaign staffer, took the wheel.
"Can we be off the record now?" Donovan asked in the direction of the backseat, where I was hunkered down for the long drive back to Burlington.
He had already answered every question I had planned to ask and many more that I threw at him because he was stuck with me. It was so dark that I couldn't even see my notebook, which contained more material than I could ever use.
So I agreed.
We had barely pulled onto nearby Route 4 before Donovan took control of the car stereo and cranked tunes from his favorite rock band, the Tragically Hip. Donovan began singing along, as loud as his perpetually scratchy voice would allow, and air drumming with so much energy that it looked like he might have a seizure.
As we wound our way north on Route 7 through the rural blackness, Donovan occasionally paused to tell stories of listening to the band with his buddies in college, or to wax poetic on the importance of enjoying life after a full day of hard work. He teased Bush about her taste in music.
But mostly, for two hours, Donovan sang his ass off, completely aware that 1) he has a terrible voice; 2) a reporter tasked with writing a lengthy profile of him was in the backseat; and 3) it was only a couple of months before an Election Day that he hoped would give his political career a turboboost. No one thinks Donovan plans to make attorney general his final political job.
We often criticize our politicians for being robotic, for sanding down their rough edges. Say what you will about Donovan — and many say a lot — but nobody can accuse him of that. It was, for me, the most honest moment of Election 2016.
It took some negotiation, but Donovan later agreed to let me use the anecdote.