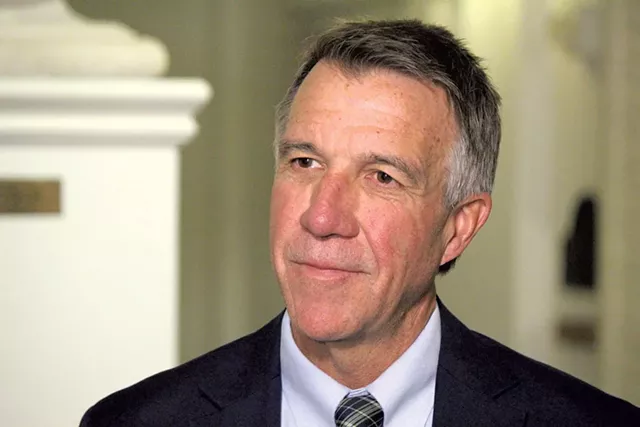 File: Paul Heintz
Gov. Phil Scott
Seven Days political editor Paul Heintz is obsessive about certain news topics. If there's a story to be done in Vermont about campaign finance, Sen. Bernie Sanders (I-Vt.) or gun policy, you can bet Heintz is either making phone calls himself or haranguing a reporter to get on it. So on the morning of February 15 — the day after 17 people were shot dead at a school in Parkland, Fla. — Heintz told me to press Gov. Phil Scott on gun control.
The news from Florida was horrific, but I could not think of a more boring, predictable assignment.
Less than four months prior, Scott had beaten Democrat Sue Minter by nearly 9 percentage points in a campaign that pitted Minter's pro-gun-control stance against Scott's firmly hands-off position. Scott's defense of the Second Amendment had held firm through every mass shooting from Newtown to Orlando, but Heintz said it was important to get politicians on the record about gun control after major mass shootings. In my cynical view, the idea translated to writing the same news story over and over again.
But I wasn't going to argue with my boss, so I said of course; I'd request an interview with the governor. Be sure to get Scott in person or on the phone, Heintz insisted. No emailed statements.
Scott's staff arranged a brief phone interview for that afternoon, and the governor said exactly what I had predicted.
"We're fortunate we're one of the safest states in the country, and I believe our gun laws are balanced," Scott told me.
I thanked him for his time and then wrote what I thought would be the first of many such stories.
Courtesy of Vermont State Police
Jack Sawyer
Late the next morning, Scott's chief of staff handed him the charging affidavit for 18-year-old Jack Sawyer, a former student at Fair Haven Union High School who, authorities say, had bought a gun with plans to return to the school and kill students. Scott immediately reversed his position on gun control and said Vermont should do more to prevent violence from firearms.
Literally overnight, an annoying and formulaic assignment from my editor became a widely cited and critically important story: It showed just how quickly and completely Scott's position changed due to the near miss in Fair Haven.
Two months after I quoted Scott restating his opposition to gun control, he signed a trio of new gun laws on the Statehouse steps. Heintz, of course, drove down to Montpelier to help with the coverage.