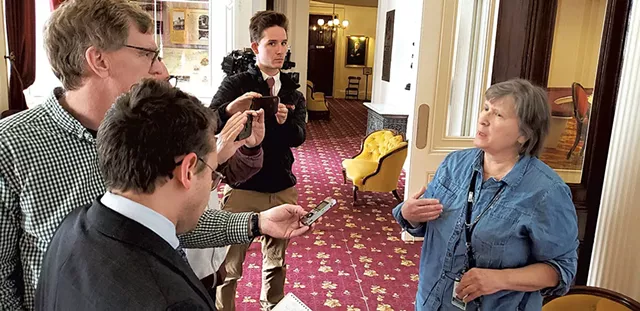 File: Kevin Mccallum ©️ Seven Days
Rep. Cynthia Browning addressing reporters
This "backstory" is a part of a collection of articles that describes some of the obstacles that Seven Days reporters faced while pursuing Vermont news, events and people in 2020.

---
When I walked out of my Waterbury home on the morning of March 25 to cover a story at the Statehouse, I thought I'd be home in time for dinner with my wife and two kids.
Instead, I didn't set foot back inside my house for two months.
My wife had been a little anxious when I told her about the assignment, to cover several lawmakers passing some emergency legislation. Fear was spreading faster than the virus at the time, and there was no consensus on the best methods to tamp down transmission. I tried to reassure her that a handful of people staying at least six feet from one another in the cavernous House chamber presented an infinitesimal infection risk.
Against her better judgment, I headed to Montpelier, notebook and camera in hand, mask-free and not terribly concerned. I thought I'd be watching from a balcony as 20 or so lawmakers briefly debated and passed a new set of rules.
House rules generally call for a quorum, at least 76 representatives, to be present for any vote. But if nobody protests, lawmakers can still get stuff done without a quorum. For safety's sake, Speaker Mitzi Johnson (D-South Hero) planned to use that loophole to alter rules to allow remote meetings and votes.
But the plan was soon upended.
Rep. Cynthia Browning (D-Arlington) called for a quorum to make the point: Rules exist for a reason. The speaker and her leadership team were forced to summon more than 60 additional lawmakers to Montpelier from all over the state to ensure that the measure would pass.
It took a while. After filing my story, I called my wife and told her that things hadn't gone according to plan. I acknowledged that I had been reporting in an enclosed space with nearly 100 other people, the majority of whom weren't wearing masks.
We agreed — her steadfastly, me begrudgingly — that I should quarantine for two weeks.
Luckily, I had a place to go: The family RV, a 29-foot motor home that sleeps four, had been sitting in my driveway since we moved to Vermont from California in 2018.
For an isolation pod, it was pretty posh, with a queen-size bed, a shower and a bathroom, and I was able to tap the Wi-Fi from the house. I even drove it to Montpelier for Molly Gray's first in-person presser when she was running for lieutenant governor. On my way home, I swung by the city's wastewater treatment plant to empty the holding tanks.
Kevin McCallum ©️ Seven Days
Kevin McCallum in the RV
My two-week sentence was almost up when I got another assignment: reporting on the "ghost" planes flying in and out of Burlington International Airport. This time I wore a mask to interview the only two passengers on a flight from Detroit, but I still had to go inside the terminal to do it.
That got me another two weeks in the tin can.
I got used to conducting phone and Zoom interviews in the RV, and it was easier, in some ways, because it didn't disrupt the rest of my family.
At least once, my "background" aroused suspicion. As I prepared for an interview with WCAX-TV anchor Céline McArthur, she asked what kind of crime scene I was hiding. To her delight, I pulled aside a curtain to reveal the swiveling captain's chairs of my sweet COVID-19 chariot.
Though amusing at times, it was also painful to be separated for so long from my family.
In late spring, Vermont's COVID-19 rate was the envy of the nation. I'd gone nowhere but the RV and the grocery store for weeks. It became pretty clear that I was no longer an infection risk.
I moved back into our little old farmhouse, which I have come to love despite its peeling wallpaper, leaky basement, ice-cold bathroom floors and yellowing vinyl siding.
I also love our "little" RV. It kept my family safe during a cross-country adventure and, in an unexpected way, helped us stay safe during a pandemic. But it was good to be home.