File: James Buck
Protesters outside Burlington City Hall
This "backstory" is a part of a collection of articles that describes some of the obstacles that Seven Days reporters faced while pursuing Vermont news, events and people in 2020.

---
I'm a photojournalist. My job is to get up close, often dangerously so, to be a witness to history. If you hate my work and want to burn it, I will still take a photo that conveys your message.
When I began to photograph the racial justice protests around Vermont in the summer, I tried to approach the activists with sensitivity, and also with the assumption that they wanted their voices amplified by the media. At first, that seemed to be true.
I captured some moments that felt historic, such as when one of the Black Lives Matter leaders, Harmony Edosomwan, dumped fake blood at the feet of then-interim Burlington police chief Jennifer Morrison. I hoped I was telling an important story. People needed to know.
As the protests continued over the summer, though, things got uncomfortable. Protesters antagonized me, jabbed at my camera with megaphones and yelled at me to stop taking their pictures.
I was bewildered. I've documented protests for decades, both in the United States and abroad. For several years, I photographed the uprisings that led to the Arab Spring. I was arrested — kidnapped, really — while shooting protests in Egypt in 2008. That experience instilled in me a fear of crowds, protests and police, but also a renewed commitment to telling people's stories. To summon the courage and compassion to do my job, I sometimes repeat a mantra in my head: I am here for you. I am here for you. I am here for you. Emphasis on the you.
When someone puts a hand in front of my lens, it's usually a paramilitary law enforcement officer for an authoritarian regime in a country other than America. The people trying to stop the free flow of information are typically the ones who have something to hide and power to protect.
I tried to understand the protesters. I listened.
They said they were afraid of the police, of being targeted, of being attacked. One person told me that their tires had been slashed. Another thought they had been followed home. Right-wing aggressors threatened protesters on social media. In Burlington, a counterprotester brazenly paraded for days with an assault weapon.
Suddenly I understood: I was back in Egypt. When I photographed democracy activists there, I had to be careful about revealing their identities because they were being documented, cataloged and detained by the regime — just as I was.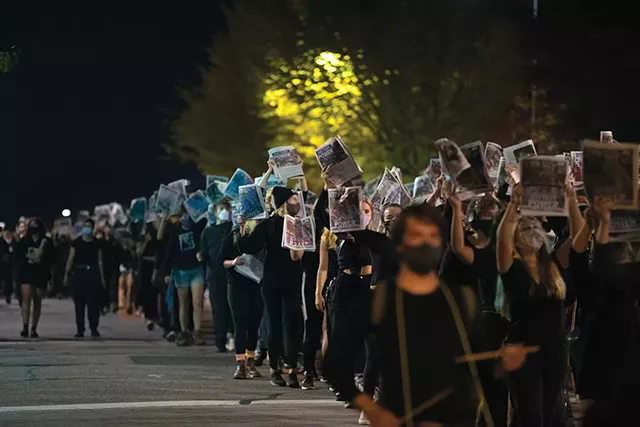 File: James Buck
Protesters with copies of Seven Days
I changed my tactics and went into conflict-reporting mode. I made the protesters' safety my top priority. I suited up in my conflict garb: safety gear, a GoPro camera to document any violence, lights and emergency GPS tracking.
I told my editors that the protesters feared for their safety, and I sought to protect them in my photography, even when they were in public spaces where I had a legal right to shoot them. I used exposures and shallow depth of field to create blur, as well as drone angles to show the crowds in the street but not the individuals.
The protesters still didn't want me there. I tried to explain to them one by one how I was handling the assignment. Some trusted me — a little.
Cautiously, I ventured into the Black Lives Matter encampment that had sprung up in Burlington's Battery Park to document the vibrant, growing community there: the free food, medical care, solar-powered internet. People shared Black art, culture, music, history, stories and multigenerational, mind-opening conversations — all within yards of the police station. It deserved to be seen.
On the eve of publication of the story, Seven Days editors considered using a photo that clearly showed protesters' faces on the cover. I explained that would have shattered the trust I'd tried to foster. The paper ran a drone shot instead.
The protesters were unhappy with the story — furious, in fact. They snatched up papers around the city and, that night, marched through Burlington holding copies defaced with words such as "toxic" and "fascist."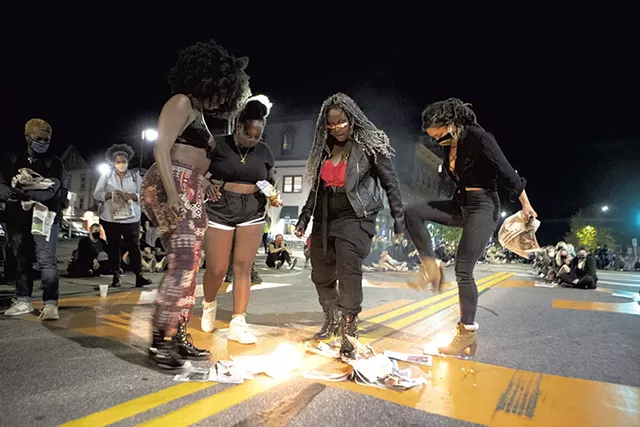 File: James Buck
Protest leaders stomping out the flames after igniting a small pile of Seven Days newspapers
One protester, a person with whom I had forged a fragile bond, angrily flipped me off while marching past, holding the newspaper. I kept shooting, gut-punched.
On Main Street, at the Black Lives Matter mural, leaders mocked the paper and lit copies ablaze. I edged forward with my camera, recording the whole event from start to finish. The small fires were quickly stamped out.
At the end, a leader commanded all the white men to pick up the torn pieces of Seven Days and recycle them, so as not to litter. I'm a white, trans man, so I joined in, stuffed the scraps in my pocket and brought them home as a reminder.
My lens can be biased. I can do wrong. There are other voices that must be heard.
But my job is to document history. I am here for you, to tell your story. I do it the best I can, and I keep learning.