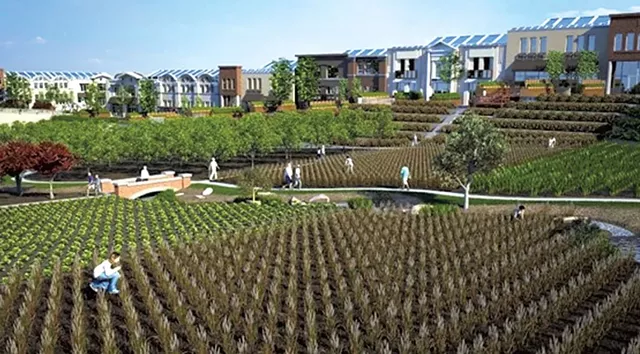 A rendering of the NewVista development
["Wealthy Mormon Buys Up Vermont Land for Massive Settlement," April 5]
Utah engineer David Hall wants to build a 20,000-person settlement on 5,000 acres in four tiny, rural towns in Vermont. His inspiration: an 1833 blueprint drawn up by the Mormon church founder Joseph Smith. Hall had chosen these towns because they surround Smith's birthplace.
Seven Days found out in March, when a local librarian discovered that Hall had purchased roughly 900 acres in the area — and broke the story on a local news site, Daily UV. She put me in touch with Hall, and he immediately emailed back with his home address, cellphone number and a one-line message: "Share with anyone."
Word spread quickly to the towns that would be transformed by Hall's so-called NewVistas project — including Tunbridge, where I grew up.
When I called Hall, he patiently fielded my questions for nearly an hour. He explained how his father had made a fortune by inventing a synthetic diamond used for drilling, and he was using proceeds from selling the family company to fund his futuristic endeavor. It was bizarre listening to someone who sounded completely rational describe high-tech toilets capable of measuring the sugar content in urine.
Later, Hall came to Vermont to meet some of his critics in person. At a regional planning commission meeting in Woodstock, I watched the white-haired man in a crisp white dress shirt tell a local farmer that Vermont should transition to a hydroponic farming model, similar to what's used for marijuana cultivation.
Concerned residents — some even convinced Hall is crazy — have since formed a nonprofit called Alliance for Vermont Communities to fight the future development and preserve local farmland. Town planning commissions are talking about establishing density limits.
I called Hall again on December 14 to see how things were going on his end. The 69-year-old entrepreneur was characteristically congenial as he reported that he now owns nearly 1,500 acres in Vermont. Landowners looking to sell are still reaching out to him. The toilets are not yet market-ready.
He repeated his assurances that it will be decades before a NewVista community is created in Vermont. But within 15 years, he wants to build some apartments here, starting near the Vermont Law School in South Royalton.
He's working on a prototype in his hometown of Provo, and when it's complete, he and his wife plan to move into one of the 400-square-foot units. "I'll be an early guinea pig," he promised.
For now, his Green Mountain State public relations tour is on pause.
"The more I communicated, the madder they got," he said. "I'm not really that bad a guy, I think."