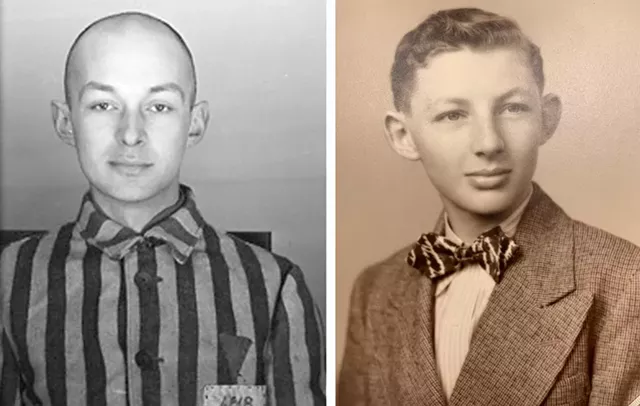 Courtesy Of Auschwitz-birkenau State Museum | Ken Picard
Konstanty Piekarski and Matthew Picard
This "backstory" is a part of a collection of articles that describes some of the obstacles that Seven Days reporters faced while pursuing Vermont news, events and people in 2020.

---
I'm a descendant of Ashkenazi Jewish immigrants from Poland, with distant relatives who died in the Nazi extermination camps. I've written several stories related to the Holocaust.
In the process of reporting the most recent one, I was surprised to discover a photo of a concentration camp inmate with a familiar surname — and a strong resemblance to members of my own family.
In 2019, I interviewed Jack Fairweather, the Welsh author of The Volunteer: One Man, An Underground Army, and the Secret Mission to Destroy Auschwitz. His book tells the harrowing, true story of Witold Pilecki, a Polish resistance fighter who, in 1940, volunteered to be imprisoned in Auschwitz in order to report to Allied Forces on what was happening inside. Pilecki later escaped and joined the Warsaw Uprising of 1944.
Fairweather is a former war correspondent for the London Daily Telegraph and the Washington Post. Now a resident of Charlotte, he spent years working with Polish researchers retracing Pilecki's travels, digging through concentration camp records, Polish government files and written testimonies from thousands of Auschwitz survivors.
In January, The Volunteer won the 2019 Costa Book of the Year award, one of the United Kingdom's most prestigious literary honors. A month later, Fairweather sold the movie rights to London-based House Productions and producer Tessa Ross, whose Oscar-winning film credits include Slumdog Millionaire, 12 Years a Slave and Ex Machina.
Before interviewing Fairweather, I tore through The Volunteer in a weekend, not bothering to look closely at its historic photographs. In March, however, while flipping through its pages again for a follow-up piece, one picture stopped me in my tracks. It was a black-and-white prison camp photo of Konstanty Piekarski, a Polish army lieutenant who was captured by the Gestapo, tortured and sent to Auschwitz in 1940. It was there he met Pilecki and joined the camp's underground resistance movement.
Piekarski looked just like my father, Matthew Picard.
My grandfather, Murray Picard, was born Morris Piekarski in Tykocin, Poland, and immigrated to the U.S. as a child. He later became a successful New York-based international accountant and businessman. Aware of increasing anti-Semitism in Europe in the early decades of the 20th century, he took a Catholic surname that wouldn't get noticed by his Parisian clients: Picard.
Though The Volunteer doesn't delve deeply into the life of resistance fighter Kon Piekarski, his story is compelling. Piekarski survived Auschwitz and Buchenwald, escaping the latter. After the war, he moved to England, where he earned a degree at the University of London before immigrating to Canada in 1951. He taught at the University of Waterloo, Ontario, for more 30 years before his death in 1990.
I haven't determined whether I'm actually related to Kon Piekarski. But his autobiography, Escaping Hell: The Story of a Polish Underground Officer in Auschwitz and Buchenwald, is on my winter reading list.