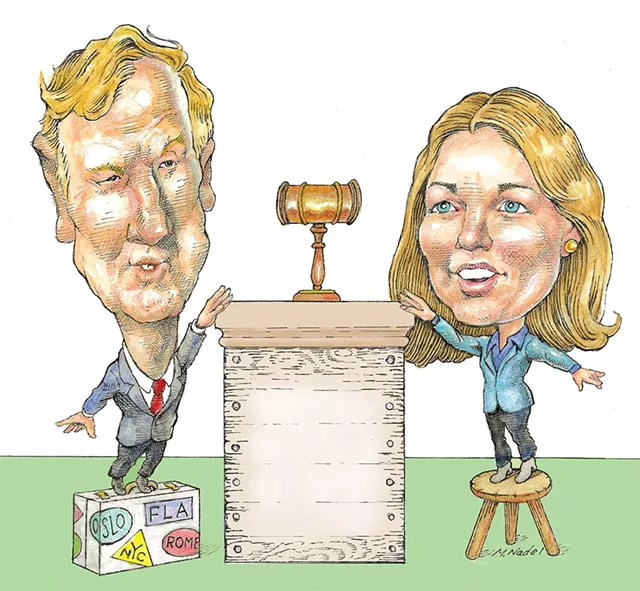 File: Marc Nadel
Scott Milne and Molly Gray
This "backstory" is a part of a collection of articles that describes some of the obstacles that Seven Days reporters faced while pursuing Vermont news, events and people in 2020.

---
When lieutenant gubernatorial candidate Molly Gray accepted my request to ride along with her on the campaign trail over the summer, I did not expect that she would take it quite so literally.
Within minutes of arriving at Conant's Riverside Farms in Richmond, the first stop on our tour-de-politics, I found myself in the bed of a Bobcat 3400 utility terrain vehicle, hanging on for dear life.
OK, we weren't going that fast. And, frankly, in a year when face-to-face time was hard to come by, the writer in me brimmed with optimism. I had been desperate for something new to say about this campaign, and here I was, rumbling across West Main Street and into a field of potential metaphors.
There was only one problem: I couldn't hear the candidate — or much of anything — over the roar of the Bobcat. I extended my recorder and hoped for the best while our host, Alison Kosakowski Conant, steered us past patches of pumpkins and gourds and shared what I assumed was her assessment of farm life. But I knew that, when I listened to the tape hours later, I would be lucky to pick up every fifth word. It was a bust.
Determined to squeeze some usable material out of the ride, I jotted down everything I saw: the mud-brushed tackle box and crusty fishing net beside me in the bed of the ATV; the numerous cows who registered their indifference to our future LG by defecating as we drove past. Gray and Conant occasionally looked back to make sure I was still aboard. I gave a thumbs-up and hid the fact that my tailbone was feeling every bump Conant swore she was trying to avoid.
Thankfully, the two ended up talking for a while after we stopped and Conant turned the engine off, allowing me to snag a few quotes.
The following morning, I woke to messages razzing me for my off-road journey. Gray had apparently posted a video of us driving off, reporter in tow. One of my colleagues even dubbed the video with the Lil Nas X song "Old Town Road." I was, of course, the horse in the equation.
"Big shout-out to @sevendaysvt @CFlandersVT for joining me on the campaign trail yesterday," Gray's tweet read. "You never know what Vermont reporting is going to look like."
Ain't that the truth.