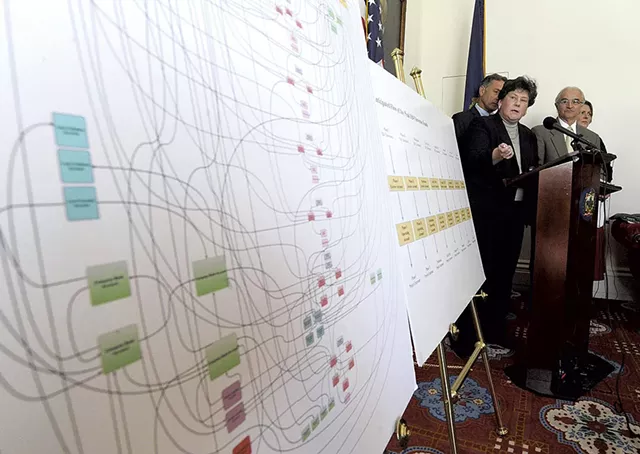 File: Jeb Wallace-Brodeur
A chart detailing the alleged inappropriate flow of funds within Jay Peak and Q Burke EB-5 projects
["Fraud Cases Against Jay, Burke Owners Allege 'Ponzi-Like' Scheme," April 14]
I'll never forget it. Reporting a story in March 2012 — a month after I started at Seven Days — a source told me in an off-the-record conversation that a massive expansion at Jay Peak was part of what this person called "a Ponzi scheme."
I worked the angle as best I could, but I got nowhere. The story I ended up writing that spring outlined oversight issues within the federal EB-5 investment visa program — the vehicle through which Jay Peak's owners funded the development. And it quoted a former Jay partner and an industry blogger raising serious questions about the operation.
But there was no mention of a Ponzi scheme.
More than three years later, in July 2015, I traveled to the resort again — this time to interview Jay Peak president Bill Stenger about a series of damning developments at the resort, which had been well-chronicled by VTDigger.org. I thought I'd get an hour with Stenger, but he gave me the whole day. We drove from Jay to downtown Newport to Northeast Kingdom International Airport to Burke Mountain Resort and finally back to Jay.
For every question I asked, Stenger had a ready answer. By the end of the day, my notebook was full, and I had no idea what to think. I remember telling a colleague a few days later that I wouldn't be surprised if everything Stenger had said was true — and I wouldn't be surprised if everything he said was false.
In the end, I was just as surprised as most Vermonters when WCAX-TV reported the night of April 13, 2016, that a massive law enforcement operation was under way at Burke Mountain. The next day, the U.S. Securities and Exchange Commission announced that it had filed civil charges against Stenger and Jay Peak owner Ariel Quiros, alleging more than $200 million in fraud.
It had all been, the SEC wrote in charging documents, "a Ponzi-like" scheme.
My source had been right — and I had missed the story.